Articles

15/09/2016 - School fined for safety failings at summer camp

A School in Canterbury, has been fined for safety failings at a summer activity camp after a seven-year-old boy had to be given CPR after coming into difficulty during a swimming lesson.
Canterbury Crown Court heard how the boy was at a summer activity camp run by St Edmunds School and was taking part in a scheduled swim when he got into difficulties and struggled for over three minutes before becoming motionless in the water.
The lifeguards noticed he was in trouble and retrieved him. He regained consciousness after CPR but did develop pneumonitis as a result of the incident.
An investigation by the Health and Safety Executive (HSE) into the incident, which occurred on 1 August 2014, found that the lifeguards were not effectively managed and monitored to ensure that they were constantly vigilant.
It was also discovered that two out of the three lifeguards did not hold a current, in date lifeguard qualification.
St Edmunds School Canterbury, of St Thomas Hill, Canterbury, pleaded guilty to breaching Section 3(1) of the Health and Safety at Work etc Act 1974, and was fined £18,000 and ordered to pay costs of £9669.19.

17/08/2016 - School prosecuted for roof fall

A school in Brentwood has been fined £40,000 with costs after a maintenance worker fell about 2.6m from a roof while carrying out repair work on a window.
The worker was part of a maintenance team at the school which was replacing components on a bay window of a residential flat in the school grounds. The employee used a ladder to access the roof but caught his foot and fell to the ground below, breaking his collarbone, fracturing his shoulder and injuring five vertebrae.
The HSE investigation found that there were no effective guardrails or any other means of protection to protect workers and prevent them from falling from the roof. In addition the work was not supervised and carried out in a safe manner.
During the hearing the Judge commented that although the school took safety seriously and had procedures in place, "it became clear that the manual was never used, the risk assessments were not referred to and the questions on the work request form were ignored." These were all known to the maintenance manager who was responsible for the health and safety at the time, but he failed to ensure the systems were implemented and followed and that the safety check list on the repair form was completed.
The Estates Bursar for the school explained that "despite training staff, they are left to devise systems of work without supervision or direction from line management. Because workers are experienced it's not thought close supervision was required."
Companies have a duty under the Health & Safety at Work etc. Act 1974 to ensure the health and safety of employees and any contractor who carries out work on their behalf. When it comes to work at height, all work should be thoroughly assessed and those carrying out the work must follow correct procedures and be sufficiently supervised and trained in order to carry out the work safely.
For further information on how you can ensure work is carried out safely, please contact your H&S Adviser either direct or via 01823 355089.

15/01/2016 - School fined after pupil paralysed when swing collapsed

A Hertfordshire school has been fined for safety failings after a pupil suffered permanent paralysis when a swing collapsed.
St Albans Magistrates' Court heard how on September 2011 a 13-year-old pupil at the school was playing on a wooden swing in an adventure playground.
A Health and Safety Executive (HSE) investigation found the swing had collapsed because the supporting timbers had rotted. The heavy wooden cross beam of the swing fell onto the pupil's head and neck causing spinal injuries that resulted in permanent paralysis.
Queenswood School, of Shepherd's Way, Brookmans Park, Hatfield, was fined a total of £50,000, and ordered to pay £90,693 in costs after pleading guilty to an offence under Section 3(1) of the Health and Safety at Work etc. Act 1974.
Speaking after the hearing HSE Inspector Alison Ashworth said:
"This case shows how important it is that schools and other providers of play equipment maintain them in a safe condition. This tragic accident could have been avoided had the school implemented the findings of its own risk assessment."

11/01/2016 - School in court over science experiment injury

The HSE has warned that all schools need to have clear health and safety arrangements in place for their staff and students, following an incident in which a chemistry laboratory technician lost parts of three fingers and sustained a serious internal injury while preparing a highly sensitive explosive for use in a 'fireworks' demonstration to a class of children.
Bristol Magistrates' Court heard the now retired staff member lost the top joints of his left hand index, middle and ring fingers and ruptured his bowel while preparing the explosive at Bristol Cathedral Choir School.
The HSE prosecuting told the court the laboratory technician spent 12 days in total in hospital after the October 2014 incident. Although he returned to work in February 2015, he has since retired.
It was revealed that the preparation of explosive substances had been carried out in the school several times a year since 2009. The mixture in question and other substances had been used in 'fireworks' demonstrations.
The court also heard that other explosive substances, namely flash powder and gunpowder, were stored in the school's chemistry storeroom.
HSE said the incident could have been avoided if the school had implemented clear management arrangements to control and review the risks posed by the chemicals used in its teaching activities.
Bristol Cathedral Choir School, of College Square, Bristol, admitted that it failed to ensure, so far as is reasonably practicable, the health and safety of its employees, in breach of its duty under Section 2 of the Health and Safety at Work etc Act 1974.
It also admitted failing to conduct its undertaking in such a way as to ensure, so far as is reasonably practicable, that persons not in its employment, in this case its pupils, were not exposed to risks to their health and safety, in breach of its duty under Section 3 of the same act.
The school was fined a total of £26,000 [£8,000 for the section 2 offence and £18,000 for the section 3 offence] and ordered to pay £12,176 costs.
After the hearing, HSE inspector Susan Chivers said: "Schools need to have clear health and safety arrangements in place for their staff and students.
"They should set up adequate control systems and ensure that these arrangements are clearly understood and adhered to. They should also follow recognised guidance provided by CLEAPSS (formerly known as the Consortium of Local Education Authorities for the Provision of Science Services) and similar organisations regarding the control of risks to health and safety in practical science work."

20/08/2015 - Fire ravages Normanton school building

A large fire broke out a school as students gathered to collect their GCSE results.
West Yorkshire Fire Service said half of Freeston Academy in Normanton, near Wakefield was ablaze at one point, leaving the building badly damaged.
More than 50 firefighters attended after the alarm was raised at 09:10 BST. The blaze was brought under control by about 12:00.
The fire service said there were no injuries and students were unaffected.
Local residents were advised to keep windows closed and stay inside at the height of the fire.
Ian Bitcon, area manager for the fire service, said the blaze was in the roof of the school which was "difficult to deal with due to access".
He said: "We've been very fortunate in that the school's unoccupied and there's been a very good water supply.
"We appear to pretty much have it cracked now."
A caller to Radio Leeds said: "I was on my way home when I saw this massive smoke and flames.
"They turned us all away and stopped us all going up the street.
"There's loads of kids here waiting for their GCSE results and they're all coming away in tears."
Students at the school were later directed to the sports hall to collect their exam results.
A woman whose daughter had been to collect her exam results at the school said: "It's been a crazy day".
She told BBC Radio Leeds: "It's been an emotional rollercoaster. First, getting up and waiting to come in and pick up the results.
"But then to hear the school was on fire. It's just been an utter drama."
In a statement, the school said: "Our main priority was the safety of our staff, students and contractors working on site, and to ensure that our year 11 students were able to collect their GCSE results.
"Following advice from the fire service, all students were able to collect their GCSE results from outside the sports hall.
"All staff on the site were accounted for and no one was hurt in the fire."


20/06/2015 - Students left stranded during school trip

Four young children were left wandering Mumbles alone after a school trip when their bus left without them.
The children, aged eight and nine, from Rhos Primary School, near Pontardawe, went missing during the school's trip on Tuesday.
Police were called when it was discovered the children were not on the bus and an investigation has been launched.
The children had to approach a stranger who kept them safe and helped them to contact the police.
The pupils were returned to the school bus within 10 minutes of police receiving the call.
Speaking to the South Wales Evening Post, a mother of one of the children described the incident as 'absolutely disgusting'. The woman, who did not wish to be named, said: "The bus came back to the school, knowing that those four kids were missing.
"Us parents were just sitting there waiting for our kids. We have had no explanation of what happened.
"It is absolutely disgusting the way the school treated us. I was gobsmacked – I'm still in shock. There was uproar at the school about it."
Neath Port Talbot Council have launched an investigation into the incident which they are treating 'very seriously'.
A spokesman from the council said: "A group of Key Stage 2 pupils from Rhos Primary School visited Mumbles on Tuesday. Towards the end of the day, four pupils became separated from the main group and the police were contacted as soon as possible.
"Thankfully, the children were found safe and well and returned with staff to the school.
Council taking incident 'very seriously' "Pupil safety is a priority and whilst we know that risk assessments were in place ( bet there was no SWP )and that guidance on the appropriate ratio of adults to children was followed by the school, we are treating this incident very seriously. A Health and Safety Officer has visited the school to investigate this matter and their work is continuing

15/06/2015 - Halifax firm fined over explosion at primary school

From the HSE website A gas servicing firm in Halifax has been prosecuted for safety failings after an explosion in the boiler room of a local primary school.
The explosion, which happened the day before children returned to Greetland Academy after the summer holidays in September 2011, blew out the boiler house door toward a paved area and the school playing field.
Two local neighbours in School Street heard the explosion and rushed to the school where the teaching staff were having a training day. Fortunately there were no injuries.
The Health and Safety Executive (HSE) was notified and discovered Marshall Gas Services Ltd, based in Greetland, had been on site the same day to service three boilers and other gas appliances, and had held a contract to carry out annual inspections and services there for at least ten years.
After investigating, HSE prosecuted the company at Halifax Magistrates' Court on 8 June 2015 after finding that despite the servicing contract, the boiler showed all the classic signs of poor maintenance, including excessive rust and debris, and had become increasingly dangerous.
The court heard that on inspection by HSE gas specialists, the burners produced a significant amount of internal corrosion and the gas injectors were very dirty, which significantly reduced the aperture size.
The restricted gas injectors prevented sufficient gas getting to some of the burners to allow them to be cross-lit when turned on. Unburned gas then passed into a combustion chamber and created an explosive atmosphere.
HSE's investigation showed the build-up of debris and the partial blockage of the injectors would have occurred gradually over a period of time, and that the levels in the boiler were not consistent with a regular annual service regime.
Marshall Gas Services Ltd, of West Vale Chambers, Stainland Road, Greetland, Halifax, was fined £13,000 and ordered to pay £35,699 in costs after admitting a breach of the Health and Safety at Work etc Act 1974.
After the hearing, HSE inspector Jackie Ferguson said:
"This was an entirely preventable incident. It was pure luck no children were around at the time as the boiler house was close to the school playing field and access routes for staff and pupils alike.
"Marshall Gas Services displayed a reckless disregard for the safety of the community, and these young children in particular, and the outcome could have been far worse.
"On the wider issue, all companies who carry out gas work must comply with their legal duties and responsibilities. Experience has shown that some operating in the gas sector are prepared to breach regulations by undertaking gas work while not on the statutory register and without the necessary competency. There are also instances of registered engineers operating outside the scope of their competency.
"HSE will continue to undertake effective regulation and enforcement of this industry where we find negligence and safety failings."

Risk assessment for employers when setting strategy for loan working

It's estimated that there are 6.8 million lone workers, from lorry drivers to social workers. But remember: out of sight does not mean out of mind. By law you have a duty of care to your staff wherever they are. The first step is to carry out a risk assessment.
The risk assessment should look at the people, the environment and the task. Also the severity of risk versus likelihood. For example is the worker vulnerable to attack or accident
Consider how the risk can be managed. Can the work safely be handled by one person? Or does it actually need more than one, perhaps because it involves lifting heavy weights or working in a situation that potentially exposes the worker to violence.
You also need to consider what system is going to be used to monitor them. This could be as simple as a "buddy" system, where another member of staff keeps a check on a lone worker's whereabouts.
But such simple systems are prone to problems. A diary system can fail simply because people are too busy. And what happens if the lone worker fails to turn up at an appointment? How do you locate them? This is where hi-tech solutions may be the answer, with the lone worker carrying equipment linked to a remote centre where monitoring staff can listen in and record events and, if necessary, co-ordinate emergency support.
When considering a lone worker system it's best to go for one that meets the demands of BS8484. This gives the highest level of safety and security for staff and assures managers of a direct police response should it be required. Provide training for lone workers to help them understand and mitigate risks that can occur. Training should focus on the avoidance of conflict and provide best practice for non-violent resolution.
Draw up a lone working policy that offers guidance to empower an employee to make decisions to protect themselves.
If the worst does happen and a lone worker does have an accident or is attacked you should provide support and advice such as counselling and legal advice.
It makes sense financially, legally and morally to look after your lone workers, as not doing so can mean lower morale amongst staff, decreased productivity and greater sickness absence, as well as risk to the company's reputation

Case 353 - Parent not allowed to accompany son on a school trip

Issue
A primary school had arranged a trip to a local zoo and asked for parents to volunteer to go with them. A parent volunteered and she told her son she was going and booked the day off work. However, the day before they were due to go she was told she was not required as they already had three parents going, so she asked if she could drive herself there to meet her son and the school class, and pay for herself to get in as she had told son she was going and he was excited. The school said she was not allowed to go for "health and safety" reasons. They said that the risk assessment doesn't allow for her to go.
Panel opinion
There is nothing in health and safety law that would stop an additional parent accompanying a school trip to the zoo. It is ridiculous to suggest that having additional support creates a health and safety risk. Whatever the school's real reason they should say so and stop being cagey about it – they are just monkeying around with health and safety excuses.

28/03/2015 - School bus hits low bridge

Emergency crews surround a school bus after its roof "sliced open like a sardine can" in a terrifying crash.
Seventeen pupils, aged nine and 10, were hurt and witnesses said it was a miracle that no one died.
Builder Craig Howard, 31, said: "I heard a smash and screaming started. I jumped on the bus.
"I ran up the stairs and the kids were sat in their seats screaming.
"If they were any taller, the crash would have taken their heads off.
"The driver was in shock. He was on the floor shaking."Another witness, student Owen Goddard, 21, said: "I heard crunching and saw the top of the bus being taken off like a sardine can. People ran to get children off. Most were screaming and crying and some bleeding."
It was foggy as the bus crashed into the railway bridge in Leicester at around 10.30am yesterday.
On board were 52 children and staff from Cantrell Junior School in Bulwell, Nottingham. Acting head Ralph Surman said: "Close contact is being kept with all the families."
Ten pupils went to hospital but Insp Andy Parkes, of Leicester Police, said: "Those hurt received minor injuries. The driver is being spoken to. He's not under arrest. An investigation will be carried out."

School boy suffers life threatening injuries during atheletics session

A school has been fined £10,000 after a 14-year-old boy suffered life threatening injuries when he was hit on the head with a shot during a lesson.
The child needed emergency brain surgery after the accident during an athletics session at The Judd School in Tonbridge, Kent, on 20 June.
He was in hospital for nearly a month before returning to school and has a permanent indentation on his skull.
The school said it deeply regretted the incident.
'Horrifying incident'
The Health and Safety Executive (HSE) told Sevenoaks magistrates the boys' grammar school had not observed its own risk assessment measures or guidance on multi-event PE lessons.
The court heard the boy had left a triple jump area and was standing on the edge of the shot put landing zone when he was hit on the back of his head by the sphere.
The 24 boys in the lesson were taking part in hurdles, long jump, triple jump, javelin, discus and shot put.
The school's inclusion of six sports, with three throwing events, significantly increased the risks to pupils, as did the proximity of the triple jump pit to the shot put landing zone, the HSE said.
Inspector Kevin Golding said the school put pupils at serious risk.
"It was a horrifying incident for the boy and his family and, of course, the rest of the pupils and the school itself," he said.
The Judd School did not observe its own risk assessment measures, the court was told.
The school, which admitted breaching health and safety legislation, also ordered to pay £1,375 costs.
"We have re-examined all our safety procedures in PE and are doing the same across the whole school," it said in a statement.
"We have also shared the lessons from this incident with other secondary schools.
"We are as confident as we can be that a similar accident will not happen again in future."

Dramatic photographs from school fire show importance of fire doors

Dorset Fire and Rescue Service has released photographs from a school fire to demonstrate the ability of fire doors to restrict damage.
The photographs show the results of a fire that started on the roof of a school near Poole. The fire happened in the school holidays so it had been burning for more than an hour before the 999 call was made.
By the time fire engines arrived, fire officers could not get near to it so that it continued to blaze unsuppressed for hours.
Andy Fox, Head of Fire Safety at Dorset Fire & Rescue Service says: "We took photos in the aftermath of this school fire, which clearly show the value of fire doors. It's usually difficult to describe just how important they are but these pictures need no description and show exactly how effective correctly installed and maintained fire doors can be."
Neil Ashdown, General Manager of the Fire Door Inspection Scheme (FDIS) adds: "These images show just how important it is to ensure that people responsible for fire door installation and maintenance are aware of the faults we see.
"From gaps between doors and frames and unsuitable hinges to incorrectly fitted or missing seals, the problems are all too common. It is crucial that before a fire occurs these issues are addressed and an effective inspection regime is in place so that all fire doors can work as well as these."

A teacher suffered chemical burns after an acid spillage in a school science lab.

Fire crews responded to an acid spillage within a school science lab, which resulted in the man suffering chemical burns to his forearms and hands.
They were called shortly after 11.30am on Friday in response to a 999 call reporting the spillage of nitric acid at Dalry Secondary School in Dumfries and Galloway.
Two crews were sent from Castle Douglas and New Galloway along with a decontamination unit and support vehicle from Newton Stewart.
As a precautionary measure firefighters wore chemical suits and breathing apparatus while using a spill kit.

Children have a right to be believed about abuse and deserve action, not cover-up There should be a legal duty on those who work with children to report known or suspected abuse

From the guardian website

Every time a new child abuse scandal is revealed by the media there are calls for more training and more communication, but never more prevention. I believe that even the most determined paedophile will be greatly deterred if he knows that his colleagues are alert and, where they suspect child abuse, will do something about it. That's why we need a legal duty on those working with children to report known or suspected child abuse to the authorities.
For years there has been a professional duty to act, but no sanctions for failure if people chose to turn a blind eye to even the most obvious signs of harm or distress or kept silent when they noticed a dubious attitude to children on the part of a colleague.
People have worried that they would lose their job if they reported what they knew, possibly damaging the reputation of their organisation. For that reason they have said nothing. It's time we protected well-meaning members of the children's workforce and empowered them, even obliged them, to report what they know or suspect to the authorities.
Put yourself in the position of a child being abused. You are in the power of your abuser but you actually screw up the courage to tell a trusted adult. And then that adult does nothing about it! All you want is to be believed. All you want is for it to stop. But because someone is protecting their school's reputation instead of protecting you, nothing is done and the abuse carries on. How would you feel? Children have a right to be believed when they break through the power of their abuser and tell someone. And they deserve action, not cover-up.
The effects of child abuse are never history. They continue through the whole of life, causing poor physical and mental health, inability to work and to form healthy relationships, self-loathing, self-harm and even suicide. Calculate the financial cost of that to the state and compare it to the cost of early detection and prevention.
To those who oppose a legal duty to report because of fear of a tsunami of child protection cases, I say: Are you willing to accept a mountain of hidden child abuse instead? Are you willing to accept lives destroyed and perpetrators free to carry on abusing more and more children? You cannot refuse to fix a dysfunctional system because you fear how well the repair might work.
They say that it takes a village to bring up a child. Well, it takes a whole community to protect a child. Children can't stop child abuse. Adults can. It's time we did.
Baroness Joan Walmsley is a former Liberal Democrat spokesperson on home affairs

From HSE website

Firework displays should be enjoyable and spectacular occasions – but they obviously need some responsible planning. The good news is that there is straightforward guidance to help you.
If you are organising a major public event, you will clearly need a robust and detailed approach to planning as well as professional involvement. If you are holding a local firework display, such as those organised by many sports clubs, schools or parish councils, you still need to plan responsibly, but the same level of detail is not necessary or expected. Below are some tips and guidance to help you.
Before the event:
Think about who will operate the display. There is no reason why you should not light a display yourselves provided it only contains fireworks in categories 1, 2 and 3. but remember, category 4 fireworks may only be used by professional firework display operators. In untrained hands they can be lethal.
Consider whether the site is suitable and large enough for your display, including a bonfire if you are having one. Is there space for the fireworks to land well away from spectators? Remember to check in daylight for overhead power lines and other obstructions. What is the direction of the prevailing wind? What would happen if it changed?
Think about what you would do if things go wrong. Make sure there is someone who will be responsible for calling the emergency services Make sure you obtain the fireworks from a reputable supplier.
If the display is to be provided by a professional firework display operator make sure that you are clear on who does what especially in the event of an emergency
Ensure you have a suitable place to store the fireworks. Your firework supplier or local authority should be able to advise.
If you plan on selling alcohol the bar should be well away from the display site.
On the day of the event:
Recheck the site, weather conditions and wind direction
Don't let anyone into the zone where the fireworks will fall – or let anyone other than the display operator or firing team into the firing zone or the safety zone around it
Discourage spectators from bringing drink onto the site
Don't let spectators bring their own fireworks onto the site
If you will also have a bonfire at the display then you should:
Check the structure is sound and does not have small children or animals inside it before lighting it
Not use petrol or paraffin to light the fire
Have only one person responsible for lighting the fire. That person, and any helpers, should wear suitable clothing eg a substantial outer garment made of wool or other low-flammable material.
Make sure that the person lighting the fire and any helpers know what to do in the event of a burn injury or clothing catching fire
Never attempt to relight fireworks. Keep well clear of fireworks that have failed to go off
The morning after:
Carefully check and clear the site. Dispose of fireworks safely. They should never be burnt in a confined space (eg a boiler)
Additional points to consider if you are organising a major public display
For major displays, particularly those involving category 4 'professional' fireworks or very large number of spectators, a more robust approach is obviously needed.
Plan and mark out the areas for spectators, firing fireworks (and a safety zone around it) as well as an area where the fireworks will fall
Think about how people will get into and out of the site. Keep pedestrian and vehicle routes apart if possible. Mark exit routes clearly and ensure they are well lit. Ensure emergency vehicles can get access to the site
Appoint enough stewards/marshals. Make sure they understand what they are to do on the night and what they should do in the event of an emergency
Contact the emergency services and local authority. If your site is near an airport you may need to contact them
Signpost the first aid facilities
Insurance
Although it is not required by health and safety law, if you are holding a public firework display, it's a good idea to have public liability insurance.
Bear in mind that not all companies are used to dealing with this type of event, and as with any other type of insurance, it's worth shopping around: look for a company that's used to insuring firework and other public events – you are likely to get much better deal and avoid unsuitable terms and conditions. If you have difficulty with the standard insurance terms, TALK to your insurer and find a way forward; they can be very helpful.
Further guidance
Giving your own firework display: How to run and fire it safely

Family told they must use the indoor play barn before the outdoor activities at a petting farm

Issue
The enquirer visited a mini farm which also had an adventure playground and fishing lakes outside and an indoor soft play barn. They were told that if they wanted to use the indoor play barn they would have to pay and use this first before looking around the outside attractions due to "health and safety" reasons.
Panel decision
Young children are particularly vulnerable to zoonotic infections such as E-coli and good hygiene is very important in petting farms. This establishment has decided to implement a rule that the indoor play barn should be used before petting the animals to avoid the risk of any child picking up an infection from contaminated play equipment. In the panel's view this is an entirely sensible measure, but the staff need to be trained to understand the reasons and be prepared to explain that clearly to visitors.

Parents were banned from saying goodbye to their children in the playground

Issue
A newspaper reported that during ongoing construction work at a school, parents were banned from saying goodbye to their primary school children in the playground for 'health and safety reasons'.
Panel decision
Ongoing construction work appears to have limited access at the school. In these circumstances the school appears to have acted sensibly and proportionately in making alternative arrangements for older children to be guided to their classes whilst still allowing younger children to be accompanied by their parents/guardians.

Chips can not be served in a paper cone

Issue
When ordering chips from a chip shop to take away, enquirer's wife asked for her chips to be just put in paper and wrapped in a cone rather than have them served in the normal plastic type tray so they would be easier to eat and carry as they walked round the shops. However, she was told by the lady serving behind the counter... "We can't do that, it's against health and safety, in case you burn yourself on the chips". She was then advised that once they served them to her, she is more than welcome to remove the tray and wrap them up herself.
Panel decision
The customer made a perfectly sensible request and there is no health and safety reason which would prevent the shop proprietor doing as requested. Cases of poor customer service like this need to be wrapped up and thrown in the bin.

HSE urges school leaders not to wrap kids in cotton wool

From HSE website As the new school year begins, HSE is reminding school leaders to strike the right balance in their approach to health and safety risks.
Bans on children wearing frilly socks, hot drinks on school trips and supposed"dangerous footballs" from the playground, are just some of the cases HSE's Mythbusters Challenge panel has ruled on, where schools have made over zealous and disproportionate decisions in the name of 'health and safety' when it comes to dealing with risks to children.
HSE has published new web-based guidance designed to support school leaders to strike the right balance and encourage them to avoid being risk averse. Whilst children need to be kept safe, they also should be able to learn through experience and play conkers without wearing goggles!
Geoff Cox, Head of HSE's Public Services Sector said:
"Our myth busting shows that schools sometimes go over the top in their efforts to get health and safety right – but in some cases they don't go far enough.
"We want to encourage school managers to use this guidance to find their own Goldilocks approach – not too much, not too little, but just the right balance. Real risks need to be managed, but that doesn't mean wrapping children in cotton wool."
HSE's Public Services Sector consulted with local government and education stakeholders, the teaching unions and schools health and safety managers to develop the guidance.

From HSE website Some of the debates which take place on social media are fascinating - if not sometimes a little disturbing.
I came across a debate raging last week among health and safety professionals, not about major health and safety risks but about the right response to a wasp sting if it happens in the workplace.
Someone somewhere had been stung while in the workplace and the work manager was demanding to see the risk assessment and wanted a full investigation into the incident. The originator of the debate had been tasked with conducting the investigation.
But what to investigate? How the wasp found its way into the workplace? How to prevent further wasp stings? Should there have been a risk assessment for wasps in the workplace? Should the incident be recorded in the accident log? Is there a need for safety signs saying "Beware of wasps"?!
It was shocking to see the number of contributors to the online debate who supported doing a risk assessment and conducting an investigation or trying to come up with measures to prevent a recurrence and so on. I hope most of you reading this share my view this would be a totally disproportionate response?
Now, there are a few people who can react very badly to wasp stings – they can trigger allergic reactions that can - in extremis - be fatal. Even so, after someone gets stung in the workplace surely the common sense approach is to check that the organisation's first aid response was administered quickly and effectively? Is there anyone on the workforce known to have an allergic reaction? Simple follow up steps – no need for lengthy risk assessments and investigations.
Perhaps the most worrying thing in the debate was a general sense that too many senior managers' knee jerk reaction to any incident, no matter how trivial, is to call for a "full investigation" – leaving the poor health and safety adviser having to explain to everyone why they are investigating a wasp sting!
What on earth is going on here? No one can seriously expect to be prosecuted because an employee was stung. It's highly unlikely an employee would even pursue a civil claim against the employer. So why investigate? What is there to learn? Not a lot.
It's time for some leadership here and it should start with managers showing common sense and determining real incidents for concern and responding appropriately, and its time for health and safety advisers to be frank and tell their bosses when an "over the top" reaction is likely to do more harm than good.

Case 302 - Primary school not allowed ladders

Issue
Primary school not allowed ladders due to health and safety. Therefore staff use chairs to reach up when 'working at heights'.
Panel decision
There is nothing in health and safety law that prevents primary schools from using step ladders in classrooms.
A properly designed stepstool or stepladder is often going to be the sensible and practical option for carrying out tasks that involve working at height for a short time – and schools are no exception. It's certainly a safer option than standing on a chair!

Case 290 - Schoolchildren told to wear long sleeves and hats to protect them from the sun

Issue
Schoolchildren have been told to wear long sleeves and hats in the playground during hot weather to protect them from sunburn. A school spokesman said the move was for health and safety reasons.
Panel decision
This is yet another example of the misuse of "health and safety" when the real issue is about teaching young people at an early age how to take sensible precautions on a long term public health risk that they will need to deal with throughout their lives. Insisting on long sleeves and hats isn't very helpful or proportionate as some will find this very uncomfortable. There is plenty of advice available on a range of proportionate measures that schools can put in place – and these also make it clear that there is no legal obstacle to school staff helping children to apply sun screen.
SunSmart - Skin Cancer Information and Sun Protection Advice
nice.org - Skin cancer prevention: information, resources and environmental changes
www.gov.uk - Myths and facts for schools


28/04/2014 - Teacher stabbed to death at Leeds school

From BBC News website A teacher has been stabbed to death in front of pupils inside a school in Leeds.
Spanish teacher Anne Maguire, 61, was taken to hospital following the attack but later pronounced dead.
A 15-year-old boy was detained by teaching staff at Corpus Christi Catholic College and later arrested.
A pupil at the scene told the BBC that children were seen screaming and running from a classroom following the attack.
Ch Supt Paul Money of West Yorkshire Police said the victim received a number of stab wounds and a knife was recovered from the scene.
He said the 15-year-old pupil was detained by other teaching staff and arrested in connection with the stabbing.
"The incident itself was over very quickly and no other pupils or staff were threatened or injured. However this has clearly been a very traumatic situation for those involved," Mr Money said.
He said the attack was an "unprecedented event" and schools in Leeds were "generally very safe places" to work and study.
Staff members were "in shock" and Mrs Maguire's death would "understandably have a massive impact" on her family and the school, he added.
Downing Street said the prime minister's thoughts were with the victim's family.
The BBC's education correspondent Sean Coughlan said the incident would bring back memories of Philip Lawrence, a head teacher who was killed outside a school in Maida Vale, London, in 1995.
Mr Lawrence was murdered when he went to help a pupil who was being attacked.
The call to police in Leeds came from the ambulance service shortly before 12:00 BST.
The BBC's Danny Savage said the school was on a large estate to the east of the city, well known to residents.
"It's regarded as a good school in what in the past could be regarded as a problematic area overall," he said.
The Neville Road college has 950 pupils and according to its website retains "traditional values", describing these as "a strong Christian ethos, a broad and varied curriculum, good teaching and learning, excellent discipline and outstanding pastoral care".
Death 'devastating'
Tom Riordan, chief executive of Leeds City Council, said: "We are aware of the serious incident at Corpus Christi Catholic College this morning and our thoughts are with all those concerned.
"We are working with the school to support pupils and staff at this very upsetting time."
Mr Riordan said the authority was "working closely with the police and helping with their investigation".
In a statement on the council's website, the school said it would be open as normal on Tuesday.
It added: "Our school community is in shock today. Our thoughts and prayers are with the family."
Christine Blower, general secretary of the National Union of Teachers (NUT), said the fatal stabbing was "a truly awful thing to have happened to a teacher in the course of her work to educate the next generation".
"Appalling events like this are thankfully very rare indeed but the death of any teacher in her place of work, which should be a place of safety, is devastating.
"Our condolences go to the family and friends of this teacher, and to students and colleagues at the school."
She said the NUT would provide help and assistance to the college and its community.
Hilary Benn, MP for Leeds Central, the constituency in which the college is located, said the killing was "profoundly saddening".
"It is not representative of the college or the community that surrounds it," he said.
While "shocking, terrible" attacks like this were rare, that would be "no comfort" to the dead teacher's family, Mr Benn added.
Pupils have been paying tribute to the teacher on Twitter.
One said Mrs Maguire had "made our Year 11 best time of our life, what an amazing woman RIP".
Another said: "I actually feel sick... RIP to probably the best teacher ever."

11/04/2014 - Bolton charity in court after child loses finger in school door

A Bolton charity has been prosecuted for safety failings after a nine-year-old boy with autism lost a finger when his left hand became trapped in a school door.
The Health and Safety Executive (HSE) took legal action against the Birtenshaw charity after an investigation found the organisation had failed to make sure all of the doors at its new special needs school in Bromley Cross were fitted with finger guards.
Trafford Magistrates' Court heard today (11 April 2014) that the child, who also has learning difficulties, trapped his hand in the hinge of the door when he went into the 'quiet room' during his first few days in the new school building on 11 September 2012. He lost all of his index finger as a result of the incident.
The court was told that the charity, which runs Birtenshaw School on Darwen Road along with several care homes, had identified the need for finger guards during the construction of its new school building.
However, the organisation failed to make sure the guards had been fitted before the new building opened to pupils in September 2012, and several doors were found to have missing guards.
Birtenshaw, of Darwen Road in Bromley Cross, received a conditional discharge and was ordered to pay £898 in prosecution costs after admitting a breach of the Health and Safety at Work etc Act 1974.
Speaking after the hearing, HSE Inspector David Norton said:
"A nine-year-old boy has suffered an injury that will affect him for the rest of his life because of the failings of the charity which runs the school.
"Birtenshaw knew there was a risk of children's fingers becoming trapped in doors as the pupils who attend the school have learning and physical disabilities, making them particularly vulnerable.
"It would have been relatively easy to walk around the school to check all of the doors had been fitted with finger guards before pupils moved into the new building, but the charity failed to do this.
"It's vital that organisations do more than just identify risks and actually make sure measures are in place to tackle any dangers."

04/04/2014 - Salford Council prosecuted after child loses fingertips in school gate

Salford City Council has been fined £20,000 after a six-year-old boy with autism and learning difficulties lost the tips of three fingers when his hand was trapped in a school gate.
The child was a pupil at Springwood Special Educational Needs Primary School on Barton Road in Swinton when the incident happened on 23 October 2012.
The council was prosecuted by the Health and Safety Executive (HSE) today (4 April 2014) after an investigation found the council had failed to act on a report produced in April 2004 which identified the risk of children trapping their fingers in the outside gates. Action was only taken after the incident in 2012, when guards were fitted to 22 gates at the school.
Manchester Crown Court, Minshull Street, heard there was an eight centimetre gap on the side of the gate when it was shut, but the gap was reduced to zero when the gate was pushed open, creating a guillotine effect.
On the day of the incident, staff had opened the gate to allow ten children into the playground for their lunchtime break. However, the boy's left hand became trapped in the gate's hinges at some point when the children were walking through, and his fingertips were severed. He lost the tips of three fingers, with his middle finger cut off up to the first knuckle.
Parts of his fingers were recovered and hospital staff managed to reattach two of them, but he now has reduced use of his hand and amputation injuries.
The court was told that the risk assessment in place at the time of the incident advised staff to be vigilant and supervise children through the gates, but guards could have been fitted at little cost. This would have prevented children from putting their fingers in the gap by the hinges.
Salford City Council, of Chorley Road in Swinton, was fined £20,000 and ordered to pay £3,632 in prosecution costs after pleading guilty to a breach of the Health and Safety at Work etc Act 1974.
Speaking after the hearing, HSE Inspector Emily Osborne said:
"All of the children at Springwood Primary School have special educational needs and many have profound and multiple learning difficulties, so are particularly vulnerable.
"Salford City Council failed to make sure health and safety at the school met the minimum legal standards and put these children at risk over a long period of time.
"Teachers did their best to supervise children through the gates and follow the risk assessment to avoid fingers being trapped, but no action was taken by the council to prevent this from happening.
"It is simply not good enough to identify something as being a serious risk but then to do nothing about it, and a guard should have been fitted over the dangerous part of the gate. Instead, a six-year-old boy suffered injuries that are likely to affect him for life as a result of the council's failings."

Case 276 - Restaurant staff declared that pork crackling is not allowed to be served for Health and Safety reasons!

Issue
Enquirer was told by restaurant staff that pork crackling is not allowed to be served for Health and Safety reasons! It may splash the chef!
Panel decision
The panel is somewhat bemused by this case. Anyone who cooks roast dinners at home knows that pork crackling can be produced perfectly safely as part of roasting a joint of meat. Breaking the crackling into pieces for serving can be quite tricky but it is hardly a health and safety issue. It should be a fairly basic skill for any chef to acquire.
The company needs to own up to the real reason why they refuse to serve pork crackling.

01/04/2014 - Pupil dies after wall collapses at Liberton High School

From BBC news website A pupil has died after a wall inside the building of an Edinburgh school collapsed and landed on top of her.
The Scottish Ambulance Service sent a special operation response team to Liberton High School at 09:53.
A Police Scotland spokesman said the pupil, who is understood to have been in S1 or S2, was treated by ambulance staff but pronounced dead.
The incident is thought to have happened in a PE changing room. Police confirmed next of kin had been told.
One pupil at the school, 13-year-old Devon Blyth, told the BBC she had warned a teacher some months ago that there was an unstable wall in the girl's changing room near the old gym.
She said: "There was a wall that's been wobbly for months.
"I had told my old PE teacher before he left and he said it should be fine - and then this has happened."
The school, which has about 650 pupils, was built in 1959, and the PE accommodation was refurbished in the mid-1980s.
After the incident the school sent a text to parents, which reads: "Important! Accident at school. A pupil has sadly died. Her parents are aware. No-one else is injured."
Edinburgh City Council advised parents to pick up their children from the school.
BBC reporter Morag Kinniburgh said pupils had been texting their parents saying they were extremely worried and asking to be picked up.
Gary Gracie, 34, was one of the parents who congregated at the school gates.
He said: "My step-daughter phoned and said one of the walls in the changing room had collapsed.
"The lassies were getting changed for their PE class in the changing room. My step-daughter heard the crash. "She said it was all her friends in the building at the time. "She is really upset."
Another parent, Alistair Strachan, 36, said he was "very worried and concerned" about the incident.
Police Scotland said officers had been called to the school after a wall within the building collapsed.
A spokesman said the girl was treated by ambulance staff on the scene, but was pronounced dead.
He added: "Inquiries into the full circumstances surrounding this incident are ongoing and we are working alongside our relevant partner agencies."
A spokeswoman for the Health and Safety Executive said: "We can confirm we are aware and liaising with Police Scotland."
An Edinburgh City Council spokeswoman said senior education staff and Health and Safety officers from the council were at the school providing support to staff and pupils.
The Scottish Fire and Rescue Service said crews from Tollcross, McDonald Road, Liberton and Newcraighall had been sent to the school.
"Firefighters assisted ambulance personnel to remove a female casualty from a collapsed structure, but sadly she was pronounced dead at the scene," said a spokeswoman.
"Thoughts are with the family at this difficult time."
First Minister Alex Salmond tweeted that he was "shocked and deeply saddened at news from Liberton High.
"Visited school in December - thoughts today with family, pupils and staff."
Minister for Learning Alasdair Allan added: "We remain in close contact with the council and stand ready to provide any help that may be needed."
Nick Cook, Conservative councillor whose Liberton and Gilmerton ward includes Liberton High School, told the BBC Scotland news website: "This is a very tragic and troubling incident.
"My thoughts are with the pupil's family.
"Serious questions need to be asked of the children and families department about how this has come about and a full investigation must be launched."
Ian Murray MP tweeted: "Tragic news coming from Liberton High School. My thoughts go out to the family and all at the school. Dreadful news."
The moderator of the general assembly of the Church of Scotland, Rt Rev Lorna Hood, tweeted: "Sadness as we hear of the death of pupil at Liberton High School.
"Our prayers and heartfelt compassion go out to her family and school community."
Edinburgh City Council was fined £8,000 in February after a pupil received serious injuries when she fell down a lift shaft at Liberton High School.
Morgan Seaton, a fourth year Liberton High School pupil, was 15 at the time of the accident on 8 December 2011.
Another pupil at the school died in December while playing for Tynecastle FC's under-14s.
The 13-year-old collapsed during a match at Saughton Sports complex in Edinburgh on 22 December.

26/03/2014 - Schools in England have new guidance on poor behaviour

From RoSPA website The Department for Education (DfE) has updated its guidance for schools in England on poor behaviour to clarify their position in relation to health and safety and litigation.
The guidance says that persistent absence and exclusions for abuse and assault are both down "significantly" since 2010 but 700,000 pupils are still in schools where behaviour is not good enough.
"While the previous guidelines made clear the legal backing for setting punishments, they stopped short of outlining potential sanctions – leaving many heads and teachers unclear of the action they could take, particularly with regard to misplaced health and safety fears or concern about litigation," says the Department for Education.
"Almost 1 in 3 secondary teachers – tens of thousands of teachers in hundreds of schools across the country – don't feel confident using the powers they have to discipline pupils."
Punishments included in the guidance include litter picking in the playground, weeding school grounds, removing graffiti and cleaning the dining hall.

26/03/2014 - Pupil behaviour is affecting our mental health, say primary school teachers

From RoSPA website Primary school teachers say that pupil behaviour is affecting their mental health, according to a new survey by the Teacher Support Network.
The poll of teachers reveals that 53 per cent of primary school teachers say they have seen worsening behaviour, compared with only 46 per cent of secondary school teachers.
The YouGov poll of 481 primary and 321 secondary school teachers found that:
• Nearly two thirds (62 per cent) of primary school teachers said that poor behaviour has resulted in stress, anxiety or depression. • Over a third (37 per cent) of primary school teachers say they have considered leaving the profession as a result of behaviour problems. • Almost one in four (38 per cent) teachers say that behaviour is preventing them from teaching effectively.
The Teacher Support Network is calling on the Government and primary schools to ensure staff are given training and support to cope with increasingly challenging pupil behaviour.
Commenting on the findings, Julian Stanley, chief executive of the Teacher Support Network, said:
"Many people think bad behaviour is at its worst in secondary schools but in fact our research highlights that primary school behaviour is declining at an alarming rate. [poor behaviour] is driving valuable teachers away from the profession and damaging the morale and mental health of many others."

26/03/2014 - School fined for £5,000 for "preventable" climbing accident

From RoSPA website HSE has fined a school in Bradford after a PE equipment manager fell nine metres to the ground when climbing equipment broke during preparations for a PE lesson.
The Thornton Grammar School employee, Stephen Painter, was rigging a climbing wall which involved climbing up to secure to the ropes to the wall. Another member of staff was belaying him to provide extra rope when needed.
Unfortunately Mr Painter fell onto the gym floor when the belaying failed to hold him. There were no mats or padding and he was not wearing a helmet. He broke a forearm and elbow and fractured two vertebrae in the incident.
HSE found the management of the wall including its safety system was almost non existent. It also found that the competence of the staff using it and providing instruction to others was an after-thought and not put in place effectively.
After the hearing, HSE Inspector Geoff Fletcher said: "This was a serious incident that could have been prevented. In a fall of that scale, it is fortunate that we were not dealing with a fatality.
"The risks to those engaged in climbing are self-evident but those risks should be addressed in line with available guidance. It is essential that those who provide climbing instructions should themselves be properly trained and certificated.
"The training and development of staff using the climbing wall at this school was not adequate and they were allowed to undertake tasks on it that they had not been trained for."


10/03/2014 - HSE Myth Busters Case 258 - Hot drinks not allowed on school trips

Issue
Enquirer's daughter took a hot drink in a flask on a school trip. Following the trip the enquirer was told that the school has a no hot drink policy 'due to Health and Safety'.
Panel decision
This is another case of health and safety becoming a hot topic unnecessarily. Health and safety legislation does not prevent children from having hot food or drink in their packed lunches, for consumption in school or on school trips. It is particularly confusing for parents if the school's own rules are not communicated to parents, especially in cases such as this where the rule appears to be different in school versus on trips. It would be better if school policies were more clearly communicated and explained to parents rather than blamed on a "health and safety" catch-all.

16/01/2014 - Lydia Bishop died on first day at nursery

A three-year-old girl who died on her first day at nursery after getting her neck caught in a rope was not found for 20 minutes, a court has been told.
Lydia Bishop was not breathing when nursery worker Sophee Redhead found her at York College's nursery outdoor play area, Leeds Crown Court heard.
Ms Redhead, 25, denies manslaughter by gross negligence.
She also denies failing to take "reasonable care" of the girl under health and safety legislation.
York College denies failing to ensure people not in their employment are not exposed to a risk to their health and safety.
The college operated the nursery for children of staff, students and members of the public.
Robert Smith QC, prosecuting, said: "Lydia was left entirely to her own devices for what was to be a prolonged period.
"Only when a member of staff discovered she was not in the building or directly outside did anyone appreciate she may have come to some harm."
The court heard that when Ms Redhead carried Lydia into the nursery she was not breathing and was blue.
All efforts to revive her by nursery staff, paramedics and doctors at York Hospital failed.
Lydia's death in the loop of rope was "completely avoidable" had proper measures been taken to protect her, Mr Smith said.
Her mother Rebecca Dick had just enrolled on a course at the college and had been for introductory sessions with her daughter.
The day she died was her first full day at the nursery, the jury was told, and her mother was assured children were not left alone outside to play on the apparatus.
Mr Smith accused the nursery of having a "tick box mentality" towards health and safety, which meant legislation was followed on paper but not in practice.
In Lydia's age group, there were 17 children in nursery during that day and three staff, the court heard.
The case against Ms Redhead was that she saw the child walk towards the slide, but took no action to prevent her from going on it, despite knowing there was no other member of staff in the area, Mr Smith said.
The case continues.

14/11/2013 - School and glass contractor fined for asbestos failings

From HSE website A Birmingham academy and a glass company have been fined for failing to properly manage refurbishment works and exposing workers to asbestos.
Equitas Academies Trust, the owner and operator of Aston Manor Academy, and Birmingham Glass Services Ltd were jointly prosecuted by the Health and Safety Executive (HSE) after an investigation found they put employees at unnecessary risk in the incident on 6 June 2012.
Birmingham Magistrates' Court heard today (14 November) that Equitas Academies Trust undertook a project in the spring and summer of 2012 to replace old windows at the academy. The school appointed Birmingham Glass Services Ltd (BGS) to do the work, having previously used the company for other projects.
The court was told that four BGS workers attended the site, but did not receive an induction by any employee of Equitas Academies Trust. Nor was any information provided to the glass company's employees on the location of any asbestos containing materials. The school's site manager told the BGS employees that 'to the best of his knowledge' there was no asbestos containing materials in the window area.
While removing the windows, two of the BGS employees encountered strips of asbestos insulating board (AIB) packers, which prevented them from installing the new windows. The packers were removed from the frame using a crowbar, then snapped and dumped next to an asbestos decontamination unit on the school site that was being used for unrelated work by licensed asbestos removal contractors.
HSE found that along with not receiving information on where asbestos could be found in the building, these two employees had not received asbestos awareness training; and had not been provided with any form of personal protective equipment, such as face masks or protective clothing. They were therefore exposed to loose asbestos fibres while removing the asbestos packers and breaking them into pieces.
Magistrates also heard there were no emergency procedures in place for the employees if asbestos was disturbed.
The incident cost the school £20,000 through decontamination and replacement of floor coverings. Soft furnishings and children's work had to be disposed of and parts of the school could not be used for the second part of the summer term.
Birmingham Glass Services Ltd, of Lightning Way, West Heath, Birmingham, was fined £5,000 and ordered to pay £1,969 in costs after pleading guilty to breaching Section 2(1) of the Health and Safety at Work etc Act 1974.
Equitas Academies Trust, of Phillips Street, Aston, Birmingham, was fined £7,500 with £3,000 in costs after pleading guilty to breaching Section 3(1) of the Health and Safety at Work etc Act 1974.
After the hearing HSE inspector Paul Thompson said:
"This incident would have been avoided had the academy put procedures in place to ensure that relevant parties understood their duties around minimising the risk of asbestos exposure inside the school.
"Although the school had not been under local authority control since 2011, it failed to ensure employees and management received adequate training to make up for the loss of local authority support and ensure that a suitable asbestos management plan was in place.
"By not providing asbestos awareness training to their operatives and not taking steps to ensure that they had information on where asbestos was in the premises before works commenced, Birmingham Glass Services Ltd failed in their duty to protect their employees and members of the public from potential exposure to asbestos.
"Workers exposed to asbestos could have posed a health risk to others in the long term, even their families and loved ones, by taking home their contaminated clothing.
"Asbestos is the single greatest cause of work-related deaths in the UK. Building owners and contractors have a duty to ensure they protect their workers from risk of exposure. Equitas Academies Trust and Birmingham Glass Services Ltd failed to do so."
Information and advice about working safely with asbestos can be found on the HSE website at www.hse.gov.uk/asbestos

04/11/2013 - Council fined after school janitor loses toe

From HSE website Fife Council has been fined for health and safety failings after a school janitor was injured while undertaking chainsaw work.
Craig Davies, then aged 39, a council employee for more than 20 years, lost his toe while cutting back the branches of a tree that had blown down in high winds.
Fife Council was prosecuted today (4 November) after an investigation by the Health and Safety Executive (HSE) found that the council failed to assess risks, implement a safe system of work and instruct and supervise employees on a dangerous task.
Kirkcaldy Sheriff Court was told that in September 2011 Fife Council's Education Service identified a possible extension to the services provided by school janitors. In addition to simple gardening duties in school grounds, they would undertake basic chainsaw work, particularly on fallen branches or trees, duties which were normally carried out by the Council's Parks Department.
In November 2011, Mr Davies and two other workers from the educational facility service underwent basic chainsaw training.
On 11 January 2012, Mr Davies was sent to Canmore Primary School in Dunfermline where an ash tree had blown down. On arrival, he realised the job was bigger than anticipated and contacted a colleague for assistance.
The two men set to work, detaching and reducing the branches until they were left with the trunk and a single limb attached at above-shoulder height.
Mr Davies climbed onto the trunk and started cutting through the limb. It sheared away from the trunk, came towards him and landed on his foot trapping it against the trunk.
Mr Davies required three surgical procedures but doctors were unable to save one of his toes. He spent three months recuperating before returning to work.
The HSE investigation concluded Fife Council failed to properly assess the risks to employees in the educational facility service while undertaking chainsaw operations; failed to maintain a safe system of work and provide sufficient training and supervision to enable them to undertake chainsaw work.
Fife Council, of Fife House, North Street, Glenrothes, was fined £20,000 after pleading guilty to breaching Section 2(1) of the Health and Safety at Work etc Act 1974. Following the case, HSE Inspector Kerry Cringan, said:
"The failures by Fife Council resulted in Mr Davies suffering a significant and serious injury.
"Chainsaw operations are, by their very nature, hazardous. Fife Council, having reached a position where these employees had the most basic of chainsaw qualifications, dispatched them to single-handedly tackle a job that was far in excess of their capabilities.
"As a result they found themselves in a situation outside of their experience, but without recognising it was beyond their abilities. Employers must ensure that chainsaw operations are carefully planned and supervised, particularly when employees are not experienced in arboricultural work."
In forestry and arboriculture (between 2004/05 to 2010/11) chainsaws caused five deaths in Great Britain. In addition 131 workers suffered major injuries while using sawing and cutting tools with a further 355 suffering injuries that kept them off work for more than three days. For more information about using chainsaws safely visit: http://www.hse.gov.uk/treework/areyou/chainsaw-operator.htm

23/10/2013 - Annie Woodland wins landmark case over near drowning

From BBC News website A woman who almost drowned in a school swimming lesson 13 years ago has won a landmark case at the Supreme Court.
Annie Woodland was a pupil at Whitmore Junior School in Basildon, Essex, when she had to be resuscitated in 2000. She suffered severe brain damage.
A claim for £3m damages was rejected in 2011 and that decision was upheld by the Court of Appeal last year.
The latest ruling now paves the way for her to pursue compensation from Essex County Council.
Her lawyers argue that the county council owed her a duty of care "in the capacity loco parentis" when Miss Woodland, then aged 10, took part in a school swimming lesson at a local pool.
The swimming teacher and lifeguard who, it is claimed, negligently failed to notice Miss Woodland had got into difficulties, were not employed by the county council.
'Chilling effect'
Lawyers for Miss Woodland, who is now in her early 20s and lives in Blackpool, argued that the school still owed her a duty of care, even when third parties were contracted to provide teaching.
When the case was dealt with in the Court of Appeal, Lord Justice Tomlinson said the imposition of a non-delegable duty of care on the council could have a chilling effect on the willingness of education authorities to provide valuable experiences for their pupils.
The issue before the Supreme Court justices at a hearing in July related to the criteria to be applied in "determining the circumstances in which a school's duty to its pupils under the National Curriculum can be delegated".
In his ruling released on Wednesday, Lord Sumption found that the local authority owed a "non-delegable duty of care".
"It is fair, just and reasonable to impose such duties," the ruling states.
"It is consistent with the long-standing policy of the law to protect those who are inherently vulnerable and subject to a significant degree of control.
"It is wholly reasonable that a school should be answerable for the performance of part of its own educational function.
"Parents are required by law to entrust their child to a school and have no knowledge or influence over the arrangements that the school may make to delegate specialised functions, or the competence of the delegates."
'Changed the law'
He concluded that if third parties were found to be negligent, Essex County Council would be in breach of a duty of care.
Lady Hale said the decision was a "development of the law" and avoided the "unsatisfactory possibility" that one child could sue but another could not.
An Essex County Council spokesperson said: "The Supreme Court has changed the law so that a public authority now has liability in certain circumstances for the negligence of its independent contractors where children or vulnerable people are involved."
"This overturned the earlier decisions of the High Court and the Court of Appeal.
"However, the question of whether Essex County Council is liable in this case remains to be decided and will be heard by the High Court next year."
Miss Woodland's mother, Alison Morris, said she was "greatly relieved that justice has been done".
She said: "It should never have come to this in the first place. No child should suffer in this way. This ruling will make such a difference to families in the future."
Miss Woodland's father Ian said: "It has caused enormous damage to our family.
"Up until this ruling, we had seen only injustice. How could the school not be responsible for our daughter during a National Curriculum lesson?
"I hope that, in the light of this judgment, no other family has to go through the same as we have done."


15/10/2013 - Child protection 'inadequate', Ofsted chief warns

The standard of child protection was found to be "unacceptably poor" at 20 councils.
Only one in four local authorities was rated "good" at safeguarding children, the new report by Ofsted said.
Ofsted is responsible for inspecting children's social care, including child protection services, in 353 councils.
Inspectors found that a persistent absence of stable leadership was a feature of most "inadequate" local authorities.
The watchdog said more needed to be done to address "incompetent and ineffective" leadership in children's services, saying one in three local authorities in England had changed its director of children's services last year.
The report also found the nationwide picture of poor performance was complex and changing - with the group of authorities currently judged inadequate this year being very different to those of July 2012.
In its first stand-alone social care annual report, Ofsted found that in the weakest councils:
- basic acceptable practice was not in place
- supervision, management oversight, purposeful work with families and decisive action where children were at risk from harm were ineffective
- the views of children and families were rarely considered
- support from key statutory partners - health, police, schools - was weak and poorly co-ordinated
- managers did not appear to have a firm understanding of what constituted good practice - making the management of risk and support for staff at the frontline almost impossible.
'Danergous mix'
Chief inspector of Ofsted Sir Michael Wilshaw said: "As it stands today, there are 20 councils where the standard of child protection is unacceptably poor and judged to be inadequate.
"Incompetent and ineffective leadership must be addressed quickly. But where those in leadership positions have capacity and potential, this must be recognised and nurtured.
"Too much leadership volatility in social care is counter-productive - that goes without saying. One in three local authorities has had a change in their director of children's services last year alone.
"The combination of unstable communities and political and managerial instability in our social care services is a dangerous mix."
The 20 councils where the standard of child protection services has been judged "inadequate" by Ofsted are:
Barnsley, Bexley, Birmingham, Blackpool, Calderdale, Cambridgeshire, Cheshire East, Cumbria, Devon, Doncaster, Herefordshire, Isle of Wight, Kingston upon Thames, Medway, Norfolk, Northamptonshire, Rochdale, Sandwell, Slough and Somerset.

16/07/2013 - Doncaster council to be stripped of children's services

From BBC News website Doncaster Council is to become the first local authority to be stripped of control of children's services, following a "legacy of failure".
The education secretary Michael Gove said an independent trust would run services, which have been supervised by government since 2009, from next year.
A report said a "decisive break" was needed to move on from failings that saw seven children die in five years.
The Mayor of Doncaster, Ros Jones, said she was "deeply disappointed".
The new trust will take over all children's social work and care operations, while the council would retain responsibility for schools and education.
In March 2009, the government ordered a takeover of Doncaster's children's services following the deaths of seven children in the district through abuse or neglect over five years.
Less than a year later a serious case review found the attacks in the nearby town of Edlington in which two young boys were tortured by two brothers, aged 11 and 12, had been "preventable".
'Mammoth ship'
The new report said: "There needs to be a line drawn under the historic failure, a separation that permits the development of a new culture - one of development, improvement and innovation, instead of one of frustration, disillusion and stagnation."
The review, commissioned by Education Secretary Michael Gove, was written by academic Julian Le Grand, Alan Wood, the director of children's services in Hackney, and Dame Moira Gibb, chair of the Social Work Reform Board.
Writing to Mrs Jones, Mr Gove said: "Given this assessment, I agree with the recommendations and will now seek to put them into effect."
He said he hoped the trust would be operational by April 2014 and that Mr Wood would be appointed to oversee the transfer of power from the council to the new body.
"The review panel recommends that, when improvements to the service are secure and confidence in Doncaster Council's ability to deliver children's social care functions is gained, those services should return to council control," he wrote.
"My intention is therefore to establish the trust for a 10-year period, with a review point after five years.
"Progress of both the trust and the council's capacity to deliver its functions can be assessed at that stage and a decision taken as to whether the continue."
Mr Gove pledged £250,000 to the council to contribute towards the costs of running children's services in the interim.
Mrs Jones, who was elected as mayor of Doncaster in May and immediately announced she would prioritise children's services, said the report had not given her administration a chance to act.
She said: "We will do what's best for the children of Doncaster and would never walk away from it.
"I believe that internally we could have actually worked along, got everyone on board and started turning around what is a mammoth ship.
"I'm deeply disappointed. We will do what's needed in order to make sure our kids are safe but I believe that this is too presumptuous.
"They've not given us a chance with the people that we've brought in with a national reputation of turning round children's services to take it forward."
In June the council announced private consultancy firm Impower would take over management of the department from 1 July as the authority's "improvement partner" under the direction of Eleanor Brazil.
Ms Brazil was interim deputy director of children and families services following the death of Peter Connelly, also known as Baby P, in 2007 after social workers missed signs of abuse.
The report said it favoured an independent trust over a private sector partner model as, while more costly to set up, it could be "tailor-made" for Doncaster, less disruptive to staff, and, if set up as a not-for-profit organisation would "allay public concerns about the risk of privatisation".

20/06/2013 - Five children, four adults hurt in crash near Rhoose school

From BBC News website
Five children and four adults have been taken to hospital after a serious car crash outside a school in south Wales.
Emergency services were called to Fontygary Road, Rhoose near Rhws Primary school at 08:50 BST after a car overturned.
One of the children, a nine-year-old girl, is being treated for head injuries in paediatric intensive care.
The 61-year-old male driver of the car, named locally as Robert Bell, is assisting police with inquiries.
Four girls and a boy aged between five and 10 years old were hurt, said South Wales Police's Ch Supt Joe Reddy.
He said the incident was not being treated as a deliberate act and they are speaking to the driver, who was also hurt.
The other adults injured were school lollipop lady Karin Williams and two other women.
"Their conditions are changing as the day progresses but one girl is in intensive care and two women are being treated broken bones and fractures," Ch Supt Reddy added.
A major incident response got under way shortly after the incident which unfolded as the school run was at its busiest at 0850 BST.
Up to 30 officers attended as well as teams of paramedics and fire crews.
"It was a very distressing scene for the community and members of the emergency services who attended before the start of the school day," said Ch Supt Reddy.
He said a number of children at the scene were treated for shock as well as several members of the public.
Resident Glenys Watson told how the daily school run descended into what looked like "a war zone".
"Parents heard the bang and thought it was a gun," she said. "They didn't know what happened."
"A few of the mums are turning up and taking their children home. They are all traumatised."
Another resident told BBC News she heard reports of a dark car swerving before hitting a bollard and "going up in the air".
"Apparently the driver had a coughing fit and slammed on the accelerator instead of the brake," she said.
"The lollipop lady was escorting a number of kids across the road at the time."
An eye witness who called emergency services said: "I was walking my dog when I turned a corner and saw a car in mid air.
"The road was chock-a-block with kids arriving for school - there was a huge crash and loads of screaming.
"Children were lying injured in the road and parents and passers by were running to them to help.
"I called the emergency services and there were off-duty paramedics and parents assisting the injured.
"The lollipop lady was trapped... all I could see was her jacket from under the car.
"Children who saw it were ushered into the school and they are being kept inside while the rescue operation was going on."
The lollipop lady's broken stick was lying on the road next to the overturned Audi Cabriolet.
The air ambulance, three rapid response vehicles and five emergency ambulances were dispatched to the scene.
The Welsh Ambulance Service confirmed six patients had been taken by ambulance to University Hospital of Wales (UHW) in Cardiff.
Four of them were children with head or abdomen injuries and fractures, and two were adults with fractures.
Cardiff and Vale University Health Board said on Thursday evening a nine-year-old girl remained in a serious condition in intensive care.
Dr George Findlay, clinical board director for children and women, said: "The three other children being treated at UHW are in a stable condition and are being cared for on paediatric wards.
"One adult has been discharged from our care whilst another is still being treated for her serious injuries.
"Staff are working closely with patients and families to offer the best care and support that we can."
Another two adults and a child, all with minor injuries, were taken to Princess of Wales Hospital in Bridgend by ambulance. Support
Councillor Chris Elmore, Cabinet Member for Children's Services, at the Vale of Glamorgan council praised the actions of the acting head teacher Jan Morgan and said relief crossing patrols would be in place for the rest of the week.
Educational psychologists have been sent to the school to offer support to the children.
Following the incident, First Minister Carwyn Jones tweeted: "I am very concerned to hear about this morning's incident in Rhoose and I am being kept fully informed of developments. Clearly, our thoughts are with those involved."
Vale of Glamorgan MP Alun Cairns said it was a "terrible incident".
"My heart goes out to those affected. I am liaising with police over communication and support," he said.
Anyone who witnessed the collision or who gave assistance following the collision is asked to contact the South Wales Police Serious Collision Investigation Unit by calling 101.


10/06/2013 - Exposure to asbestos puts children at greater risk

A scientific advisory committee to the Government has concluded that children are more vulnerable to asbestos exposure than adults.
Pressure groups say the Government must act on the committee's findings and carry out an independent review of its policies on asbestos in schools.
The Committee on Carcinogenicity of Chemicals in Food, Consumer Products and the Environment (CoC) was asked for advice on the relative vulnerability of children to asbestos to inform discussions of the Department for Education's Asbestos in Schools Steering Group.
There are 24,372 schools in England and it is estimated that more than 75 per cent of these schools have some buildings that contain asbestos-containing products (ACPs). This estate presents an increased potential of harm to occupants.
The CoC looked at two aspects: firstly, whether children are more vulnerable because they will live longer for mesothelioma to develop; and, secondly, whether they are more vulnerable because of their physical immaturity.
On the first aspect, the Committee reached unanimous agreement that children are more at risk. Indeed, it is estimated that the lifetime risk of developing mesothelioma for a five-year-old child is about five times greater than an adult aged 30.
On the second matter, the Committee was unable to reach a conclusion on account of insufficient scientific research having been carried out.
The Department for Education and the HSE have previously vowed to conduct an internal review of their own policies on asbestos in schools following receipt of the CoC's findings, but safety campaigners want an independent review.
Chair of the Asbestos in Schools (AiS) group Annette Brooke OBE MP said: "In light of the publication of this report, I call on the Government to urgently review their policies on asbestos in schools. The DfE must publish a strategic plan involving an audit of school buildings and an assessment of the risks. Over a period of time the plan must aim for the removal of the most dangerous asbestos materials."
Chair of the Joint Union Asbestos Committee Julie Winn commented: "Children cannot control their exposure and they do not assume the risk voluntarily. Any policy approach that adopts anything other than a precautionary approach is socially and morally unacceptable. Where there is uncertainty, policy should err on the side of health and safety and a precautionary approach should be taken. An independent review of government policy is long overdue."
Commenting following the Committee's findings, a Department for Education spokesperson told SHP: "We welcome the Committee on Carcinogenicity's report on the effect exposure to asbestos can have on children, and have committed to consider the findings when reviewing our policy on asbestos management.
"Schools must already comply with the strict legal duties on asbestos. We have also published guidance on the issue and work closely with the HSE in ensuring asbestos is managed properly in all schools."

07/06/2013 - High school fined after pupil's climbing wall injury

An Essex high school has been fined for safety failings after a 14-year-old boy fell more than four metres from a climbing wall.
The climbing wall at Manningtree High School The teenager was one of four pupils selected to try their first-ever 'lead climb', a more advanced, mainly rock-climbing technique, during a PE lesson at Manningtree High School on 17 October 2012.
He had managed to clip on to three points as he ascended the climbing wall but struggled with the fourth. A fellow pupil, similarly inexperienced, had been told to 'belay' the rope for the boy, keeping it taut or feeding more as necessary. After the climber grew tired, the instructor told him to let go of the climbing wall, which he did.
However, instead of being supported by the belay technique, he fell unrestrained over four metres and hit the safety mat on the floor. The pupil, now 15, suffered a fractured heel bone, which was later pinned and plated.
The incident was investigated by the Health and Safety Executive (HSE), which prosecuted Manningtree High School today (7 June) at Colchester Magistrates' Court.
HSE found that prior to the lesson none of the four pupils were aware what lead-climbing was or the risks involved and none had been properly trained or prepared for the more advanced type of climbing that was being attempted.
In addition the school failed to have an adequate safety management system in place for lead-climbing, and the instructor was not competent to teach or supervise lead-climbing.
Manningtree High School, of Colchester Road, Manningtree, was fined £9,000 and ordered to pay £1,641 in costs after pleading guilty of breaching Section 3(1) of the Health and Safety at Work etc Act 1974 for failing to adequately protect the pupils against the risk of falls.
After the hearing, HSE inspector Glyn Davies said:
"A teenage boy sustained a totally preventable injury that required an operation, saw him on crutches for more than 14 weeks, and from which he is still recovering.
"Inexperienced pupils receiving climbing instruction during PE lessons are completely reliant for their safety on the competence of their climbing instructor and the adequacy of the school's safety management system.
"Unfortunately in this case pupils were let down by Manningtree High School's failure to ensure the climbing activity was carried out safely and sadly this resulted in one pupil getting hurt."
Advice and information on health and safety in schools is available atwww.hse.gov.uk/education and from national and local government.

A group of MPs has been hearing oral evidence on asbestos in schools from Schools Minster David Laws, HSE's director of field operations, David Ashton, asbestos campaigners and experts.
The Education Select Committee heard the evidence on 13 March. The session focused on the scale of the problem, the need for a national asbestos audit in schools and the impact of the free schools and academy programme on asbestos management.
The MPs will now decide whether a longer investigation is justified.
Michael Lees from the Asbestos in Schools Group, Julie Winn, chair of the Joint Union Asbestos Committee (JUAC), Julian Peto of the London School of Hygiene and Tropical Medicine, and head teacher Roger Leighton gave their evidence first.
They were followed by Schools Minister David Laws and HSE's David Ashton.
JUAC said afterwards it was disappointed that the Minister rejected the need for a national audit of asbestos of schools.
"Nonetheless the minister did at least express some concern at the possible effect of the academies and free schools programmes and acknowledged that this would be addressed through a review of Government policy later this year," says JUAC.
The Select Committee session can be viewed at: www.parliamentlive.tv/Main/Player.aspx?meetingId=12840&st=10:12:55

27/03/2013 - Council prosecuted after school caretaker injured in fall

A local council has been found guilty of breaching health and safety law after a school caretaker was injured in a fall from a shed roof in Oldham.
The 61-year-old, who has asked not to be named, injured his knees, ankles, neck and right hand in the fall at Beever Primary School on Moorby Street on 27 July 2010. He was unable to return to work full time following the incident, and has now had to retire.
Oldham Metropolitan Borough Council was prosecuted by the Health and Safety Executive (HSE) for failing to take sufficient measures to prevent the fall.
During a two-day trial, Trafford Magistrates' Court heard that the caretaker had been carrying out maintenance work to the roof of the shed at the school, which is used to store equipment for a neighbouring children's centre.
The roof had recently been vandalised and the felt had been ripped off, causing it to leak. The worker had climbed onto the roof and was attempting to place plastic sheeting on it when he tripped and fell backwards. He landed on a concrete floor three metres below.
A HSE investigation found the injured worker had started working as a caretaker at the school in 2004, six years before the incident, but had not received any training on working at height.
Oldham Metropolitan Borough Council was found guilty of breaching Regulation 6(3) of the Work at Height Regulations 2005. The local authority, of West Street in Oldham, was fined £7,000 and ordered to pay £12,260 in prosecution costs on 18 March 2013.
After the hearing, HSE Inspector Alex Farnhill said:
"It's disappointing that the caretaker had been working at the school for six years without receiving any training on how to work safely at height.
"Using a stepladder or carrying out other work above the ground was part of his job, and it should therefore have been a council priority to make sure he could do this safely.
"Work at height is one of the biggest causes of workplace deaths and injuries in the UK, and this case should act as a warning to employers about the dangers."

24/03/2013 - Disruptive behaviour rising, teachers say

The number of pupils in the UK with behavioural and mental health problems is on the rise, a teachers' union says.
The Association of Teachers and Lecturers said disruptive classroom behaviour was also worsening, with 53% of 844 members surveyed reporting a deterioration over the past five years.
The union said teachers and support staff needed better training to help them deal with challenging children.
The government said teachers now had more powers to deal with unruly pupils.
In June last year, the government's adviser on behaviour, former head teacher Charlie Taylor, told a committee of MPs that some pupils in England were too disruptive to fit into regular school life.
He said some of these challenging children needed much more help and support.
The issue of pupil behaviour is likely to be hotly debated at the ATL's annual conference in Liverpool next week.
Challenging behaviour
In a survey of 844 members across the UK, 62% said there were more children with emotional, behavioural and mental health problems than two years ago and 56% said there were more than five years ago.
Nearly 90% of those surveyed, which include support staff, teachers, lecturers and head teachers, said they had dealt with a challenging or disruptive child during this school year.
The main targets of challenging behaviour were other pupils (cited by 72%), followed by teaching staff (46%) and then support staff (43%).
The most prevalent challenging behaviour was verbal aggression (cited by 77%), followed by physical aggression (57%), bullying in person (41%) and breaking or ruining other pupils' belongings (23%).
Over a third of ATL members surveyed (35%) said they did not get any training in how to deal with challenging, disruptive or violent students, with only 18% saying they had regular training which was good or adequate.
Moreover, 42% said they did not get any relevant training during their teacher training.
Cyberbullying
A teacher at a secondary school in Dudley said: "I've been sworn at, argued with, shouted at, had books thrown at me, threatened with physical abuse and had things stolen and broken."
A primary school head from Kent said: "This year we had the most challenging reception pupil I have encountered in 20 years of teaching.
"He did not comply with a single instruction, even to sit on the mat for a story. His mum would not accept that his behaviour was different to the other children's and took him to another school after two terms."
A male secondary teacher from Staffordshire said: "I was cyberbullied - pupils created a pornographic Photoshop image of me."
Training
Dr Mary Bousted, general secretary of ATL, said: "Regrettably teachers and support staff are suffering the backlash from deteriorating standards of behaviour.
"They are frequently on the receiving end of children's frustration and unhappiness, and have to deal with the fall-out from parents failing to set boundaries and family breakdowns.
"And the huge funding cuts to local services mean that schools often have to deal with children's problems without any help."
She said schools needed to offer staff "good and regular" training.
A DfE spokeswoman said: "Disruptive or violent behaviour has no place whatsoever in the classroom. That is why we have strengthened teachers' powers to put them back in charge.
"Teachers can now issue no notice detentions, search a pupil without consent when they suspect they may be in possession of a prohibited item and changes to the system mean a school's decision to exclude a pupil cannot be reversed by an appeals panel.
"Our guidance also makes clear that teachers can use force to remove disruptive pupils from the classroom when necessary.
"Making sure teachers are fully trained to deal with any sort of challenging or violent behaviour is a core part of teacher standards."

20/03/2013 - Firm in court after teenager scarred by toxic chemical

A Cannock vehicle repair company was today (20 March) fined after a 16 year-old on work experience suffered burns when toxic paint stripper splashed into his eyes and face.
The school pupil should not have been exposed to the risk of being splashed with the dangerous chemical, and should have been provided with appropriate safety goggles to prevent this happening.
Bret Thomas, from Cannock, now 17, had his vision seriously affected for a month and has scarring on his face. He still suffers vision sensitivity and will be prone to suffering from migraines for the rest of his life.
Stafford Magistrates were told that Bret, a pupil of Cannock Chase High School, had been on an extended work placement at Motorhouse 2000 Ltd at its Adini House site on Wolverhampton Road since September 2011.
On 18 January 2012 he was told to assist an employee who was refilling the wheel stripping tank. The employee poured toxic paint stripper from plastic containers into the tank and then passed the containers to Bret who was removing all the labels and cutting them in half in order to dispose of them.
However, as Bret was cutting the last container with a Stanley knife, the plastic container flicked up and remnants of the toxic substance splashed into his eyes and face. He was not wearing any face or eye protection.
Bret suffered burns to his face and eyes. After initial treatment at Cannock Hospital, he was transferred to the specialist eye unit New Cross Hospital. It was approximately a month before his sight returned sufficiently enough for him to go outside and even then, he needed to be accompanied and wear sunglasses.
The Health and Safety Executive (HSE), which investigated, told magistrates that Motorhouse 2000 Ltd had changed to chemical stripping from a mechanical process to save time. It failed to risk assess this process, which involved employees coming into contact with toxic substances, nor ensured face or eye protection was worn by employees.
Motorhouse 2000 Ltd, of Watling Street, Cannock, pleaded guilty to contravening Regulation 19(2)(b) of the Management of Health & Safety at Work Regulations 1999. The company was fined £4,000 and ordered to pay costs of £6,319.
After the hearing, HSE inspector Katherine Blunt said:
"This young man has suffered an extremely painful ordeal in an incident that was totally preventable. The impact will be long lasting but Bret could have been blinded for life.
"The substance involved contains dichloromethane, hydrofluoric acid and methanol, which have been known to cause death through inhalation, burns when in contact with skin and eyes, and irreversible damage.
"Motorhouse 2000 Ltd gave little consideration to the health or safety of its employees when working with chemicals by not ensuring protective equipment, including face and eye protection, was worn. They failed to adequately assess the risks of the chemicals used which resulted in poor control measures being put in place for everyone working in that area.
"Work experience is very important for young people in order for them to gain an understanding of the world of work. However, employers must fulfil their responsibilities to assess risks and protect young people by putting the appropriate control measures in place

20/03/2013 - Taverham High School pupil dies after gym accident

A 12-year-old girl from Norfolk has died a week after being seriously hurt during a gym lesson.
The Taverham High School pupil is believed to have been injured when she landed head first from a pommel horse on to a safety mat on 12 March.
Described by head teacher Ron Munson as "sunny" and "bright", she was taken to Addenbrooke's Hospital in Cambridge and died on Tuesday.
Inquiries are under way by both the Health and Safety Executive and police.
Police officers are investigating the circumstances surrounding the death of the year eight pupil who has not been named.
Mr Munson broke the news to staff and students on Wednesday morning.
He said: "Everybody is deeply saddened and our thoughts are with her family and friends at this terribly difficult time.
"[She] played a full part in our school community and could often be seen around the school getting involved in whatever was going on, and always smiling.
"She was a big part of our school and we are all deeply affected by her loss."
Norfolk County Council's critical incident team is at the school to help staff and students, who are also being supported by the school's pastoral workers.

15/03/2013 - Ex York nursery worker charged over girl's playground death

A former nursery worker has been charged over the death of a three-year-old girl in a playground in York.
Lydia Bishop, three, died after becoming entangled in a rope on a slide in a play area at the York College nursery on 17 September.
North Yorkshire Police said a 24-year-old woman would appear at York Magistrates' Court on 8 April charged with gross negligence manslaughter.
York College will also be summonsed to court for health and safety breaches.
Det Ch Insp Nigel Costello said: "This has been a very distressing case for everyone involved, not least for Lydia's family who have suffered an extremely tragic loss."
Lydia was attending the nursery for the first time when she was injured while playing in the outside play area.
She died in hospital later that day.
Lydia Bishop died after becoming entangled in a rope on a slide In a statement, York College said: "We have just been informed by North Yorkshire Police that one of our former nursery staff has been charged with gross negligence manslaughter in relation to the tragic death of Lydia Bishop.
"We also understand that York College will be asked to appear in court for health and safety breaches.
"While the legal process is ongoing it would be inappropriate to comment further at this time.
"In the aftermath of this tragedy the thoughts of everyone at the college remain firmly with the family of Lydia and all of those affected by the events of 17 September 2012."
Following her death, college principal Dr Alison Birkinshaw said the nursery would remain closed pending the police investigation.

01/03/2013 - Council in court for ignoring asbestos threat in school

Thurrock Council has been fined after admitting to failures in how it managed asbestos across its schools.
Basildon Crown Court heard today (1 March 2013) that despite being made aware of asbestos concerns in a boiler room at Stifford Clays Junior School, no action was taken.
A specialist contractor tasked with carrying out an asbestos survey by the council in 2004 said that dust and debris found in the boiler room containing asbestos fibres should be removed immediately under licensed conditions.
However, an HSE inspection in April 2010, as part of a national initiative to ensure that local authorities understand their duties in managing asbestos across their school estate, found that nothing had been done.
This was despite school staff and contractors alike regularly entering the boiler room in the intervening six year period.
HSE served a Prohibition Notice on 24 April 2010 barring entry to the boiler house until it was made safe.
Thurrock Council was also served with two Improvement Notices regarding the management of asbestos in its schools elsewhere in the county.
Thurrock Council, of Civic Offices, New Road, Grays, Essex, was fined a total of £35,000 and ordered to pay £15,326 in costs after pleading guilty to a Regulation 10 breach of the Control of Asbestos Regulations (CAR 2006) and a breach of the Management of Health and Safety at Work Regulations 1999 - both in relation to failings across the school estate.
The council also admitted a Regulation 11 breach of the Control of Asbestos Regulations (CAR 2006) in relation to the specific incident at Stifford Clays Junior School.
After the hearing HSE inspector Samantha Thomson, said:
"This was a clear example of a local Authority failing to manage asbestos across its schools for a number of years.
"At Stifford Clays Junior School, the caretaker regularly worked in the boiler room with dust and debris over a period of six years. She will have been exposed to asbestos fibres and now faces an anxious wait to see if it results in any long-term health issues.
"This was easily preventable. Thurrock Council was informed of the potential for exposure in 2004, yet failed to act on the knowledge until HSE's involvement some six years later."

29/01/2013 - Teenager set on fire while on school excursion

A teenage girl has been left with permanent scarring after she was engulfed in a fireball while using a cooking stove during a school camp trip.
The 15-year-old girl, who doesn't wish to be named, was a pupil at East Ham's Plashet School. Southwark Crown Court heard that she was one of 25 girls on a three-day Duke of Edinburgh Silver Award camping trip, near the village of Henfield, West Sussex.
An expedition leader from Newham Borough Council was in charge of the group, assisted by two teachers and a school administrator.
On 9 July 2011, the party was sitting in groups of three and four around several stoves, while food was being prepared for the evening meal. One of the girls wanted to cook some more food but thought the stove was going out. She picked up a five-litre container of methylated spirits and poured some on to the stove.
There was an instant flashover, with flames setting fire to one of the other girl's clothes and headscarf. The expedition leader ran to the burning teenager and rolled her back and forth on the ground, while shouting for others to bring water and call the emergency services.
The leader beat the girl's trousers with his hands in an effort to put out the flames and quickly removed her headscarf. A man from another group poured water over her face and she was continually dowsed with water until paramedics arrived. The girl, who suffered severe burns to her hands, arms, face, neck and legs, spent three weeks recovering in Chelmsford Hospital's Special Burns Unit. She has since had a skin graft and has permanent scarring.
The HSE investigated the incident and found that some simple safety measures had not been taken. Inspector John Crookes told SHP that the Council conceded in court that the risk assessment it had carried out in relation to the filling of the cooking stoves was not adequate.
"A five-litre container of methylated spirits should never have been used to fill a camping stove," he explained. "Any fuel needed for the trip should have been taken in containers incorporating a safety cut-off valve and kept away from ignition sources. There also should have been a better procedure to follow when filling, or refilling the stove."
He suggested a safer method would have been to take the stoves to the fuel rather than the other way around, as this would mean the stoves were cold. Alternatively, replacement burners could have been used to avoid refilling ones that had already been lit.
An expert witness for the HSE also suggested that the use of extinguisher caps would have been a reliable method of removing the oxygen supply and ensuring that the burner was extinguished.
Newham Borough Council pleaded guilty to a breach of s3(1) of the HSWA 1974. Sentenced on 25 January, it was fined £15,000 and ordered to pay £17,246 in costs.
After the hearing, a spokesperson for the Council apologised to the girl for the injuries she sustained, adding: "We take our obligations towards health and safety very seriously and this is the first time that we have been prosecuted in relation to an incident involving a student participating in such an activity.
"We have taken immediate preventative action to ensure this type of incident should not happen again. Risk assessments have been thoroughly revised and we will not be using spirit stoves at any of our Duke of Edinburgh Award-scheme expeditions, or any other activities. Award-scheme expedition procedures and methods have been examined and revised where necessary."
Summing up, Inspector Crookes said: "This incident was avoidable and the failure to take simple safety measures has led to a young girl being unnecessarily scarred for life.

The Snow Code Advice issued by the Department for Transport on clearing snow and ice from the pavement outside your home or public spaces to prevent slips and falls. Follow the snow code to clear snow and ice safely.
The snow code - tips on clearing snow and ice from pavements or public spaces
Don't be put off clearing paths because you're afraid someone will get injured. Remember, people walking on snow and ice have a responsibility to be careful themselves.
Follow the advice below to make sure you clear the pathway safely and effectively.
And don't believe the myths - it's unlikely you'll be sued or held legally responsible for any injuries if you have cleared the path carefully.
Clear the snow and ice early in the day
It's easier to move fresh, loose snow rather than hard snow that has packed together from people walking on it. So if possible, start removing the snow and ice in the morning. If you remove the top layer of snow in the morning, any sunshine during the day will help melt any ice beneath. You can then cover the path with salt before nightfall to stop it refreezing overnight.
Preventing slips
Pay extra attention to clearing snow and ice from steps and steep pathways - you might need to use more salt on these areas Use salt or sand - not water
Don't make the pathways more dangerous by causing them to refreeze. If you use water to melt the snow, it may refreeze and turn to black ice. Black ice increases the risk of injuries as it is invisible and very slippery. You can melt snow or prevent black ice by spreading some salt on the area you have cleared. You can use ordinary table or dishwasher salt - a tablespoon for each square metre you clear should work. Don't use the salt found in salting bins - this will be needed to keep the roads clear. Be careful not to spread salt on plants or grass as it may damage them. If you don't have enough salt, you can also use sand or ash. These won't stop the path icing over as effectively as salt, but will provide good grip underfoot. Take care where you move the snow
When you're shovelling snow, take care where you put it so it doesn't block people's paths or drains. Make sure you make a path down the middle of the area to be cleared first, so you have a clear surface to walk on. Then shovel the snow from the centre of the path to the sides.
Offer to clear your neighbours' paths
If your neighbour will have difficulty getting in and out of their home, offer to clear snow and ice around their property as well. Check that any elderly or disabled neighbours are alright in the cold weather. If you're worried about them, try contacting their relatives or friends, or if necessary the local council.
Winter services from your local council
Your local council will provide many winter services such as clearing local roads and pavements in your area. For information about your council's winter service, check its website.

Pupils have launched nearly 400 assaults on teachers in just ONE county – causing cracked ribs, concussion and other serious injuries.
At least four teachers have been stabbed, several have been headbutted, others have been bitten and some have had objects including chairs, scissors, stones and bottles thrown at them since 2009.
The NASUWT union says the 386 assaults are just the tip of the iceberg and many go unreported because the system is flawed and teachers fear of the school getting a bad name.
National executive member Tim Cox said yesterday: "Attempts are being made to repress incidents when they should be reported so schools and local authorities can work together to stop them occurring."
The figures were obtained from Gwent Council after a freedom of information request and cover the past three years.
Among the worst attacks were an incident where a teacher was threatened with a chisel and a pole and another where a pupil threatened to stab a teacher and punched her in the stomach.
Recorded injuries to teachers include cracked ribs, concussion, bleeding, pulled muscles, sprains, cuts and bruises.
Attackers included primary school children and infants as well as high school pupils.
Government figures last year revealed school staff suffered 8,030 assaults in 2010/11 – a rise of 15% in four years.
Mr Cox added: "This shows management of pupils is not good and they don't support the people in the classrooms."

Staffordshire County Council and a refurbishment firm have been fined for exposing a nursery class, school staff and two joiners to asbestos fibres.
Rugeley firm G Evans (Services) Ltd was refurbishing Glenthorne Community Primary School in Cheslyn Hay for the council when the incident happened on Friday 13 February 2009.
Stafford Crown Court heard two joiners were cutting through a large built-in cupboard in the nursery class when they noticed unidentified material nailed to the back of it.
They showed this to their site manager, who allowed them to carry on dismantling the cupboard and to detach the material. However, the material was asbestos insulating board, which by law should only be moved by a licensed asbestos removal contractor. The court heard the joiners used an ordinary vacuum cleaner to clear up dust and debris, which would also have spread asbestos fibres in the air.
On the Friday the work was undertaken, seventeen children aged between three and four, were in the classroom for half-day sessions together with a teacher and teaching assistant. A school cleaner, who was working in the classroom later in the day, was also exposed to the potentially dangerous substance.
The following Monday, an analyst, who was monitoring asbestos levels in the air during licensed asbestos removal work, spotted pieces of asbestos insulating board in an open skip. The school was closed immediately for investigation and subsequent decontamination.
A Health and Safety Executive (HSE) investigation into the incident found Staffordshire County Council had failed to carry out a pre-refurbishment asbestos survey in the nursery before work started. These surveys were essential to ensure that anyone who was likely to work or disturb asbestos was provided with information on the location and condition of the asbestos.
G Evans (Services) Ltd had not taken sufficient steps to identify the asbestos insulating board attached to the cupboard before work started and its procedures for identifying asbestos containing materials were inadequate which permitted their site manager to assume the material was safe to work with and to continue disturbing it. The court heard the work should have been stopped until the material had been investigated further.
HSE inspector David Brassington said after the hearing:
"A series of assumptions and missed opportunities led to contractors, school staff and nursery age children being exposed to asbestos fibres during refurbishment work.
"The joiners who were working directly with the asbestos were significantly exposed to the disturbed fibres– something that should not have happened with proper planning and access to an asbestos survey before work commenced.
"Fortunately, the risk to children and school staff who were in the classroom the same day as the asbestos was disturbed will have been lower because they spent less time in the nursery at the time when the asbestos was initially disturbed.
"This incident has understandably caused a great deal of anxiety. As soon as the suspect material was found the work should have been stopped for further investigation.
"The long term health risks associated with exposure to asbestos dust are well known and it is unacceptable for incidents such as this to be taking place."
Staffordshire County Council, of Tipping Street, Stafford, pleaded guilty to breaching Section 3(1) of the Health and Safety at Work etc Act 1974 and was today (14 December) fined £10,000and ordered to pay £5,000 costs.
G Evans (Services) Ltd, of Wheelhouse Road, The Towers, Rugeley, pleaded guilty to breaching Sections 2(1) and 3(1) of the Health and Safety at Work etc Act 1974 and was fined £8,000 and ordered to pay £4,000 costs.
Asbestos is the biggest cause of occupational deaths in the UK, with an estimated 4,000 people dying every year from related diseases such as mesothelioma and lung cancer.

10/12/2012 - Wolverhampton pupil, 11, injured in fall from bus

A schoolgirl was today in hospital with serious head injuries after falling from the emergency exit of a bus that was taking her home after school in Wolverhampton.
Witnesses to the incident, which happened while the coach was at the North East Wolverhampton Academy, in Bushbury, are now being interviewed by police as part of an investigation in the cause of the 11-year-old's fall.
Her condition was today by police as "serious".
North East Wolverhampton Academy principal Bal Pierpoint said everyone at the school, in Northwood Park Road, was very shocked at what had happened and added: "The family have our full support and we wish her a speedy recovery."
West Midlands Police spokeswoman Deb Edwards said emergency crews were called to the site shortly before 3.20pm on Thursday.
The girl is being treated was taken to Birmingham Children's Hospital.

06/12/2012 - Four children in Essex hurt as tree trimmer slices bus roof

Four children were hurt when a vehicle trimming trees sliced into the roof of a double-decker school bus in Essex.
About forty-five children were on the bus when the crash happened in Alresford Road in Wivenhoe near Colchester.
Three paramedic cars and two ambulances were called to the scene at about 08:20 GMT on Thursday.
Trevor Redburn, from the ambulance service, said: "We counted 45 children who were all shocked and confused."
The children did not need hospital treatment.
Colne Community School and College said it was aware of the accident and confirmed some children had minor injuries.
A spokesman for the school said the contract with the bus company was organised through Essex County Council.

22/11/2012 - Huge £800,000 payout for hurting finger at school: Teaching assistant's award after tripping on a wheelchair

Employee also injured elbow in the 2003 accident
Was one of 12 payouts to school staff in Lancashire that cost taxpayers £1.3 million in one year
Victims of crime and injured soldiers say the amount is 'unfair' and 'unbelievable'
County council working with schools to improve health and safety
A teaching assistant has been handed a staggering £800,000 in compensation after she tripped and dislocated a finger at work.
The payout – one of the highest ever awarded in education – was made after Julie Anne Huddart tripped over the waist strap of an empty wheelchair while trying to move it.
Mrs Huddart, 49, dislocated a finger and injured her elbow in the 2003 accident, and has since been diagnosed with 'reflex sympathetic dystrophy' – a malfunction of the nervous system that causes pain and swelling.

21/11/2012 - Teenager drowned during "shambolic" army boat trip

A man has pleaded guilty to safety breaches after a teenager drowned when the boat she was travelling in capsized during an Army cadet camp.
Inverness Sheriff Court heard Kaylee McIntosh, 14, was one of a number of cadets being transported by boat between Loch Carnan and Lock Skipport, on 3 August 2007.
George McCallum was in charge of the boating operation and was coxman of the vessel in which Kaylee was traveling. There were eight cadets and four adults on board, but only ten seats.
McCallum had also fitted a machine gun to the bow. Although, the addition of the firearm didn't overload the boat, it did make the craft lower at the front.
McCallum had placed the engine off-centre inside the boat, so the boat leant towards the port side. He also failed to activate the craft's bailing device, which would have released water that was collected inside the boat.
The weather created choppy conditions, and due to the boat tilting on the bow and port sides, water started to splash inside. McCallum instructed passengers to move over to the stern side to compensate against the excess water, but when they moved the boat capsized.
No head-count or note of names were taken before the boats departed, nor was there a formal record on or offshore of who was on the water. Kaylee was trapped underneath the upturned hull and she was unable to free herself as the adult lifejacket she was wearing pinned her under the boat when she inflated it.
Sergeant Vicky Lorimer, an instructor, escaped from under the boat and promised Kaylee she would come back for her. But, in her panic, she forgot to immediately inform anyone that Kaylee was trapped.
When a headcount of survivors was carried out, no one noticed Kaylee was missing and the coastguard was advised that all the cadets had been rescued. She was subsequently recovered from under the upturned hull more than three hours after the initial distress call was made. She was airlifted to hospital, where she was pronounced dead.
HSE inspector Douglas Conner told SHP that McCallum had failed to adequately plan and identify the risks involved, and no written risk assessment had been created. He said: "The transportation of cadets by craft required adequate planning and assessment of the risks involved, and the accused failed in his duties to carry out both of these crucial elements to ensure that Kaylee and other cadets involved in the activity were safe.
"Those failings resulted in the entirely avoidable loss of the life of a young girl."
McCallum appeared in court on 19 November and pleaded guilty to breaching s7(a) of the HSWA 1974. He was fined £5000 but no costs were awarded as the case was heard in Scotland.
In mitigation, McCallum expressed his remorse for the incident and said he had fully cooperated with the investigation and entered an early guilty plea.
The Daily Record reported that Sheriff William Taylor made it clear he felt McCallum shouldn't be the lone scapegoat.
The Sheriff launched a scathing attack on the organisation of the expedition, which he slammed as "shambolic". In delivering his sentence, he said: "McCallum was just one cog in a much larger wheel and the activities involved others, as well as him. It is my hope matters will not end here today."
The HSE has also initiated Crown Censure proceedings against the Ministry of Defence in relation to the incident.

14/11/2012 - Local authority prosecuted after disabled boy nearly drowned

Essex County Council has been fined for safety failings after a child with severe learning and physical disabilities almost drowned in his school's swimming pool.
The 9-year-old boy, from Harlow, who cannot be named for legal reasons, was pulled from the water blue in colour and needed resuscitation after the incident during a school swimming session at Harlow Fields School and College on 23 March last year.
The council was prosecuted by the Health and Safety Executive (HSE) after an investigation found that it had failed to provide schools, including Harlow Fields, with adequate information and guidance on how to safely manage and run their swimming pools.
Chelmsford Magistrates' Court head today (14 November) that the boy and the rest of his class had been in the pool with inadequate supervision.
After coming round at the pool side, he was taken by to the Princess Alexander hospital where he had to stay for 26 hours. His mother, speaking in a statement taken as part of the HSE investigation, said that her son was now frightened of water and was generally not as happy as before.
Magistrates heard that the council, as the employer, should have provided the school with sufficient information to prepare operating and emergency plans for the swimming pool, and should have taken steps to ensure the guidance had been followed.
Essex County Council pleaded guilty to breaching Section 3 of the Health and Safety at Work etc Act 1974, and was fined £20,000 and ordered to pay costs of £10,110.
Speaking after the hearing, HSE Inspector Nicola Jaynes said:
"This incident could have ended in tragedy and clearly demonstrates the need for local authorities to provide clear and up-to-date training, guidance and information to schools where they are the employer, so that schools can safely manage their swimming pools.
"It also demonstrates that local authorities have a duty to ensure that where issues haven been identified with schools not following guidance, remedial steps are taken to rectify these failings.
"HSE will not hesitate to prosecute those who put lives at risk and compromise safety."

05/11/2012 - School fined after pupil hurt in design and technology lesson

A Solihull school has been fined after an 11-year-old pupil suffered serious hand injuries in a design and technology lesson.
The year seven student from Alderbrook School was using a bench sanding machine when his hand became trapped between the rotating face of the sanding disc and the machine's table edge.
As a result of the incident on 6 October last year the pupil needed specialist surgery to repair tendon damage to the fingers of his left hand. He was off school for several weeks during which time he continued to study at home while recuperating from hand surgery.
As part of this recovery he has required physio. However, he still suffers pain in cold weather and doesn't have full range of movement in his fingers.
An investigation by the Health and Safety Executive (HSE) found that although the machine had guarding in place, it was designed for use by adults. So the gap between the disc face and the table edge was big enough to trap a student's hand.
Solihull Magistrates' Court heard today (5 November) that the school had carried out a generic risk assessment for the machine that highlighted entrapment as a potential hazard. However, it failed to seek advice from the manufacturer and had made no attempt to adapt the machine for safe use by its students, whose experience and hand size is different to the normal recognised user.
Alderbrook School, of Blossomfield Road, Solihull, was fined £3,500 and ordered to pay £5,000 in costs after pleading guilty to breaching Section 3(1) of the Health and Safety at Work etc Act 1974 for failing to ensure the safety of pupils.
After the hearing HSE inspector Karl Raw said:
"Health and safety management for design and technology within Alderbrook was not of the expected standard. Guidance was out of date, risk assessments were generic and concerns raised in a 2010 audit by Solihull Metropolitan Borough Council relating to this had not been addressed.
"This prosecution is not about schools abandoning or being stopped from allowing pupils to use machines. It is about sensible assessment of risk given the age and maturity of school pupils.
"In order to do this, schools need to have in place a strong culture towards health and safety with a regular review of risks and procedures. That did not happen in this case, leaving an 11-year-old boy with a very painful injury."

30/10/2012 - School technician suffered bromine poisoning

A school science technician was exposed to poisonous fumes in spite of staff complaints about a poorly-ventilated chemicals cupboard, according to Thompsons Solicitors.
April Walsh was exposed to bromine fumes while working as a senior science technician at Richard Rose Central Academy in Carlisle. The lid on the bottle of bromine was corroded and the fumes were escaping into the small poisons cupboard and beyond into the science prep room where she was working.
The academy had recently moved into a new, purpose-built building, yet the science prep room had a poisons cupboard with inadequate ventilation: there was no properly ventilated fumes cupboard installed and the windows of the room did not open. Firefighters had to smash the windows to allow the fumes to escape.
For over a year staff had complained to managers about the unsuitability of the room but nothing was done about the problem and they were not given suitable protective equipment or clothing, Thompsons said.
When April entered the room she immediately began to suffer from irritated eyes, nose and throat. The room was evacuated and members of staff investigated what was leaking before the fire service was called to make the area safe.
April continued to suffer symptoms of bromine poisoning for several weeks, including headaches and a chesty cough.
Her union, UNISON, instructed Thompsons to investigate a claim for compensation. April's legal team argued that the chemical should have been kept in a room with ducted ventilation and that the school should have made steps to rectify the problem as soon as it was highlighted.
Richard Rose Academy admitted liability and settled the claim out of court for £3,500.

30/10/2012 - College lecturer's fingers damaged by faulty window

A lecturer suffered permanent damage to his fingers after they became trapped in a defective sash window. He needed to take two weeks off work and was in pain for six months following the accident at Coleg Morgannwg College's Rhondda campus, according to his trade union.
He had just finished lecturing when he went to close the windows in the classroom. The defective sash window had been opened incorrectly and the back pane of glass was at the bottom of the window whilst the front pane of glass was at the top. In trying to put the back pane up to the top of the window frame to close it, the front pane fell, crushing the lecturer's hand.
He suffered crushing injuries to his middle and index finger on his right hand. They were strapped, meaning for two weeks he was unable to attend work and needed support in getting washed and dressed.
Six months later the lecturer was still suffering from pain and taking medication daily. Almost two years after the accident a lack of dexterity in the fingers means that he has problems taking lids off jars, fastening buttons on his clothes and anything else that involves fine finger work, particularly in colder weather.
Following the accident his trade union, the University and College Union (UCU), advised him to claim compensation and instructed its lawyers, who argued that the windows should have been regularly checked for faults and fixed. Coleg Morgannwg admitted liability and settled the claim out of court.
Sally Hunt, UCU General Secretary said: "Many of our members work in ageing buildings but a simple system of inspection can avoid accidents like this. The fault on this window should have been picked-up well before it injured a member of staff."

30/10/2012 - Government updates guidance on school trips

The Government has updated its guidance on school trips, saying that it will remove paperwork and reduce teachers' fears of legal action.
The document summarises the existing health and safety law relevant to schools and explains how it affects local authorities, governing bodies, head teachers and other school staff. It covers activities that take place on or off school premises, including school trips.
It replaces a number of guidance documents on health, safety and security in schools, including Health and Safety: Responsibilities and Powers (2001) and Health and Safety of Pupils on Educational Visits (1998).
Paragraphs 11 and 12 of the Schedule to the Education (Independent School Standards) (England) Regulations 2010 require Independent Schools to take into account the latter two publications. The new advice replaces that guidance for the purposes of the 2010 Regulations.
For more information visit: www.education.gov.uk/aboutdfe/advice/f00191759/departmental-advice-on-health-and-safety-for-schools

24/10/2012 - Bradford Council has been fined for breaching safety regulations

Bradford Council has been fined for breaching safety regulations after a school caretaker was left with permanent disabilities when he fell through the school hall ceiling five days before his retirement.
David O'Hanlon, 62, was putting a new light bulb in a roof void of the old Beckfoot School in Bingley so he could empty it safely before demolition. In doing so he stepped on to an unboarded area that gave way beneath him, and fell four metres through the ceiling into the hall below.
Mr O'Hanlon, of Bingley, suffered a fractured hip that required three screws, and a broken heel. He is likely to need a hip replacement and further surgery on his heel to add plates and screws. He has also been told he will suffer from severe arthritis and will not regain full mobility.
The incident, on 22 June 2011, was investigated by the Health and Safety Executive (HSE), which today (17 October) prosecuted Bradford Council for safety failings.
Bradford Magistrates' Court was told that Mr O'Hanlon, a caretaker at the former Beckfoot school for eight years, had decided to take early retirement when it closed. The new Beckfoot school had opened that summer.
He agreed to stay on until 27 June and his last job was to supervise the clearance of the old building and ensure all classrooms were emptied. He decided to put a new light bulb in a roof void that had been used for storage so he could work safely.
However, as he stepped around the rubbish in the ceiling space, his foot went through an unboarded area and he fell through the ceiling. A colleague, who had gone with him to the school, was able to radio for help and give first aid until an ambulance arrived.
Bradford Council pleaded guilty to breaching Section 2(1) of the Health and Safety at Work etc Act 1974 for failing to ensure the safety of an employee working at height and with fragile surfaces. The council was fined £15,000 and ordered to pay £5,667 in costs.
After the hearing HSE Inspector Morag Irwin said:
"This incident was completely avoidable and has essentially dashed Mr O'Hanlon's hopes and expectations for a healthy retirement.
"Bradford Council has a duty to fully assess the risks in a building and ensure its employees are safe as they go about their day-to-day duties. That may mean providing necessary information or training when necessary - in this case relating to working at heights and risk assessment.
"Given that the main purpose was to clear out rubbish before demolition, the sensible decision would have been to leave well alone in the roof void and let the demolition go ahead regardless.
"Work at height remains one of the most significant causes of fatalities and major injuries among employees."

24/10/2012 - HSE Chair responds to Telegraph article on primary school pupils' risk assessments

Dear Editor,
It is sad to read about the children of Dedham Primary School being kitted out in hi-viz jackets and clipboards (Telegraph comment, p25, Oct 23) and asked to undertake risk assessments in the school grounds.
No-one would disagree that young people need to learn about risk, but not like this. The school's actions however well intentioned only succeed in turning health and safety into a parody. It sets the scene for continued misuse of "elf n safety" and overly bureaucratic nonsense for generations to come.
School grounds are low risk environments, where children should be being encouraged to enjoy the outdoors, not see them as a place full of danger.
The Health and Safety Executive is doing its best to encourage working adults to take a more sensible and proportionate approach to managing risk in the workplace. Our message to four and five year old children in the playground is much simpler - get out there and have fun. Perhaps they could build a bonfire with the clipboards!
Yours faithfully,
Judith Hackitt
Chair
HSE

23/10/2012 - Consultation opens on first aid changes

Plans to remove the requirement for first aid training providers to be approved by the Health and Safety Executive (HSE) have gone out to consultation.
The proposal to amend the Health and Safety (First-Aid) Regulations (1981) was made in the independent Löfstedt report into health and safety, and accepted by the Government.
HSE is now seeking views in a six week consultation and its Board will make a recommendation to ministers about how to proceed after considering the responses.
Views are also being sought on whether the Approved Code of Practice (ACoP) is useful and provides practical advice on how to comply with the law. HSE is also proposing revised guidance for employers to help them ensure they adopt proportionate first aid arrangements suitable to their workplace.
Andy McGrory, HSE's consultation manager, said:
"We believe this amendment to the First Aid Regulations will give businesses greater flexibility in choosing training and providers that are suitable for their workplace.
"HSE will continue to set the standards for existing training - the one day Emergency First Aid at Work (EFAW) and three day First Aid at Work (FAW) courses - which will continue to be the building blocks in all cases where a first aid needs assessment shows that training is necessary."
Employers will still have to ensure that they have an adequate number of trained first aiders as identified in their needs assessment.
The earliest the law could change is April 2013, with new guidance published in the new year and the amended Regulations coming in to force in April 2013.

19/10/2012 - Birmingham City Council child protection 'inadequate'

Khyra Ishaq's death in Birmingham in 2008 could have been prevented
The effectiveness of Birmingham City Council's arrangements for protecting children has been judged "inadequate". A surprise inspection last month found some children had been left at risk of harm, a report from Ofsted said. Council leader Sir Albert Bore said it made "very distressing reading", but some improvement had been recognised. Birmingham Social Services was served with an improvement notice in 2009 following several child deaths, including the case of Khyra Ishaq. Ofsted rated the council's child protection services inadequate in 2010 but a report from inspectors in October 2011 found they were improving.
The latest report said the Labour-run authority's arrangements for protecting children were inadequate in all four areas listed: overall effectiveness, the effectiveness of the help and protection provided to children, young people, families and carers, the quality of practice and leadership and governance. The report said the inspection "found that too many children and young people are left for too long without a robust assessment, leaving some children at risk of harm".
Children and young people subject to child protection plans "do not always receive statutory visits from social workers", it added. But Ofsted said the new director of children's services, Peter Duxbury, was "a key driver" in some recent changes "in taking forward improvements".
Sir Albert said it was "simply not acceptable" that services for children and families in the city continued to be poor. He added: "We are clear about what needs to be done and we have already put systems in place, such as intensive training programmes so staff learn from our best managers.
"There must be significant improvement over the next 12 months."
Birmingham Safeguarding Children Board, a statutory partnership board with responsibility for co-ordinating work to safeguard children, said it accepted the report's findings that changes the board was leading "have not yet had a good enough impact on children's lives".
A Department for Education spokesman said: "There has been some progress but it's clear that there is still a huge amount to do before children's services are fit for purpose. We're working with Birmingham to make sure robust action is taken urgently."
A serious case review by the Birmingham Safeguarding Children Board into the death in 2008 of seven-year-old Khyra Ishaq, who was mistreated at a house in Handsworth, found it could have been prevented.
Manslaughter plea
Her mother was sentenced to 15 years in prison after admitting manslaughter on the grounds of diminished responsibility.
Khyra's stepfather was jailed indefinitely after his manslaughter plea was accepted and must serve a minimum of seven-and-half years.
Elsewhere in the West Midlands, Sandwell Council's children's services were rated as inadequate in 2009, but an adequate rating was given after Ofsted inspectors returned in January this year.
Inspectors visiting Walsall in June 2012 rated safeguarding services as inadequate.
But Walsall Council said in the next few weeks it was likely to receive a type of improvement notice from the government showing it had taken steps towards making children's services better.

17/10/2012 - Welsh local authorities told to report on asbestos in schools

The unexpected closure last Friday of a school in Caerphilly, owing to worries about asbestos levels, has prompted the Wales Education minister to seek confirmation from all local authorities in the principality that they are managing asbestos in schools in accordance with their legal duties.
Cwmcarn High School, which caters for more than 900 pupils, shut on 12 October after a structural report identified the presence of asbestos. The school is expected to reopen, in part, by the end of this week.
Local authorities and schools' governing bodies in Wales have a legal responsibility to maintain up-to date records on the location and condition of asbestos-containing materials and a duty to ensure that appropriate management plans are in place to outline how the associated risks will be managed.
A Welsh Government spokesperson said: "In light of the current situation, the minister has asked his department to write to all local authorities in Wales to request confirmation that they are undertaking their statutory duties in accordance with current legislation, and asks that existing plans for the management of asbestos in schools are reviewed accordingly."
The leader of the Welsh Liberal Democrats, Kirsty Williams, has demanded the Welsh Government conduct a national audit of asbestos in schools. Many school buildings in Wales were built between the 1940s and 1980s, when asbestos was used extensively.
The HSE's current advice states that if asbestos is not disturbed or damaged, then it is safer to leave it in situ, with robust processes in place to contain and monitor it, but Williams pointed out that even acts such as sticking a drawing pin into a wall could potentially disturb dangerous fibres.
She said: "Britain imported hundreds of thousands of tons of asbestos in the last century, and we do not know the extent of its use in our schools, nor how secure it is in school buildings. The welfare of the pupils, teachers and staff at our schools is paramount and I want the Welsh Government to conduct an audit of situation right across Wales."
Commenting on the closure of Cwmcarn High School, Simon Ellis, a partner and specialist asbestos compensation lawyer at Hugh James solicitors, said: "I'm increasingly concerned at the growing incidence of this type of situation, especially in public buildings such as schools. I would call on local authorities to be more vigilant in identifying asbestos in schools and taking the appropriate steps to protect the health of the pupils and staff."
But Williams believes the issue needs direction from central government. She said: "The Welsh Government will try to shift the responsibility on to local authorities and schools; however, they do not have sufficient resources or skills to take the lead on this. It's time for the Welsh Government to take responsibility so that our teachers and pupils can have the confidence that they are teaching and learning in safe surroundings."
In February this year, the All-Party Parliamentary Group on Occupational Safety and Health reported that more than 75 per cent of Britain's 33,600 schools contain asbestos, and urged the Government to embark on the phased removal of asbestos from all schools.
In 2010, an HSE survey of local-authority managed schools found that 72 per cent of councils in England were managing asbestos in schools in accordance with the appropriate procedures.
In relation to Cwmcarn High School, an HSE spokesperson told SHP: "We are investigating the circumstances and will be reviewing the asbestos surveys, monitoring and test results to assess compliance with duties under the Control of Asbestos Regulations 2012."
The HSE is also intending to carry out a series of inspections of 150 school premises in England, Scotland and Wales in the independent sector during 2013/14.
Added the spokesperson: "The aim of these visits will be to ensure that duty-holders understand the precautions necessary to protect tradespeople from exposure to asbestos during building and refurbishment work and to ensure that such work does not expose the occupants of schools to asbestos. This builds on the sample of inspections carried out in 2010/11."
The HSE has also supported the Department for Education in the development of an 'asbestos in schools' Web-based training resource, which will soon be available online.

15/10/2012 - Dorchester college bus carrying 56 students crashes

A college bus carrying 56 pupils has crashed and rolled into a field in Dorset, with seven pupils and the driver taken to hospital.
The double-decker was travelling from Kinson in Bournemouth when it crashed on the A350, near Poole at 08:15 BST.
It was heading for Kingston Maurward College, Dorchester.
Operator First, which is investigating with police, said the driver was being monitored by a colleague as part of a process of learning the route.
But the company stressed the driver, who is fully trained and qualified, had driven the route previously.

02/09/2012 - School trips - Tackling the health and safety myths

A large number of school visits take place successfully each year. However, misunderstandings about health and safety law can sometimes discourage schools and teachers from organising these activities.
See the high-level statement
To tackle some of the myths about red tape and prosecution, HSE has published a policy statement to encourage all schools (in both maintained and independent sectors) and local authorities to remove wasteful bureaucracy imposed on those involved in organising school visits and outdoor learning activities.
· Tackling the health and safety myths HSE's statement makes clear:
· that the focus should be on how the real risks arising from such visits are managed and not on paperwork;
· the need for a proportionate and sensible approach for planning and organising off-site activities;
· that those organising visits should simplify the planning process and authorisation arrangements for visits that involve everyday risks;
· that HSE's primary interest is real risks arising from serious breaches of the law. Any HSE accident investigation will be targeted at these issues.
Where sensible and proportionate steps have been taken by a school and its staff, it is highly unlikely that there would be a breach of health and safety law involved, or that it would be in the public interest for HSE to bring a prosecution.
Prosecutions taken by HSE invariably involve a fatality (or near fatality) where there was recklessness or a clear failure to adopt sensible precautions. The fact that an accident occurs does not mean there was a breach of health and safety law if sensible, proportionate and appropriate precautions have been taken. Fears of prosecution by schools and their staff have been grossly inflated and are unwarranted. Such fears should not be a barrier to school trips taking place.
HSE statistics indicate that in the five-year period between 2005/06 and 2009/10 HSE has brought two prosecutions involving school visits.
HSE has produced a number of case studies to illustrate and encourage proportionate responses to the planning and delivery of school visits.
HSE enforces health and safety legislation in relation to school visits. The education departments in England, Scotland and Wales also provide guidance and resources for schools.

27/09/2012 - Survey reveals injury under-reporting in schools

There is widespread under-reporting of accidents and dangerous occurrences in schools in England and Wales, with some schools discouraging reports, according to a survey conducted by the National Union of Teachers (NUT).
The union received responses from NUT health and safety advisers at 32 local associations, with 72 per cent identifying an under-reporting problem in local authority schools in their area. Over 68 per cent gave an estimate of the extent of under-reporting, with nearly six out of 10 of these putting the level of under-reporting at between 20 and 50 per cent of all accidents and incidents.
But over a fifth of those giving an estimate thought at least three-quarters went unreported.
39 per cent of survey respondents said they were aware of schools discouraging staff from reporting incidents.
In its response to the findings, the NUT is calling for greater clarity from employers about what has to be reported, how it is to be reported and the importance of doing so, "with accessible and robust reporting and recording systems". The union is also calling for local authorities to respond meaningfully where problems are identified with health and safety management in any school, or where individual schools fail to return accident reports.
It also wants local authority oversight and reporting raised as a standing item at Health and Safety Committee meetings.
For more details visit: www.teachers.org.uk/node/12488

20/09/2012 - A 3 year old girl dies on her first day of nursery

Three-year-old Lydia Bishop may have got tangled up in a rope on the playground slide
A girl of three who died on her first day at nursery may have got tangled up in a rope on the playground slide.
Lydia Bishop was fatally injured while playing with her new friends.
Nursery staff and paramedics desperately tried to save the youngster's life but she was later pronounced dead at hospital.
Yesterday York College Day Nursery was closed and will stay shut for the rest of the week as police and the Health and Safety Executive investigate the tragedy.
Inspectors were at the scene taking photographs of the slide and a black rope that appeared to be tied around the side of it.
Ten bouquets of flowers and a teddy had been tied to the nursery railings as tearful mums grieved for Lydia and her devastated parents Rebecca Dick and Brad Bishop, who are in their early 20s.
Marketing officer Claire Gibb, 36, whose two children have attended the nursery since March, said: "I can't imagine what the little girl's parents are going through right now. My heart goes out to their whole family.
"The nursery is an amazing place. I always felt at ease leaving my kids here. Whenever kids played on the slide there was always somebody supervising them."
Rebecca Thompson, 40, also laid flowers and a card which read: "To a lovely little girl, rest with the angels." She said: "It is so sad, it doesn't even bear thinking about.
"Everyone expects to pick their child up from nursery don't they?" Another mum, Helen Kinder, who laid flowers and a cuddly lion, broke down in floods of tears as she said: "A mother has lost a beautiful little girl. I've lost a child myself so I know what it's like."
A statement from the college in York said staff had been "devastated" by Monday's death.
Det Chief Insp Nigel Costello, said: "I understand it was Lydia's first day of nursery. We need to determine how this happened and whether it could have been prevented or foreseen."
He said that Lydia's parents "are finding it extremely difficult as it is just 24 hours since they lost their only child".
He added: "We have taken possession of the rope that was on the slide, which Lydia became tangled in.
"We need to determine a cause of death and whether the rope is on the slide as manufactured or whether it was added subsequently.
"She was pronounced dead shortly after she arrived at York District Hospital despite the efforts of staff at the nursery and paramedics giving emergency CPR."

18/09/2012 - A life changing legacy?

As we look back on the Olympics and Paralympics, there's plenty to reflect on.
You can take your pick: the staggering opening ceremony (great to see the construction workers given due acknowledgement), the enthralling sport, the medal-winning British performances, and the sheer success of the whole enterprise.
There's a real sense that London 2012 has changed Britain.
But as we reflect on what the Games legacy means, I really do wonder if the Games could also provide a turning point in attitudes to health and safety?
I don't so much mean in construction where the case for better safety and occupational health management was made so clearly and will have a lasting legacy, but in the wider public consciousness.
We didn't see the volume of silly 'elf and safety' decision making and headlines we anticipated.
Sure there were jokes on Twitter about the dangers of the hammer contest, but nobody seriously suggested that the bellowing crowds be told to pipe down to prevent hearing damage or that the BMX event should be banned because of its bone-crunching crashes.
Instead, we seemed to see a tremendous flourishing of 'can do' spirit, and in the case of the Paralympics overcoming adversity. It is my hope that this can be built upon, that properly nurtured it proves to be the perfect antidote to a tendency to find excuses, often on spurious health and safety grounds.
Our myth buster panel has recently dealt with several cases where we've given encouragement to community-based volunteers to challenge the bureaucracy that was being put in their way. I have already approached numerous sporting and educational organisations to see what support HSE can offer to encourage volunteering and engagement - especially by young people.
For me the greatest sporting memories of London 2012 came from the team events, especially the cycling and the rowing. We showed the world that Britain can do amazing things when we work together and put our minds to it. I hope we can harness that spirit to slay the "elf n safety monster" and reclaim the importance of real health and safety which enables people to go home from work safe at the end of every day.
London 2012 wasn't just about sport but about a great opportunity to recalibrate our sense of sprit, adventure and endeavour in everything we do.

06/09/2012 - Common Sense Award

Here the head of the HSE tells why The Sun is right to tackle clipboard killjoys and earns our Common Sense Award in the process.
Well done to The Sun for its campaign to stamp out nonsense.
Any campaign for common sense has got my vote because there's not enough of it.
Too often Health and Safety gets the blame for some silly decisions which have got nothing to do with Health and Safety.
A lot of that is down to confusion about what Health and Safety really applies to.
We are not concerned with kids climbing trees or kids playing conkers; at least not in the sense that we want to ban them.
We actively want to see kids climbing trees and playing conkers because the sooner they get exposed to risk and learn how to deal with it, the better they will be able to deal with whatever life has got to throw at them.
What we are concerned with, simply, is stopping people in the workplace being put at risk of death, serious injury or ill-health.
The Health and Safety requirements for a business are directly proportional to the level of risk in what they are doing.
For most small, low-risk businesses you require nothing more or less than a bit of common sense to ensure your employees don't get harmed while they are at work.
We would certainly not expect anyone in an office environment or a shop, for example, to be going to the same lengths that we would expect of people working in the construction industry, in agriculture or on an off-shore oil-rig.
The problem is that people have started to use this phrase of 'elf 'n' safety' to describe anything and everything that is an unpopular decision. The Sun had a story recently about a budget airline refusing to hand out free blankets "on health and safety grounds".
That is not a Health and Safety issue.
Nor is it a matter of Health and Safety when restaurant's won't give you hot water to heat baby food.
That's just poor customer service.
I get very tired of jobsworths in all walks of life trotting out Health and Safety as a poor excuse for anything and everything from a hard-nosed commercial decisions that they don't want to have to justify, to poor customer service, to something they just can't be bothered to do.
It is infuriating because the real stuff that we care about continues to be very important.
We have the best Health and Safety record of any industrialised country in the world and we have made massive improvements in our performance in Great Britain over the last 20 or 30 years.
Last year, the 173 workplace fatalities reflected the long term downward trend in deaths at work, but there is always work to do and we still have great concerns about the number of people who die early because of exposure to harmful things like asbestos.
Our job is not just stopping immediate deaths and serious injuries in the workplace, but also about stopping the toll of death 20 or 30 years from now.
It is not about stopping children from climbing trees or playing conkers.
That is why we have launched the Myth Busters Challenge Panel and we are encouraging people to challenge it when they are told they can't do something 'because of health and safety'.
We have a panel of about 12 sensible people who share our commitment to common sense and for any case that anyone contacts us about through the HSE website we will ask two or three of them to give their opinion.
I will then look at their views and for simple, straight-forward issues we aim to give an answer within two working days.
So, let's have plenty more common sense, not nonsense.
For more information visit hse.gov.uk/myth

30/07/2012 - Pupil's jab scare

"How safe is safe enough?"
It's a question that was posed to me at a conference I was speaking at recently.
It struck me as an odd question at the time. The man asking wanted to know how unlikely a serious accident had to be before he could stop worrying about ending up in court. One in a hundred? A thousand? A million? He wanted some form of numerical answer - a bit like 42 if you're a Douglas Adams fan.
"If the answer's 1 in 10,000," he was in effect asking, "am I safe from prosecution?"
I completely understand the desire to be safe from prosecution but this can't be the right way to approach it.
Successful risk management is not about ticking boxes or calculating numbers. And it is not about doing things to avoid sanctions. The primary goal is not to avoid a fine or a criminal record, but to stop people being made unwell or being hurt or killed by their work.
The reason our regulations are backed by a criminal enforcement regime is because Parliament and successive governments have been clear that it is not acceptable for lives to be put at risk or damaged because of a failure to manage workplace risk.
In the most serious cases, it's true that you may face an unlimited fine or go to prison if you are found guilty of failing to manage the risks, which resulted in someone being seriously hurt. But, worse still, you can't undo the suffering of those injured or the grief of the bereaved. Some people may have to live with that for the rest of their lives.
Managing risk means managing people and every one of them is different. They live their lives and bring their experiences and attitudes with them to work. Human factors, in the jargon. That's not easy to factor into the numerical systems driven approach to risk management.
For managers and leaders especially this numerical approach to risk is dangerous - it makes it easy to distance yourself from the reality of what is really happening and the risks that people may be taking in your business.
Systems and procedures are important, but they're not enough. For me the acid test of safe enough gets measured on a different scale. Would I let my son or daughter do that? Would I be happy to see someone I cared about putting themselves at risk in that way? If the answer is no, then why should you feel comfortable asking someone in your business to do it?

30/07/2012 - Pupil's jab scare

Ellis Edgehill, 8, ended up in hospital after pricking himself with a diabetic teachers insulin pen during an Oldham school tidy-up at the end of term.

26/07/2012 - Class wars: 89 violent kids banned from primary schools every day last year

As many as 89 five to 11-year-olds were banned from classes for physical and verbal violence every school day last year
More and more primary school children are attacking their teachers and fellow pupils.
As many as 89 five to 11-year-olds were banned from classes for physical and verbal violence every school day last year, Department for Education statistics revealed yesterday.
A total of 850 children of all ages were suspended each day in England and Wales. But charities say it is the wrong solution.
Barnardo's chief Anne Marie Carrie said: "Even badly behaved pupils deserve an education and exclusion from mainstream education doesn't deal with the underlying issues.
"Children who act violently are often facing problems at home and experience has taught us that intervening early to support the whole family is the most effective approach.
"Exclusion should only be used as a last resort and we need to see the numbers fall further to ensure vulnerable children are being given the best possible opportunity to achieve their potential."
The figures show there have been fewer suspensions and permanent exclusions of children overall.
Primary, secondary and special school pupils were suspended 161,540 times last year for violence, an average of 850 a day.
Some 2,060 were permanently excluded for verbal or physical attacks, threatening behaviour and racist abuse.
Primary pupils were excluded 9,160 times last year for assaulting other kids, up from 9,030 in 2009/10.
And 7,830 were suspended for attacking staff compared to 7,230 in 2009/10.
A DfE spokesman said: "We have given teachers more powers and are working to improve the quality of education for children who have been excluded."

17/07/2012 - Boy smashed with golf club not teacher's fault, judge rules

A schoolboy who was awarded damages after being hit in the face by a golf club during a PE lesson has been stripped of his £21,000 payout after judges ruled that it was "impossible" for teachers to keep a constant eye on all pupils.
Samuel Hammersley Gonsalves, an outstanding cross-country runner, was 11 when his teeth were smashed and jawbone broken in an accident during a golf lesson at the sports academy he attended, Laurence Jackson Secondary School, on Teesside.
Samuel, now 16, of Guisborough, North Yorks, sued the local authority, Redcar and Cleveland council, through his father, Thomas Gonsalves, claiming his PE teacher, Mike Fowle, had failed to supervise the 22 boys adequately during the lesson.
He was awarded £21,000 damages at Middlesbrough County Court in November last year, after Judge Peter Cuthbertson ruled that the teacher had been negligent in failing to keep every pupil in the "crocodile" of boys in his line of sight.
However, the finding was overturned yesterday after Lord Justice Pill, sitting in the Appeal Court in London, said teachers "cannot be expected to see every action of every pupil" in their care, or face negligence claims.
Christopher Williams, for the family, said Samuel was hit accidentally in the face by another pupil with a club as the class made their way out to the school field for their golf lesson. Mr Fowle was at the back of the line of 22 boys and, on Judge Cuthbertson's finding, had not seen the incident happen. Mr Williams argued that Judge Cuthbertson was right to find the teacher negligent and said the original ruling should stand.
Daniel Edwards, for the council, told the court that the decision placed "an unrealistic burden" on schools and teachers. "One teacher cannot possibly keep 22 pupils in direct sight at all times," he said. "He could walk in a crab-like style up and down the line constantly turning his head from side to side, but some pupils would still be out of sight at some times. It simply cannot be done."
Lord Justice Pill, sitting with Lord Justice Rimer and Lady Justice Black, upheld the council's appeal.
He said: "However observant the teacher is, and however careful the lookout he is keeping, he cannot be expected to see every action of 22 boys walking in a crocodile fashion." He added: "One feels sympathy for a boy who received the unpleasant injury without any fault on his part. However the appellants cannot be held responsible for what happened."
Mr Gonsalves said after the ruling that the family would have to spend £30,000 on dental reconstruction work for his son. He added: "He hasn't competed in any sports since the accident, to this day."

17/07/2012 - Seven-year-old hallucinated after overdosing on travel pills at school

A police inquiry is under way after a seven year old girl 'overdosed' on her travel pills at school and began hallucinating. Mother Wendy Toms sent her daughter Chelsie on a trip to the beach with her Mount Street Primary School in Plymouth, Devon.
Her mother said Chelsie is often travel sick so on the morning of the trip she gave a member of the school staff a box of her travel sickness pills.
The 28 year old said she specifically told that staff member that Chelsie should be given half a tablet for the outward journey and half a pill on the return trip.
But when Ms Toms picked up her daughter she was in distress and becoming incoherent.
Chelsie had taken an extra six whole pills while queuing up to leave school at the end of the day after the pills had been put back into her schoolbag, claimed Ms Toms.
A Devon and Cornwall police spokesman said they were contacted about the incident and were investigating and said the Child Protection Service would follow it up.
The school has confirmed they have put new procedures in place related to non prescription medicines.
But Ms Toms is not satisfied and has taken Chelsie out of school for now.
She said:"She was hallucinating, talking to the walls. She didn't know who I was and then she was sick in her hands. I was so worried that I looked through her school bag to find the box of pills I gave to the staff member with seven missing."
She took Chelsie to hospital for tests and scans before being kept in overnight.
It appears Chelsie has eaten the extra six pills she found in her bag 'thinking they were sweets'.
Ms Toms said her daughter now needs counselling after the incident on June 28th because the hallucinations had left her petrified of her own toys and unable to sleep without taking a torch to bed.
Headteacher, Sandie Roberts said the incident has been fully investigated and more robust procedures put in place.
She said: "The school's highest priority is the safety and welfare of all our pupils. We take all complaints very seriously and the matters has been fully investigated.
"Our original policy detailed robust procedures for prescription medication. Since this incident, it has been updated to include equally robust procedures for non prescription medication to ensure the ongoing safety of our children."

17/07/2012 - The power of personal experience

The release of the annual statistics for fatally injured workers is seen by many people in the health and safety world as an opportunity to comment on HSE's effectiveness.
But shouldn't we just stop and reflect on what that number of 173 people who were fatally injured doing their job last year actually means? Every week three or more people walk out of the door of their home to go to their job and never come back, leaving families, friends and workmates in shock and grief at their loss.
What makes me sad is that many of the causes of these accidents recur time and again - falling through fragile roofs, crushed by vehicles, trapped in machinery. So if it is the same basic mistakes that are costing lives, how do we get through to people?
There are no more powerful voices than those who have suffered a loss or serious injury or ill health. These raw, human stories have an important place in our work to educate people about the value and importance of health and safety. We have many such testimonies on our website - Christopher Morgan[1], Stephen Rizzotti[2] and James Chapman[3]'s are just a few. James' story is one that I know has touched a lot of people.
In 2005, he had his left arm ripped off when his jacket got caught in machinery on a farm in Warwickshire. He was 23 at the time. He sank pretty low, suffering depression. He felt a horrible sense of helplessness. His injury affected him badly, but also his family and those close to him at the time.
When he talks about his experience it holds people's attention in a way that a lecture from a safety adviser cannot. Audiences cannot fail to be moved. It makes people who say 'it won't happen to me' stop and face up to the reality. James is now a leading safety campaigner and recently received an MBE for his work.
It's not just workers who are converted by the power of personal experience. I've met a good number of managers over the years who, after having somebody seriously injured or die on their watch, become passionate advocates for safety.
The sad thing is that it takes a tragedy for some people to be converted.

13/07/2012 - Safety failings led to asbestos exposure at Dorset school

The unsafe removal of asbestos insulation boards at a large independent school in Dorset led to several people being exposed to asbestos fibres, Dorchester Crown Court heard today (13 July).
The Health and Safety Executive (HSE) prosecuted Sherborne School and Peter Eldridge, the director of a company responsible for the refurbishment project, after an investigation found they had failed to identify and prevent the risk of asbestos exposure at the school.
Asbestos insulation boards were removed in an unsafe way, exposing building contractors and a teenage work experience student to asbestos fibres, and leaving them at risk of developing serious and potentially fatal diseases later in life.
The HSE investigation found that from the initial design stages in May 2008 right through to undertaking the construction work in July 2009, there was inadequate planning and a failure to carry out a full asbestos survey.
This was despite the fact that a sample taken from the building in 2008 had identified its presence and asbestos had previously been removed from other parts of the school. An asbestos register was also kept for the school buildings.
The court heard that neither Mr Eldridge nor the school had appointed a Construction Design and Management (CDM) coordinator for the refurbishment project, despite it being a requirement of the Construction (Design and Management) Regulations 2007 for a project of this size.
The CDM coordinator would have ensured a full refurbishment and demolition asbestos survey was completed in advance of construction work. Licensed asbestos contractors could then have been appointed to safely remove it.
Sherborne School was found guilty of breaching Regulation 4(8) of the Control of Asbestos Regulations 2006 and Regulation 14 of the Construction (Design and Management) Regulations 2007. The school was fined a total of £60,000 and ordered to pay £13,000 in costs.
Peter Eldridge, of Long Street, Sherborne, Dorset, was found guilty of breaching Section 37 of the Health and Safety at Work etc Act for his neglect as an individual director. He was also found guilty of breaching Regulations 11(3) and 18(1) of the Construction (Design and Management) Regulations 2007 for contributing to the failings of his company. He was fined a total of £10,000 with costs of £6,000.
Speaking after the prosecution, HSE Inspector Joanna Teasdale, said:
"Both Peter Eldridge and Sherborne School knew about the risks posed by the presence of asbestos in the school buildings, and yet they failed to manage the risk of exposure to asbestos fibres during the refurbishment project.
"As a result several people, including at least one teenager, were put at unnecessary risk. In being exposed to asbestos fibres they could develop a serious and potentially fatal illness.
"Although Sherborne School was the client, it still had a duty to manage the control of asbestos on its site, and to be aware of the requirements of removing asbestos safely.
"This incident and the risk to those involved could have been easily avoided if competent people had been engaged during the planning of the refurbishment project to advise the school, such as a CDM coordinator."

11/07/2012 - Agency worker suffers electric shock at children's play area

A council-owned company failed to warn an agency worker about the presence of underground power cables before he installed a fence at a play area in Swindon.
Swindon Commercial Services, a wholly-owned subsidiary of Swindon Borough Council, was contracted to install a temporary fence at the Shaw Ridge Play Park as part of a renovation project.
On 23 April 2010, an agency worker, who had worked for the company for a number of years, began hitting metal road pins into soft ground in order to secure the temporary fencing. One of the pins he was holding made contact with an 11,000-volt underground electric cable, which was 700mm below the surface, and he suffered burns to his hands and chest.
The HSE's investigation discovered he hadn't been given any warning that underground cables were present, and was not provided with avoidance tools to locate and mark underground services.
HSE inspector Stephan Axt-Simmonds explained the company had failed to carry out a risk assessment before starting the work. He said: "This was an incident that could have easily been avoided, had the company undertaken the correct planning procedures and provided the right equipment to ensure that they knew the location of any underground utility services, before allowing workers to penetrate the ground with metal equipment."
Swindon Commercial Services appeared at Swindon Magistrates' Court on 2 July and pleaded guilty to breaching s34(3) of the Construction (Design and Management) Regulations 2007, for failing to take steps to prevent the disturbance of underground services. It was fined £12,000 and ordered to pay £4403 in costs.
In mitigation, the company said this was an isolated incident and it had fully cooperated with the investigation. It has subsequently created a code of practice for ground intrusion work and workers have received training in scanning for underground cables.

19/06/2012 - HSE responds to News and Star article "School sports day ban for Carlisle's Olympic Games starter"

Dear Sir
News and Star readers can be reassured that there are no health and safety 'rules' that stand in the way of using starter pistols at school sports days - "School sports day ban for Carlisle's Olympic Games starter" (19 June 2012) [2]. To state otherwise is both inaccurate and misleading. Health and safety laws exist to protect workers and others from serious injury and ill health at work, not to interfere with harmless activities at primary school sports days. It is important to be clear about what the law does and doesn't require - it's too easy to blame 'health and safety' when something is 'banned' for other reasons. This undermines confidence in sensible health and safety measures.
Yours faithfully
Pam Waldron
Director Scotland & Northern England
Health & Safety Executive

11/04/2012 - Teachers condemn health and safety cuts as "reckless"

The lives of children and adults are being put at risk as a result of the Government's continual proclamations that a more 'common-sense' approach to health and safety be taken in schools.
This assertion formed part of a motion carried at the annual conference of the NASUWT – the largest teachers' union – over the weekend.
The motion slammed the Government's decision, based on Lord Young's report in 2010, to redefine schools and colleges as 'low-risk' environments – noting that serious health and safety risks exist in schools and colleges, including exposure to work-related stressors, excessive working hours, bullying and harassment, asbestos and excessive temperatures. As a 'low-risk' workplace, schools and colleges are likely to encounter fewer health and safety inspections by regulators.
The motion also criticised the dilution of important guidance for schools on a range of matters, including the management of educational visits and pupil behaviour. In respect of the former, it deplored "the misleading claims made by some ministers that teachers have nothing to fear if a pupil dies, or is injured, as a result of participating in educational activity sanctioned by the school and where the teacher has exercised common sense".
According to Chris Keates, NASUWT general secretary, the guidance on school trips – which was condensed last year from about 150 pages to a mere eight, as part of the Government's drive to reduce paperwork and red tape – could not only make teachers more vulnerable to prosecution or civil litigation but actually have the opposite effect of dissuading teachers from undertaking excursions.
"This guidance provided schools and teachers with an important safeguard if things went wrong," she explained. "The Coalition Government's decision to sweep away this advice could make teachers more vulnerable.
"Parents will continue to expect schools to act in children's best interests. Parents should be extremely worried that the Coalition Government's cost-cutting measures could endanger their children and damage their education."
Delegates at the conference also backed the union to continue to campaign for:
legislation that protects the health and well-being of all teachers, support staff and pupils; the enforcement of statutory health and safety provisions; the publication of guidance on the management of health and safety risks; and the reversal of public-sector cuts and austerity programmes, which are, in the union's view, putting the lives of pupils and teachers at risk. To coincide with the motion, the NASUWT also released a new report into excessive classroom temperatures, in which it repeats its previous call for a legal maximum workplace temperature.
The survey found that:
more than three-quarters of teachers experienced classroom temperatures in excess of 24OC on more than a quarter of days during the survey period (four weeks over last summer); and a third of teachers experienced classroom temperatures in excess of 30OC at some point during the survey period. The Government has also consulted on simplifying regulations regarding school premises, such as washroom facilities and light fittings.
In its response to this consultation, NASUWT suggested that the Government's philosophy of deregulation is jeopardising the "quality of the educational environment and the health, safety and welfare of children, young people and staff".
SHP is currently awaiting a comment from the Department for Education.

11/04/2012 - Myth Busters Challenge Panel

"Health and Safety" is often incorrectly used as a convenient excuse to stop what are essentially sensible activities going ahead. The Health and Safety Executive has set up an independent panel – the Myth Busters Challenge Panel - to scrutinize such decisions.
The Panel is chaired by the HSE Chair Judith Hackitt, with HSE Board member Robin Dahlberg as the Vice-Chair and they are supported by a pool of independent members who represent a wide range of interests. This includes small businesses, public safety, trade union, the insurance industry and many outside interests where day-to-day common sense decisions on risk management are made.
This Panel will look into complaints regarding the advice given by non-regulators such as insurance companies, health and safety consultants and employers and, quickly assess if a sensible and proportionate decision has been made. We want to make clear that "health and safety" is about managing real risks properly, not being risk averse and stopping people getting on with their lives.
If you think a decision or advice that you have been given in the name of health and safety is wrong, or disproportionate to what you are doing, you can complain to the panel. It will investigate and publish its findings on the HSE website

30/03/2012 - Young people, risk and an exciting education

Rarely a day goes by when we don't read or hear about a serious health and safety issue in the news.
It can be easy to lose sight amidst all this that here in Great Britain we have one of the best health and safety records in the world, and many other countries envy our achievements.
We can only maintain this record in the future if we ensure that the next generation learns about the risks they are going to encounter in life, and how to deal with them.
One great example of how to do this is set by Llew Davies, the Pride of Britain winner and teacher at Ysgol Cae Top in Bangor. Here's a man who teaches his primary school class about velocity by racing office chairs in the gym. Who has structured lessons around building volcanoes and mock Formula One cars. And, crucially, who gets the fact that health and safety does not erect barriers to providing an exciting education.
I recently joined Llew and his Year 5 class for a history lesson with a difference: exploring the Roman invasion by building - and firing - siege weapons.
The children might not have realised it but this was actually more than a history lesson - it was a textbook example of how to not to over apply health and safety to a low risk situation. No goggles, hard hats or high viz necessary, no sprawling risk assessments. Just wooden sticks, sticky tape, elastic bands and lots of enthusiasm, from the teacher as well as the class. The kids were encouraged to give it some welly in firing their catapults, and the only safety briefing I heard was when Llew asked his pupils if they thought standing in front of a catapult about to be fired was the best idea. I suspect that most of the children fortunate enough to attend Ysgol Cae Top will remember Mr Davies for life. Let's hope they hold onto the hidden health and safety lesson too.
It baffles me why some people tangle themselves in pointless red tape, when others show that health and safety is actually pretty simple and straightforward.
You can't teach young people about risk from a text book - they need some practical experience. That's why cosseting children and seeking to remove all risk from their experiences ultimately leaves them ill equipped for adult and working life. When they join the world of work, young people need to be prepared to recognise and manage risk. Our system of regulation relies upon it.
On 30 March the National Trust launched a report calling for children to re-connect with the outdoors saying "we need to make it easy and safe for our children to get outdoors" - I'm right with them on that one and Llew Davies is already showing how it can be done!

18/01/2012 - Health & safety prosecutions: December 2011

December 2011 continued to see a number of prosecutions under Health & Safety legislation. Between 1st and 20th December there were 19 cases against organizations with fines ranging from £1.2million (UK Mining Ltd) to £3,527. The average fine and costs levied against companies was £112,669.
In addition there were five Directors individually prosecuted with average fines and costs reaching £31,970 including an £80,000 fine for a managing director of a construction company following the death of a father of two who was crushed when a crane overturned in Liverpool.
The incidents included six deaths. Falls and machinery accounted for seven incidents. Construction companies were involved in six and manufacturing businesses in four incidents. Other organisations including Local Authorities, estate agents and a landlord were

23/11/2011 - Health and safety requirements to be relaxed to boost apprenticeships

From the start of next year, training providers and employers offering apprenticeships will no longer have to comply with any requirements that go 'above and beyond' health and safety legislation.
Announcing new measures last week as part of the Government's Plan for Growth, Business secretary Vince Cable said red tape that can deter employers from taking on apprentices would be slashed.
At present, the Skills Funding Agency (SFA) expects training providers and the employers they work with to meet not only the health and safety standards required for all employees but also additional requirements for apprentices.
The changes announced by Mr Cable, which also include financial incentives for small firms to offer apprenticeships, will see health and safety requirements streamlined so that there are no additional demands on employers that already comply with legislation and national standards.
A spokesperson for the Department for Business, Innovation and Skills (BIS) told SHP that these additional requirements are burdensome for all employers, but particularly for smaller businesses. He continued: "For example, rolling health and safety assessment together automatically with self-assessment of learning imposes a potential burden on the employer to review risk assessments where this would not otherwise be required."
The health and safety regime for apprentices administered by the SFA was introduced in response to nine work-related fatalities among apprentices in 2003. In a House of Commons debate in July, Labour MP John McDonnell said this spate of incidents had led to the appointment of a team of staff at the Learning and Skills Council, and later the SFA, who would go into firms where apprentices were placed and carry out a health and safety assessment.
Mr McDonnell told the House: "In that way, we reduced nine fatalities a year to none. . . Since securing health and safety protection for apprentices we have maintained an excellent record, but there is a tragedy waiting to happen. The very staff whom the previous Government appointed – a small unit of 25 in the Skills Funding Agency – are to be sacked in September." (SHP has asked the Department for Business if the 25 posts at the SFA have been abolished and is awaiting a reply.)
Soon after the Commons debate, an Early Day Motion (EDM), tabled by Jim Cunningham MP, said the cuts would result in "the axing of all 25 posts responsible for assuring health and safety assessments of workplaces offering apprenticeships". The motion also "rejects the Government's claim that the HSE, which is facing a 35-per-cent cut to 2014-15, will be able to assume this responsibility without detriment to the assessment regime required to protect apprentices from dangerous workplaces".
Commenting on the new measures, Dr Adam Marshall, director of policy at the British Chambers of Commerce, said: "For some time we have been telling ministers that small firms must be incentivised to take on apprentices, so we welcome the Government's moves to strip away some of the obstacles that have made it hard for smaller firms to get engaged.
"Health and safety constraints, inflexible teaching frameworks, and high up-front costs often deter companies from taking on apprentices. By reducing red tape, and incentivising firms to take the plunge, the Government is offering real help to firms and apprentices alike."
Mr Cable insisted the changes to the regime would not reduce quality, saying: "Apprenticeships are proven to boost the life chances of young people, and are a sound investment in our future competitiveness. So, when times are tough, it's right that we provide additional support to help the smallest firms meet training costs.
"We'll cut no corners on quality. Apprenticeships will remain the gold standard for excellence in vocational training – but where red tape serves no purpose, we'll strip it away."
IOSH said it welcomed efforts to encourage more high-quality apprenticeships, but regretted that health and safety was again being portrayed as a hindrance. Head of policy and public affairs Richard Jones said: "It's very disappointing that health and safety is yet again being misrepresented as a barrier, when, in reality, it's an enabler, ensuring positive outcomes and successful careers. We are not aware of the additional requirements that are being referred to.
"Inexperienced workers are more at risk of workplace accidents and need to be properly trained and supervised. This is nothing to do with 'red tape' – it's just common sense and sensible preservation of life and limb. Sadly, over the last decade, we've seen, on average, five under-19-year-olds killed at work; 1257 major injuries and 3917 over-three-day injuries annually. We need to do better than this."
An HSE spokesperson said it was not in a position to comment on the EDM's suggestion. However, the spokesperson highlighted that the HSE website holds a lot of safety information for employers about work experience and employing young people, adding: "Under health and safety law, you must assess the risks to young people under 18 years old, before they start work/work experience, and tell them what the risks are.
"You must let the parents/guardians of any students (and employees) below minimum school-leaving age know the key findings of the risk assessment and the control measures taken before the young people start work/work experience."

12/10/2011 - Free schools could exacerbate asbestos-management shortcomings

The growth and popularity of free schools could expose teachers and pupils to health risks from poor asbestos management, unless the Government gets to grips with providing better training on the matter for governors and teachers.
This is the warning from Michael Lees of the Asbestos in Schools (AiS) campaign, who claims that a new Department for Education (DfE) website designed to address a lack of training and awareness around asbestos in schools is beset by funding problems before it has even hit the ground.
Lees – who also sits on the DfE's Asbestos in Schools Steering Group – says the new training facility, which is expected to be launched soon, is a good move "but needs to be properly funded". He also wants it to be mandatory for school governors and head teachers to be properly trained in asbestos management and wants more resources deployed to improve awareness of asbestos among all teachers and school staff.
According to Lees, about £20,000 of funding has been set aside to support the training website, but that will dry up within a year, with the Government apparently still unsure where the money will come from to enable it to continue.
Lees highlighted his concerns following his own collation of HSE enforcement action on asbestos management issues against schools outside local authority control. Between November 2010 and July this year, HSE inspectors visited 158 schools, 30 (19 per cent) of which warranted enforcement notices. There were 70 breaches of the HSWA 1974 and 74 breaches of the Control of Asbestos Regulations 2006.
The inspections followed an earlier HSE initiative directed at local authority-managed schools, which resulted in 38 Improvement Notices being issued for similar asbestos failings.
Commenting on the latest enforcement findings, Lees said: "This is a disgraceful and dangerous disregard of health and safety laws. It is more proof that the Government's policy of leaving asbestos in schools and managing it for the remaining life of the buildings is failing and putting teachers, support staff and pupils' lives at risk."
Highlighting issues surrounding free schools, he said: "The situation could be worse in free schools and some academies, as most parents and governors do not have the training and experience to manage asbestos, but are taking on the legal and practical responsibilities to do just that. Unless training is made mandatory for governors, headteachers and all staff, it is inevitable that this problem will worsen over the coming years."
Echoing Lees' comments, chair of the Joint Union Asbestos Campaign Julie Winn said: "Raising awareness and improved training in the management of asbestos is fundamental to health and safety in UK schools containing asbestos. Recently-published government figures show that at least 75 per cent of all schools in the UK have buildings that use asbestos-containing materials."
The Department of Health's Committee on Carcinogenicity has said it will obtain data on the level of asbestos in school buildings as part of its assessment of the risks to children from exposure to asbestos. Its findings are expected next month.
SHP has contacted the HSE for a comment on the Asbestos in Schools campaign's findings, and we will update this story as soon as it responds.

10/10/2011 - Rethink on schools' duty to work with councils on welfare

Heads had complained the system was bureaucratic.
Ministers have abandoned plans to remove schools' duty to work with councils to improve children's welfare.
They had planned to remove the requirement on schools in England in a drive to cut bureaucracy. But last-minute changes to the Education Bill going through parliament mean schools will still need to work with councils on this. The government says it has removed "prescriptive regulations" that had gone with the duty to co-operate. The move has been welcomed by head teachers and council officials in charge of children's services.
The BBC understands heads of children's services had been lobbying the government behind the scenes to keep the duty, which ensures schools work with social services or other officials if there are concerns about a child's welfare.
The change came to light in an amendment to the Education Bill tabled by Education Minister Lord Hill, child protection expert Lord Laming and a Liberal Democrat spokeswoman on children and families, Baroness Walmsley.
Matt Dunkley, president of the Association of Directors of Children's Services, said: "This amendment is immensely helpful - the removal of the duty to co-operate had, perhaps inadvertently, given some schools the message that they no longer had a role in supporting vulnerable children.
"This attitude threatened much of the partnership working that had been established in local areas over the last few years. Directors of children's services know the value of services working together to tackle complex issues in the lives of children and families and we are delighted that government are listening to our concerns."
"Restoring the duty makes clear that all schools have a crucial role to play in provision for vulnerable children, including special education needs and work with families with multiple problems."
A spokesman for Department for Education confirmed schools and colleges would still need to co-operate with the local authority and other "relevant partners" in making arrangements to improve the wellbeing of children.
He said: "We have removed the associated prescriptive guidance and regulations and we have come to the opinion that the duty allows enough scope for local areas to create meaningful co-operation arrangements that can be responsive to local needs."
"We have always been in favour of schools and other local bodies working together - we just don't think that we need to tell them how to do it."
Head teachers had complained that the system was over-bureaucratic, even though they recognised the need for schools to be involved in children's welfare. Some had warned children's lives were being put at risk because the process for reporting concerns was slow.
Teachers, seeing children regularly, can often spot signs that a child might be in danger of some kind.
Brian Lightman, the general secretary of the Association of School and College Leaders said: "We believe in co-operation, but under the previous duty there were a lot of specific requirements that took up a lot of heads' time - attending meetings for example. "If the duty is retained but specific requirements are removed then that is a sensible way forward."

23/09/2011 - 13-year-old in serious but stable condition in hospital after school fight

13-year old remains in serious but stable condition
A 13-year-old boy who was injured in an altercation in a school classroom remains in a serious but stable condition in hospital, police have said.
The teenager sustained a head injury after a fight between two pupils in a Year 9 class at the National Church of England Academy in Annesley Road, Hucknall, Nottinghamshire, just before 10am on Thursday, a spokeswoman said.
He was transferred to Glenfield Hospital in Leicestershire on Thursday where he is continuing to receive treatment.
A second 13-year-old boy is continuing to help police with their inquiries.
Detectives are continuing to work closely with the school to establish the facts of what happened, the spokeswoman said.

23/08/2011 - Kids have lucky escape as school bus roof is ripped off in bridge crash

PUPILS had a lucky escape when the roof of their school bus was ripped off as it crashed into a bridge.
Youngsters screamed and dived for cover in the horror smash yesterday. Of the 30 who were on the top deck, 14 needed hospital ­treatment. One boy suffered head injuries and a girl broke her collar bone.
Witness Tony Jones was driving behind the bus when it ploughed into the railway bridge. He said: "I heard the smash. The roof looked like it was peeled back with a can opener. The back end was crushed.
"There was lots of screaming, kids had cut heads. I was certain there would be fatalities. I was relieved there wasn't."
The bus was taking pupils aged 16-18 to Queen Elizabeth sixth form college in Darlington, Co Durham, along an alternative route. Principal Tim Fisher said: "Luckily, most of the pupils were uninjured." Police are investigating.

16/09/2011 - Boy, 5, dies in school playground in Tolworth

A five year-old boy has died in a playground accident at a school in south-west London.
It is thought he fell off a climbing frame at Tolworth Infant & Nursery School at lunchtime on Thursday.
In a statement on the school's website, the head teacher said her thoughts and sympathy were with the child's family.
The school was due to open as normal on Friday. Police are treating the death as unexplained and have started an investigation.
Tragic accident
When the emergency services arrived the boy was described as being "unconscious but not breathing".
He was taken to hospital but was pronounced dead on arrival.
Head teacher Rachel Nye said: "It is with the deepest sadness that I have to inform parents and carers that a tragic accident occurred in the playground at lunchtime.
"I know that all our thoughts and sympathy will be with the child's family.
"Children's wellbeing is paramount at Tolworth Infant and Nursery School and it is in their best interest that our school is open as usual.
"Staff have planned how they will support children and families and there will be additional adults in school."
The Health and Safety Executive has been informed.

01/08/2011 - Cambridgeshire School fined over loft fall

An independent school near Huntingdon has been prosecuted after a teenager was injured when she fell from a loft space to the swimming pool changing rooms below.
Pool attendant Stacey Paine, 19, and the swimming pool manager were retrieving paperwork stored in a loft above the Kimbolton School changing rooms.
To reach the documents she walked along a beam of the unboarded loft but lost her footing. She fell two and a half metres on to the tiled floor below narrowly missing a benched area.
Stacey, from St Neots suffered a fractured wrist in the fall on 20 April 2010.
The Health and Safety Executive (HSE) prosecuting told Huntingdon Magistrates' Court today that Kimbolton School had not carried out a risk assessment for entering the loft and failed to ensure that its staff did not work on or near a fragile surface.
After the hearing, HSE Inspector Stephen Faulkner said:
"The outcome of this incident could have been very different. Falling from height, particularly onto such a hard surface often results in severe injuries or even death. It is an employer's duty to ensure the safety of all staff and anyone working at height needs to be protected.
"In this case, the documents could have been stored somewhere easier to reach and if a simple risk assessment had been carried out, this would have been identified. I urge any organisation to consider where they store items including paperwork and how safe it is for an employee to access."
Kimbolton School pleaded guilty to breaching Regulation 9(1) of the Work at Height Regulations 2005 and was fined £6,000 and ordered to pay costs of £2,276.40.

12/07/2011 - Essex school fined over caretaker injury

A Shenfield school has been prosecuted after one of its staff fell from height while at work.
Caretaker David Springett was recladding the outside of the kitchen at Shenfield High School near Brentwood in Essex on 28 July 2010.
The 54-year-old was working with a colleague on an unguarded work platform when he lost his footing and fell 1.9 metres to the ground. He broke two ribs and needed a three-inch metal plate and multiple metal screws inserted into a broken arm.
The Health and Safety Executive (HSE), prosecuting, told Chelmsford Magistrates' Court today that Shenfield High School failed to take suitable and sufficient measures to prevent an employee failing from height while carrying out work.
After the hearing, HSE Inspector Corinne Godfrey said:
"As falling from height often results in severe injury or death, the outcome of this incident could have been much worse.
"However, it could have been avoided altogether if an appropriate work platform had been provided by Mr Springett's employers. The school has a duty to protect its staff and working at height brings with it risks they should be aware of, and protect against."
Shenfield High School Alexander Lane, Shenfield, Brentwood, Essex, pleaded guilty to breaching Section 2(1) of the Health and Safety at Work etc Act 1974 and was fined £6,500 and ordered to pay costs of £2,243.85

26/05/2011 - NSPCC says child sex abuse has risen to 64 crimes a day

Girls are six times more likely to be sexually assaulted than boys, the figures suggest
At least 64 children are sexually abused every day in England and Wales, figures obtained by the NSPCC suggest.
More than 23,000 offences - including rape, incest and gross indecency - were recorded by police in 2009-10, an 8% increase on 2008-9, the charity said.
For the first time, its research also looked at the age of abusers and found a quarter were aged under 18. One in four victims was aged 11 or under.
The Home Office said the figures were "appalling".
The figures for recorded sex crimes against children were obtained through a successful NSPCC freedom of information request to all 43 police forces in England and Wales.
The figures showed that more than half of the victims were aged between 12 and 15, one in four was aged five to 11, and more than 1,000 were aged four or younger.
Girls were more than six times more likely to be assaulted than boys, with 86% of attacks taking place against females, the figures showed.
The police force reporting the largest number of crimes was London's Metropolitan (3,672), followed by West Midlands (1,531) and West Yorkshire (1,205).
Jon Brown, who heads the NSPCC's work on child sex abuse, said the increase was a "real concern".
"Thousands of people come forward every year to report sex crimes against children. But many victims are too young to ask for help. Others are too scared to tell anyone about their suffering until years later," he said.
"More than 2,000 suspects in these cases were under 18. It's clear we need more services that address the harmful sexual behaviour of young people, as well as adult offenders."
'Dark places'
The Association of Chief Police Officers (Acpo) warned that recorded crime figures were "not a good indicator of the prevalence or trends of child sexual abuse" as much abuse went unreported and rises could be attributable to victims of historic abuse coming forward.
However, Assistant Chief Constable Peter Davies, the Acpo lead for child protection and child abuse investigation, said: "Understanding the crime though is central to success.
"We are starting to bring it out of the dark places where victims suffer in silence for fear of reporting while recent infiltration of intricate global paedophile networks is further testament to the work we have collectively done to understand how offenders think and operate."
A Home Office spokesman said the government would continue to work with groups like the NSPCC to protect the most vulnerable people in our society.
It pointed to the roll-out of the child sex offender disclosure scheme across police forces in England and Wales earlier this year.
This allows parents to check whether someone in contact with their child is a convicted sex offender.
Dubbed "Sarah's Law", it was proposed after the murder of eight-year-old Sarah Payne by a convicted sex offender, Roy Whiting, in West Sussex in 2000.
The Home Office said this was a "major step forward in our ability to protect children from sex offenders".

24/05/2011 - One in ten head teachers 'attacked by parents'

One in ten head teachers have been physically assaulted by a pupil's parent or carer, according to a survey conducted by education union, the National Association of Head Teachers (NAHT).
Incidents reported by the heads surveyed in England, Wales and Northern Ireland included being punched, spat on, kicked, head butted, bitten and sexually assaulted. One in five reported being victimised on social networking websites.
Around 1,300 of the NAHT's 28,000 members in primary and secondary schools took part in the survey.
One respondent described a "serious kicking attack" that left its victim "badly bruised" and with "difficulty walking for a couple of days".
Another said a table had been thrown at them. There was one case where a head teacher said a parent had tried to run them over in a car park. And one description read: "Punched in the face, bitten, kicked, spat at, hand down T-shirt to grab breasts, hair pulled."
Almost 75% of respondents said they had suffered verbal abuse or threats from a parent in the past five years, and 86% said parents' behaviour towards teachers had worsened.
NAHT General Secretary Russell Hobby said: "School leaders often have to make difficult decisions about discipline, exclusions, holidays and the distribution of limited budgets.
"Many come under unacceptable pressure designed to effect undue influence on them. All are dedicated to doing what is best for the children in their care. Some pay a high personal cost for this dedication."
A Department for Education spokesman said: "Violence against staff by parents or pupils is completely unacceptable. A physical assault against a teacher is a criminal offence and we support schools in working with the police to take firm action where needed."

24/05/2011 - HSE censures MoD after pupil is injured at Suffolk school

The Ministry of Defence (MoD) has accepted a Crown Censure from the HSE for safety failings at the Royal Hospital School in Holbrook, Suffolk, which is owned by the Royal Navy's charity, the Greenwich Hospital. This followed an HSE investigation into a climbing incident at the school in March 2009.
Twelve pupils at the school were taking part in a PE class that involved using a climbing wall. One of the pupils, a 15-year-old girl, fell six metres in an uncontrolled descent from the top of the wall onto a wood gymnasium floor below. The pupil suffered a fractured spine requiring a two-week stay in hospital. She also had to wear a body cast for several weeks and continues to receive medical treatment for her injuries.
The School, in accepting the censure on behalf of the MoD, admitted that "at the time of the accident the risk assessment, written operating procedure, written procedures or records for examination, inspection and maintenance regime relating to climbing activities / climbing wall and related equipment were not suitable or sufficient so as to ensure that risks were reduced to the lowest level reasonable practicable."
They also admitted that "the nature of the equipment was mixed with some equipment (which was not used on the day of the accident) being unserviceable, that climbing wall supervisors had not received refresher training and that there was no monitoring or system set up for access to technical advice."
As a Crown Body, the MoD has immunity from prosecution in a criminal court but is still subject to the duties set out in the Health and Safety at Work etc Act 1974.

20/05/2011 - Boy impaled by javelin at school

A boy from Ashford is recovering in hospital after being impaled by a javelin at school yesterday.
Norton Knatchbull pupil Ed Stuckey became impaled through the shoulder on the field and track spear and had to be rushed to hospital by air ambulance.
The incident is thought to have happened during a PE lesson yesterday afternoon.
Headteacher at the Hythe Road school Susanne Staab said: "My main concern was to make sure Ed was cared for and transferred to hospital as soon as possible.
"I would like to praise the immediate response and actions of our first aiders and the emergency services. They were superb and I cannot thank them enough."
Kent Fire and Rescue Service were on the scene and used a small hydraulic hand tool - usually used to free people trapped in cars - to cut the bulk of the javelin away from the child's body.
She continued: "The students, who were on the school field at the time, acted in a very mature and responsible manner, as I would expect of them.
"I met the family that afternoon and have kept in contact with them. Everyone at the school sends their best wishes to him for a speedy and full recovery and we are pleased that he is doing well after hospital treatment."
Ms Staab added: "My attention is now turned to establishing what happened and this is an absolute priority."

22/03/2011 - Asbestos death pupil 'negligently exposed'

The Supreme Court has upheld an earlier Appeal Court judgment that Dianne Willmore, who died of mesothelioma in October 2010, had been negligently exposed to asbestos while she was a pupil at a school run by Knowsley Metropolitan Borough Council in the 1970s.
Commenting on the decision, Christine Blower, General Secretary of the National Union of Teachers, said: "This case is of great significance since it is the first time that a former pupil has been awarded compensation for asbestos exposure which took place whilst at school. We hope it will act as a wake up call for local authorities and other employers to improve asbestos management in schools.
"It has been known for many years that children are more vulnerable than adults to the effects of asbestos exposure, even at low levels. In the last 10 years, 140 teachers have died of mesothelioma. If teachers are dying from their exposure, inevitably pupils will die too in later life. Because of the long latency period, however, there are no records of adults who have died because of childhood exposure.
"The NUT has for many years been calling for an assessment of the asbestos risks to children at school. We hope that this case will lead the Government to commission such an assessment. For the sake of the children in our schools we hope that the assessment is carried out without further delay."

22/03/2011 - School fined after groundsmen suffer electrical burns

The King's School in Ely has been prosecuted after three of its employees suffered electrical burns while setting up a rugby post in one of the school's sports fields.
Ely Magistrates' Court heard that, in September 2009, four groundsmen were working to put a rugby post into the ground in the Brand Field at the school. The post came into contact with a live 33,000 volt overhead power line and three of the men received electrical injuries.
Trevor Mott needed skin grafts and colleagues, Ivor Lloyd and Chris Young suffered burns. All three men had to take time off work to recuperate.
The King's School pleaded guilty to breaching Section 33(1)(c) of the Health and Safety at Work etc Act 1974 and Regulation 4(3) of the Electricity at Work Regulations 1989. It was fined a total of £6,000 and ordered to pay £4,274 in costs.
After the hearing, HSE Inspector Stephen Faulkner said: "Three men suffered some awful injuries that could have easily been avoided if the King's School had better management of health and safety in place to protect their workforce. A fourth man was lucky not to have been injured.
"Employers must carry out sufficient risk assessments before such work is carried out and provide supervision and relevant training to ensure the safety of their staff and contractors."

15/03/2011 - Building firm in court after pupil injured on work experience

A Sheffield building company has been fined after a schoolboy on work experience fell 2.4 metres from a ladder.
The 15-year-old was one of two students from a school, completing a placement with Alan Fleischer Builders Ltd in March 2010. He was working on a project in West Street, Sheffield, converting an upstairs restaurant into flats and extending upwards into newly-created floors.
During the Health and Safety Executive (HSE) prosecution today (15th), Sheffield Magistrates' Court heard that although the school's work placement organisation had carried out a safety assessment on the building firm, it had not taken place on the site where the incident happened.
The student was working on the third floor, which was still under construction and only accessible by ladder. As he climbed down the ladder with a bucket in his hand, he fell 2.4metres landing on the floor.
Initially he carried on working but began to feel ill and was taken home. He later went to hospital and although he suffered bruising to his left side, he was discharged.
HSE said the work placement assessment allowed students to carry out general labouring duties but they were not expected to work at height. After the incident, students were stopped from returning to the site and all future placements to the company were suspended.
Alan Fleischer Builders Ltd, of Dinnington, was fined £1,500 with £1,320 in costs after pleading guilty to a charge of failing to ensure the safety of its employees.
HSE Inspector Medani Close said:
"Construction sites can be dangerous places to work. Because of inexperience, young people need special consideration to protect them from risks, particularly those present when working at height, which are well-known in the industry. The employers' risk assessment should have taken all this into account.
"This young student was lucky not to have suffered worse injuries from his fall. If the defendants had planned the project better, the stairs would have been installed at an early stage and workers would not have needed to use a ladder at all."
Falls from height remain the most common cause of workplace fatality. In 2008/09 there were 35 fatalities, 4,654 major injuries and a further 7,065 injuries that caused the injured person to be off work for over three days or more, due to a fall from height.

28/02/2011 - Fighting for his life: British teenager in coma after horrific ski lift accident in French Alps

A British teenager is fighting for his life after a horrific accident on a French ski lift.
The 14-year-old schoolboy, from Torbay, Devon, has been in a coma since he was strangled by his clothing after it became entangled on the chairlift.
The boy was cut free by rescuers and resuscitated on the snow. He was then airlifted to hospital where his parents are keeping a bedside vigil.
School trip: The Portes du Soleil ski region near Châtel in the French Alps, where the British teenager was hospitalised after a chair lift accident
The youngster, a pupil from Torquay Boys' Grammar School, was left hanging from the lift by a piece of clothing wrapped tightly around his neck.
The boy, named locally as Kieran, was with three schoolfriends on the lift. They were on an annual Spring half-term skiing trip in Portes du Soleil near Chatel.
The accident happened on Wednesday shortly before 1pm.
The boy, who has been in a coma since the accident, was on the L'Echo des Montagnes chair lift, a six-seater lift that opened last season.
As the end of the ride approached, at an altitude of 6,500ft, the horizontal safety barrier that sits across the lap of skiers was raised to allow skiers to alight.
However a strap from the boy's rucksack had become wedged in the metal bars of the seat. The boy was therefore unable to free himself in time and the lift, now travelling at a speed of 18 feet per second, had turned back on itself and had begun its decent down the mountain.
Witnesses said as the youngster desperately fought to free himself he slipped and was suspended from the lift by his clothing that had ridden up around his neck and was throttling him.
One local report said: 'his clothes literally were choking him'.
Horrified holidaymakers looked helplessly from the slopes below.
'It seems his clothes rode up to neck height inhibiting his breathing. The boy was unconscious when we reached him,' said a spokesman for the lift company.
He had to be resuscitated at the scene before being taken to hospital.
Dangling: Witnesses said the boy was hanging by his clothing as the lift began its descent (file picture)
A police inquiry is under way to explain why the safety system, known as a gate, which stops the lift if a skier has not alighted at the top was not activated.
The gate is an emergency barrier situated at shin-height where the ski lift turns to go back down the mountain.
It stops the lift if a person's legs or skis hit it.
A police spokesman said: 'The boy had a problem on the chair lift and he was unable to get off.
'We are not saying anything else at the moment because we have opened an inquiry to try and determine the exact details of the accident.'
Nicolas Rubin, Mayor of Châtel and President of the Lifts Office of Châtel, said lift staff were traumatised by the accident.
Explaining the chain of events he said: 'The young boy couldn't get off the chairlift he was on because the waist-strap of his rucksack wasn't done up and it got caught between the backrest and the seat of the chairlift.
'We don't understand how this young man also managed to avoid the system commonly known as the 'gate' which is meant to stop the lift in these sort of cases, which is immediately after the lift arrival zone.
'The gate is mounted on a pivotal axis, perpendicular to the line of the lift and is just 25cm below the seat of the chairlift, so that the legs of the person still on the lift would activate the system and stop the lift within a few metres.
'The young boy didn't set off this system, despite the fact that it is very difficult to avoid, especially with skis on your feet.
'After the lift sets off from the arrival station everything then happens very quickly. The chair is launched on a slope, it engages onto the main lift cable and is quickly up to normal running speed of 5.5 metres per second.
'The arrival station of this lift is situated on a rocky drop and the young boy apparently wanted to jump off the chair lift at this point. He immediately found himself in the void, underneath the seat, held by a single strap of his rucksack.
'The lift operator stopped the lift as soon as he realised that something unusual had happened.
'Next, the rescuers, helped by the lift technicians, intervened to set the young boy free,' Mr Rubin added.
'He was attached to the lift by his own rucksack over the void, held by the strap, and with the weight of his body, it seems that his clothes rode up to neck height, inhibiting his breathing.
'The piste patrollers immediately took charge of the boy who was unconscious before the helicopter arrived with a paramedic. The heli was scrambled at 13:00 and arrived a few minutes later.'
The Portes du Soleil ski resort, where the accident occurred
The school party was staying at the three-star Hotel L'Aplage in Chapelle d'Abondance. The group left the UK by coach on February 18 and is due back in Devon on Saturday.
Chatel is an upmarket family-friendly resort. The trip is an annual event in the school calendar.
The 14-year-old schoolboy who is in a coma after a ski lift accident is said to be a pupil at Torquay Boys Grammar School
This year, for the first time, staff made it compulsory for pupils to wear helmets. Deputy Head Lindsay Kings said: 'It's an unbelievably tragic situation. We are all in shock here.
'We have not made a decision how we are going to move forward. At the moment we are very much in a situation where we feel we need to leave everything to the parents. It is a tragic, tragic situation.'
The accident is the second in two days involving a chair lift in the French Alps.
On Tuesday in Morillon, near Chamonix, a six-year-old boy slipped from the three-seater lift he was on with his mother. Despite falling 40 feet he suffered only concussion.

28/02/2011 - "Exposing pupils to leather and plastic footballs during breaktimes is too dangerous"

Huyton's Malvern Primary School in Merseyside has decided that exposing pupils to leather and plastic footballs during breaktimes is too dangerous. Using a February newsletter to remind parents of the policy, the school stressed that the only balls not deemed a health hazard which can be brought into school are those made from sponge.
Yesterday anti-obesity campaigners said the "stupid" rule was at odds with Huyton's reputation of producing a string of footballing greats including Gerrard, the Liverpool captain.
The school literature stated: "Please can we request that only sponge balls are brought into school.
"This is to ensure the safety of all our pupils when on the playground."
The school defended the sponge-only ball rule, stressing it had a duty to protect pupils of all ages.
But Tam Fry, chairman of obesity prevention charity the Child Growth Foundation, branded the stance "stupid".
He said: "Children must be exposed to risk otherwise how can they be expected to learn.
"Schools should be places to learn. It may think it is protecting the children but they could just as easily fall over playing with a sponge ball.
"Policies like this mean our children are in danger of becoming cocooned cotton buds."
Mr Fry added: "We do have a litigation culture but you can't tell me Steven Gerrard did not play football in the playground - I bet he even fell over a few times."
In a statement the school said: "Malvern Primary School treats the health and safety of its pupils as a top priority and has for a long time had a policy of protecting children by recommending sponge balls in the playground before school starts and during breaks, especially as the playground accommodates children from the age of four to 11."
( Malvern school is a large new school with space and facilities. Methinks there is a lack of management which prevents children from experiences which are learning for life. Managing risk is such an experience. I'm sure that Judith Hacker will have something to say about this health and safety myth.) Ed.

24/01/2011 - Rise in workplace violence despite fewer victims

The number of violent incidents at work last year totalled 677,000, according to the 2009/10 British Crime Survey – a rise of 8 per cent on the previous year's sum.
But despite the increase, fewer workers experienced an incident of violence – 318,000 compared with 327,000 in 2008/09. The figures are presented in an HSE analysis of work-related violence in England and Wales, based on findings from the 2009/10 British Crime Survey (BCS).
The fact that there have been fewer victims but a greater number of incidents could be attributed to a rise in the proportion of victims who experienced more than one incident of violence.
An estimated 43 per cent of all people assaulted or threatened at work were repeat victims – up from 36 per cent in 2008/09. A quarter experienced three or more incidents of workplace violence during 2009/10, and a further 17 per cent experienced two incidents.
When looking at the consequences of violence at work, the BCS found 37 per cent of total physical assaults at work – of which there were 310,000 – resulted in injury. This is a significantly lower proportion than in the previous year, in which 47 per cent of assaults resulted in injury of some kind.
The HSE concludes that the overall risk of being a victim of actual or threatened violence at work is low. As in 2008/09, the BCS indicates that 1.4 per cent of working adults were the victims of one or more violent incidents at work.
The most risky occupations have not changed either, with 9 per cent of police officers – the group most at risk of attack – having experienced one or more incidents of actual, or threatened violence during the year. Others at risk include health professionals, at 3.8 per cent, and social-care professionals, at 2.6 per cent.
UNISON is calling for employers to enforce better safety measures to stop the growing number of repeat attacks and for tougher legal action to be taken against attackers.
The union's general secretary, Dave Prentis, said: "It is shocking that hard-working health and social workers remain the top targets for assaults. They should not be fearing for their safety at the start of a shift.
"Violence at work has more than doubled in a decade – government plans for severe public-sector cuts can only make it worse for staff and patients."

05/01/2011 - Council that employed killer Ian Huntley cannot guarantee that school staff are not a danger to kids

A COUNCIL that employed child killer Ian Huntley has admitted the criminal history of staff at its schools is still not being properly checked.
It said it can only provide "limited" assurance that staff at more than half its schools are safe. And it blamed head teachers for hiring before checking criminal records.
A children's charity yesterday warned pupils may still be at risk nine years after Huntley murdered Jessica Wells and Holly Chapman, both 10, in Soham, Cambs.
He got a job as school ­caretaker despite a history of alleged sex attacks.
Cambridgeshire County Council's audit of 16 schools showed 10 were failing to carry out Criminal Record Bureau checks before letting staff work with ­children.
Councillor Martin Curtis said: "It's a very quick half-hour check. In some cases, schools are not doing that."
Kidscape director Claude Knights said: "It only takes one person to slip through."

24/11/2010 - Paintbrush injury pupil set to receive pay-out

The court heard how a paintbrush pierced Thomas's eye
A council has been held responsible for an accident which left a 10-year-old pupil with "catastrophic" brain damage.
Thomas Brown, now 18, attended Ladywell School in Motherwell when he fell on a paintbrush which pierced his eye.
The Court of Session in Edinburgh ruled that North Lanarkshire Council failed to prevent a foreseeable risk of harm.
Mr Brown's father, Christopher, is seeking damages of £2.5m. The court will rule on the level of compensation at a later date.
Judge Lady Dorrian heard that the accident happened while Thomas and his classmates were working on scenery for a school show in April 2003.
They were kneeling or crouching on the floor painting four sheets of paper which had been stuck together. The paper was too big to fit on a desk.
A girl stood up and bumped into Thomas, causing him to topple over and fall onto the paintbrush of a third child.
The pointed end of the foot-long thin brush went into his left eye.
When one looks at the whole circumstances of the use of the brush a real risk of injury emerges as foreseeable"
Lady Dorrian Judge
The court heard that the accident had left him with no sight in his left eye and he had also suffered "a number of permanent disabilities", including poor concentration and memory and significant fatigue.
In the action, it was alleged the accident had affected Thomas's chances of finding a job and that it was unlikely he would be able to live independently in future.
Lady Dorrian was told that since the accident the local authority had issued a "safety flash" warning, stopping children working on the floor and banning the use of long paintbrushes.
Mr Brown claimed that the "risk assessment" carried out after his son was hurt should have been done before the accident, and could have prevented the tragedy.
He also claimed that those supervising the class at the time were at fault.
In her written ruling, Lady Dorrian said: "Foreseeability is not the same as frequency - an accident might rarely happen yet nevertheless be foreseeable."
She said that the teachers present at the time seemed to be aware of some dangers but had not taken others into account.
"When one looks at the whole circumstances of the use of the brush a real risk of injury emerges as foreseeable," she said.
"A reasonable person in the position of the teachers would have taken steps to prevent that foreseeable risk of harm to Thomas."
The judge said the work could have been done on separate sheets of paper with safer paintbrushes.
She added: "There was no persuasive reason why the task could not have been done at desks."
A spokesman for North Lanarkshire Council said: "We are studying the court's findings and it would be inappropriate to comment further at this stage."

23/11/2010 - HSE chair Judith Hackitt sets straight a claim that health and safety legislation is to blame for the demise in school science experiments

RE: Birmingham Mail article - "'Boring' science no fun any more, says Birmingham Science Park Aston expert" (19/11/2010)

Dear Editor,

I wish to set straight a claim by David Hardman,( No relation) managing director of Birmingham Science Park Aston (Friday 19 November), that health and safety regulations are to blame for children not being able to conduct science experiments and 'create explosions'.
Health and safety law does not stop classroom experiments. Hands-on lessons are an essential part of learning − they bring science to life and also teach children how to handle dangerous substances safely. All we ask is that an assessment of the risks is carried out to ensure that sensible precautions are taken and so that teachers and pupils can rest assured that the experiment is properly managed.
HSE encourages well run activities throughout school life to help students learn and manage risk in the real world.

Yours faithfully,
Judith Hackitt
Chair, Health and Safety Executive

18/11/2010 - Bullying in schools 'can be as bad among teachers as pupils'

Bullying in schools can be as bad among teachers as pupils, a charity has warned.
More than 2,000 teachers have viewed The Teacher Support Network's online bullying advice over the last six months.
Many said they had been picked on by senior staff.
Tsn, which runs a 24-hour helpline, urged heads to be vigilant. It added: "It's tragic so many teachers suffer."
Victim Zoe Speakman, 37, of Sheffield, said: "I didn't see people cry at work until I went into teaching."
The NUT said bullying was "totally unacceptable".

11/11/2010 - Irish schools deemed unsafe – but which ones?

An alleged lack of government investment in Irish schools has led to seven being served with enforcement notices for health and safety failings – but the regulator is not obliged to identify the schools involved owing to a "bizarre" exclusion in the country's freedom of information laws.
Ireland's Sunday Independent newspaper reported last weekend that the Health and Safety Authority (HSA) has issued Improvement Notices to five primary schools and Prohibition Notices to two secondary schools since last year. The revelation came just a week after the Education minister admitted that the school building budget had been underspent by €50 million, and the higher-education institutions' budget by €32 million.
According to the newspaper, this prompted several school principals to protest that pupils and teaching staff have had to endure problems such as rat infestations, sewerage odours and damp for years. It added that requests to the Department of Education for funds for repairs and new buildings are often based on health and safety grounds.
This was backed up by Irish teaching union the INTO, which told SHP: "It is absolutely right that schools have used health and safety legislation to get things done – that is what it's there for. Schools have had reports done by health and safety consultants to back up their case for remedial works. Of course there is genuine concern among teachers about the state of the buildings in which they are working, especially when young children are also present."
Since 2009, the HSA has inspected 202 primary schools and 144 secondary schools but, following a specific amendment to the country's Freedom of Information Act, it is no longer obliged to furnish any details about the enforcement action it takes. In the UK, the Health and Safety Executive publishes details of all enforcement action – including Improvement and Prohibition Notices issued – freely on its website.
When asked why it doesn't do the same with information that is clearly in the public interest, a spokesperson for the HSA explained that because the regulator's activity comes under "law enforcement and security", information on it is exempt from release. He added: "You cannot ask us who we have issued notices against but if you know who received one and provide a name, we will confirm. We cannot proactively inform, just confirm."
The INTO described the situation as "bizarre". It said: "It is wrong that this information is not covered by the FOIA – parents and teachers are entitled to know about these things."
Meanwhile, the Department of Education has been at pains to point out significant capital is being invested in schools projects this year. Said minister Mary Coughlan TD: "In excess of €450 million has already been spent this year from the capital budget. In total, it is expected that by the end of 2010, 53 new schools will have commenced on site this year. We are continuing to roll out a vastly improved infrastructure for those at all stages of their education."
The HSA, too, is focusing more effort on the sector as the size of traditionally resource-heavy industries like construction and manufacturing has dwindled in the recession. It recently issued guidelines for post-primary schools on managing health and safety, while in February, health and safety was included as a module in the national curriculm for secondary-school students.

30/10/2010 - Headteacher told to pay £40k over student's roof fall

A headteacher was ordered to pay more than £40,000 yesterday after one of his students fell through the school roof.
John Summerfield, 65, took "slightly inebriated" pupils on the roof to see renovations in an "act of folly" at an A-level results party.
Joel Murray, 18, plunged 8ft into a corridor, fracturing his skull and ribs. Mr Summerfield was fined £20,000 and will pay £22,000 costs for failing to ensure pupils' safety at Sacred Heart Catholic College, Crosby, Merseyside.
Since the accident, in August 2008, Mr Summerfield has retired and the Liverpool Crown Court judge said it was "an isolated incident in an otherwise distinguished career".

27/10/2010 - Budget cuts could reverse good record on work deaths and ill health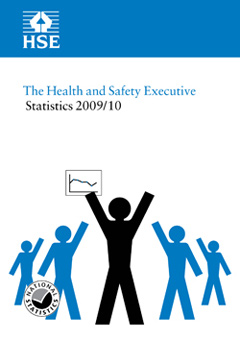 The HSE has released new figures confirming that Britain has the lowest rate of work-related deaths in Europe and one of the lowest levels of occupational ill health, but there are fears that this record may not be sustainable in the face of cuts to the regulator's budget.
Following the release of provisional statistics for 2009/10 in June, the new figures confirm that 152 people were killed at work – the lowest level on record, and down 15 per cent on last year's total of 179, which was the previous low. The number of deaths corresponds to a rate of 0.5 per 100,000 workers, compared with an EU average rate of 2.1 per 100,000 workers.
Of the main industrial sectors, construction and agriculture recorded the most fatalities, with 42 and 38 deaths, respectively.
Major injuries decreased by 6.5 per cent – from 27,894 in 2008/09 to 26,061 last year. Over-three-day (OTD) injuries went down from 105,261 to 95,369 – a drop of 9.5 per cent. However, the number of people suffering from an illness caused, or made worse by their work went up from 1.2 million to 1.3 million, while a further 800,000 former workers claimed they are still suffering from a work-related illness.
Musculoskeletal disorders and stress again topped the list of reported illness types, while the most common accident types behind major and OTD injuries were slips and trips, handling/lifting/carrying, and falls from height.
Overall, since 2000, the rate of reported fatal and major injury to employees has fallen by 13 per cent, while the number of working days lost per worker has decreased by 30 per cent. In 2009/10, the estimated total number of days lost due to work-related ill health and injuries amounted to just under 6 million.
Commenting on the figures, HSE chair Judith Hackitt said: "It is encouraging to see further reduction in the number of people being killed and seriously injured at work. We now need to ensure that the improvements that are being made continue. Every statistic represents an individual or a family that is now suffering as a result of health and safety failings at work.
"Britain remains one of the safest places to work in the EU, and we are rightly proud of this record. The challenge now is to focus on those areas where improvement is slow to emerge."
However, other stakeholders expressed reservations about how the improvements can be sustained, given the recently announced 35-per-cent cut in the HSE's budget. IOSH's policy and technical director, Richard Jones, said the key to making sure the figures don't rise next year is to maintain the resources the regulator currently has to do this.
He added: "Cuts to the HSE don't just risk livelihoods, they risk the lives of the people we are trying to protect. And if inspectors are forced off the front line to complete the paperwork that a declining admin staff would previously have done, we could potentially see a hockey-stick effect, where death and injury rates increase once more.
"The UK workforce needs a properly resourced HSE and effective workplace management for these downward trends to continue."
The TUC's Brendan Barber said the budget cut is "likely to make the situation worse, with less guidance, fewer inspections and less enforcement across the board. This will mean higher illness rates, more days lost through sickness absence and, most importantly, more workers killed, injured, or made ill as a result of their work."
The HSE did not want to comment while the exact nature of the cost cuts has yet to be determined, other than to say that: "The DWP has said that in seeking to achieve savings of at least 35 per cent over the SR10 period, we will share more of the costs with those businesses who create the risks, while reducing burdens on low-risk businesses. The [HSE] Board will be advising further on how this might be achieved."
The statistics also reveal that some of the "low-risk" workplaces defined by Lord Young in his review (e.g. shops, offices and schools) as requiring less rigorous health and safety assessment are among the worst performers, in terms of illness and injury rates last year.
The 'health/social work' and 'public administration' sectors, and the 'professional' and 'personal service' occupations had the highest rates of illness, with the 'personal service' and 'elementary' occupations having statistically significantly higher rates of both injury and ill health compared with all occupations.
Moreover, statistics released last month for the first quarter of this year (April to June) show that of a total of 54 fatalities, 22 were recorded in the services sector.
Emphasising that Lord Young's proposals are about reducing bureaucracy, a spokesperson for the Cabinet Office said the figures vindicate the peer's belief that "form-filling and bureaucracy hasn't made anyone any safer".
He continued: "Lord Young is advocating common sense – employers still have a duty to ensure their workplaces are safe. He is not suggesting that employers don't pay any attention to health and safety – just that form-filling and bureaucracy are not necessarily the best way."
26/10/2010 - Girl, 14, died after errors on class trip
A girl who drowned on a school trip died after a catalogue of errors, an inquest jury ruled yesterday.
Charlotte Shaw, 14, was swept away in a stream when her group was left unsupervised in rain and gale force winds on Dartmoor in 2007.
Three of their teachers had gone for breakfast and two had gone home.
The nine girls, from Edgehill College in Bideford, Devon, now Kingsley College, begged to leave the moor, but they were not allowed.
A Scout leader had advised them to cross the stream and the teacher in charge of the trip - ahead of the Ten Tors expedition - did not have a full leader's course.
Giving a narrative verdict, the jury said: "They were cold, wet and tired." Charlotte's mother is taking legal action against the school.
Recommendation to abolish the Adventure Activities Licensing Authority
In his report published on 15 October, Lord Young of Graffham, recommended that the Adventure Activities Licensing Authority (AALA) be abolished and the existing statutory licensing regime be replaced by a code of practice.
The AALA recognises that this recommendation will cause uncertainty in the adventure activities sector. This recommendation will take some time to implement and in the meantime, the existing licensing regime remains in place and providers should continue to apply for or renew their licenses as appropriate for the time being. The Adventure Activities Licensing Service (AALS) inspection and licensing activities will continue as normal for now.
The AALA will be contacting sector stakeholders shortly to discuss the development of the code of practice. The AALA will be consulting on the arrangements for the transition to the new arrangements. We will place further information on the AALA website as it becomes available.
Damages to hurt pupils is 'immoral'
Cash payments to 10 children a week for injuries at school were slammed as "immoral" yesterday.
About £2.25million was shelled out by councils last year after pupils were hurt in the classroom, sports field or playground.
One of the biggest awards was to a pupil in Surrey who got £29,000 for burns he suffered when he sat on a radiator.
Advertisement - article continues below »
rank Furedi, professor of sociology at Kent University, said compensation culture was ruining kids' education.
He added: "Demanding compensation from public sector bodies is immoral, it is a demand for taxpayers to cough up the cash."
The figures came out under the Freedom of Information Act.
12 die in kids bus crash horror
At least 12 members of a youth club were killed yesterday when their coach crashed in heavy rain.
Seven youngsters were in a critical condition and another 26 suffered serious inju-ries. The group of 49 Poles was heading back home after a holiday in Spain.
The coach swerved in the rain to avoid a car merging into traffic on a motorway east of Berlin.
It careered off the road and plunged down an embankment before crashing into a bridge pylon at Potsdam.
The 37-year-old driver of the car also suffered serious injuries.
The A10 autobahn was closed as 250 emergency workers fought to get the wounded out of the wreckage while helicopters airlifted casualties to hospital. The road was strewn with wreckage over a wide area. Police spokesman Peter Salender said: "This is an appalling accident. We have not dealt with a crash like this for a long time."
The coach had been heading for the border city of Frankfurt-Oder when it crashed.
A girl of 12 amazed doctors by surviving liver failure after eating two poisonous wild mushrooms she found on a country bike ride.
Lucy Adcock's family were warned to expect the worst - as just one of the death caps could kill an adult.
But Lucy, whose liver toxin levels were 300 times higher than normal, pulled through after six days in hospital.
Back home in Lingwood, Norfolk, with widowed mum Tania Smith, 42, she said: "I've been told I should have no permanent damage. But I was lucky. I never want to see another mushroom again."
Council fined after child injured at Tyneside museum
Newcastle City Council has been fined after a five-year-old girl needed surgery when she was injured by an interactive exhibit at one of its museums.
The child was visiting the Discovery Museum in Newcastle with her family when she placed her hand in an opening of the "Floating on Air" exhibit on 17 August 2009.
The opening led down into the rotating blades of a fan which powered the air flow through the machine. The opening should have been protected by a guard which was missing and so the girl's hand came into contact with the rotating blades of the fan.
The five-year-old, who is from Leeds and cannot be named for legal reasons, put her hand through the opening and suffered serious injuries, which required immediate surgery.
The Health and Safety Executive (HSE) prosecuted Newcastle City Council, which runs the museum, following the incident. Newcastle City Council, pleaded guilty to breaching Section 3(1) of the Health and Safety at Work etc Act 1974 at Newcastle Upon Tyne Magistrates' Court today. It was fined £12,000 and was ordered to pay costs of £7,733.
HSE's investigation showed that there was no formal system in place to ensure the exhibit was in good condition and was safe to use.
Since the incident the youngster also had to undergo further surgery, including a skin graft and a tendon harvest and replacement. The injury has meant she has not been able to take part in some activities, such as swimming and gymnastics and has had repeated hospital visits. Two of her fingers are still bent and scarred.
After the case, HSE inspector, Carol Forster, said:
"The serious injuries that this young girl suffered could easily have been avoided.
"The Floating on Air exhibit had been in use for a number of years, yet the gap had not been fixed.
"The health and safety of members of the public, especially children, who use interactive exhibits in museums is very important.
"It's important that councils, like any other organisations, must have systems and procedures in place to ensure that the safety of members of the public is not put at risk by their activities."
Worker dies during demolition at boarding school
A Shropshire boarding school has today been fined £25,000 after a worker was killed while demolishing a building on the site.
The Health and Safety Executive (HSE) prosecuted Moor Park Charitable Trust Ltd which runs Moor Park School, after it arranged for a team of inexperienced building workers to demolish a large wooden classroom on 14 August 2007.
The HSE investigation revealed the workers had no effective plan in place and removed integral supports within the classroom's structure, causing the roof to collapse while five men were inside.
Mark Evans, aged 40, of Ludlow suffocated when the roof, which weighed 2.4 tonnes, fell on top of him. The four other men survived without serious injury thanks to the chance positioning of a dumper which was parked inside part of the building, creating an escape route.
Mr Evans leaves behind his wife and teenage daughter who are devastated by their loss.
Shrewsbury Crown Court heard that Moor Park School had arranged for a self-employed general building worker, Mr Christopher Morris who was undertaking some minor roofing work on the site, to carry out the work.
He asked four other self-employed building workers to assist in the demolition even though none of them had training or relevant experience. The school failed to make any reasonable enquiries into the competence of the men to undertake the demolition work prior to the work beginning.
HSE inspector Nic Rigby said:
"There were five men inside this building when it collapsed. Mr Evans paid the ultimate price for the school's failings. But for sheer good fortune, all five of them could have been killed."
"But Mr Evans and the other workers should not have been put at such increased risk. Had Moor Park School taken reasonable steps to properly consider the demolition work, they would have appointed a competent and experienced contractor, and avoided the roof collapse."
"This awful event and the prosecution of the school must send a very clear message to all those who commission construction or demolition work. It must be properly planned and carried out by those with the experience and competence to do so."
Moor Park School of Moor Park in Ludlow pleaded guilty to breaching Section 3(1) of the Health and Safety at Work etc Act 1974. As well as the fine, it was also ordered to pay £15,000 in costs.
New safety advice issued on electric gates
Installers, designers, maintenance firms and manufacturers of electric gates, are being urged to seriously consider new safety advice issued by the Health and Safety Executive today, following the recent deaths of two children involving these gates.
The safety alert points out that limiting the closing forces of gates alone will not provide sufficient protection to meet the relevant standards, and installers must fit additional safeguards to gates in public areas.
HSE's Director of Field Operations, David Ashton, said:
"Electric or automatic gates are designed to stop if someone gets in the way, and installers and those maintaining these gates have a real duty to ensure this happens.
"They must take their responsibilities seriously to make sure that anti-crushing, shearing and trapping safety protection devices are correctly set and maintained."
Today's alert follows a similar notice issued in February this year reminding gate manufacturers and installers of their safety responsibilities when designing, building and installing electrically powered gates.
On 28 June this year, Semelia Campbell, 6, died when she was crushed by electric gates in Manchester. A few days later on 3 July, Karolina Golabek, 5, was also crushed to death by electric gates in Bridgend, South Wales.
While the police and HSE investigations continue into both deaths, HSE does want to make it clear to installers that they must take action to prevent pedestrians from becoming trapped in electric gates.
David Ashton added:
"When manufacturing, designing or installing electric gates, it's crucial to consider who will be in the area when it's operating. If general public can access the gate then additional protections should be in place.
"These protections can be in the form of creating safe distances, installing fixed guards, limiting the forces or installing sensitive protective equipment - among others."
HSE's advice today also reminds those in control of the maintenance of electric gates to regularly review their risk assessments, taking account of or any changes to the operating conditions or environment.
17-year-old boy who died trying to save a teenage girl in the sea off Whitby
A 17-year-old boy who died trying to save a teenage girl in the sea off Whitby was on an outing from a secure psychiatric unit, it has emerged.
The pair were rescued along with another teenage girl after being swept out to sea off the beach on Wednesday.
James Samuel Willis, originally from Stockton, died at Scarborough Hospital. The girls were treated and discharged.
Northumberland, Tyne and Wear NHS Trust said all three were patients at St Nicholas Hospital in Gosforth.
It said the hospital is a medium secure psychiatric forensic unit for youths.
Everyone started to shout to the young girl to turn her friend but you could see that she was struggling to survive herself"
The unit cares for 14 to 17-year-olds who have either come into contact with the law as a result of their mental health issues, or are a risk to themselves or others.
Dr Suresh Joseph, medical director for Northumberland, Tyne and Wear Mental Health Trust, said there were four members of staff supervising the three teenagers on the trip.
He said: "The members of staff who accompanied them were in close contact with them all the time but unfortunately were not able to save the young man.
"Staff were keeping an eye on the teenagers."
A trust spokesman said: "We are all shocked and devastated by the news.
"We would like to offer our sincerest condolences to the family, friends and his fellow patients at this difficult time.
"We are fully co-operating with North Yorkshire Police to assist them in their investigation."
The RNLI said lifeguards noticed the pair in difficulty in the water. They reached the water's edge on a quad bike and entered the sea, reaching the girl first.
They then went further out to reach the boy.
They said it was thought the boy had managed to pull himself to safety using the ladder on the pier wall, but had returned to the water to help his companion.
Lifeboatman Hugh Ramsden said he tried to save the teenager
Lifeboatman Hugh Ramsden said they tried to resuscitate the boy after recovering him from the water.
He said: "He was brought back to the Whitby lifeboat house and our coxswain took over CPR... until the emergency services arrived."
The RNLI said the third member of the group, another teenage girl, had managed to make it to shore alone.
Philip Rooks, who was at the beach with his children, said he was walking along the pier when his group noticed the teenagers were in difficulty.
He said they watched the boy swim to one of the girls who "was in real distress, shouting that she couldn't swim".
He added: "The poor lad managed to stay with her for a short time but after a couple of waves washed over him he turned in the water face down.
"At this point two lifeguards were swimming out against what I can only imagine being a strong current.
"Everyone started to shout to the young girl to turn her friend but you could see that she was struggling to survive herself."
HSE Responds to Portsmouth News letters page - "Left in utter despair by school activity day"
29 July 2010
Dear Sir,
Re: J Hawkins Letter: "Left in utter despair by school activity day" - 28 July 2010
I am saddened to read J Hawkins' letter of 28th July, claiming schools can no longer have a sack race at their sports days, or children throw overarm, because of the Health and Safety Executive (HSE).
HSE does not ban sack races, or any competition in school. We support and encourage children to get involved in outdoor physical activity, as it is good for their health and development.
We focus on health and safety and the practical steps that protect people from real risks. We do not want to stop members of the public from living and enjoying their everyday lives. I can assure your readers that all children can happily go about competing in school sports events, just like in the old days, and if they are told otherwise they should challenge it.
Yours faithfully,
Heather Bryant
HSE Regional Director for HSE South East
Fatal bus crash teenagers named
Two teenagers who died when a school bus crashed into a car in Cumbria have been named by police as Kieron Goulding, 15, and Chloe Walker, 16.
Four people remain in a critical condition after the 49-seater, which was taking pupils home from Keswick School, crashed on the A66 on Monday.
Head teacher Michael Chapman said staff and pupils were shocked at the tragedy, which happened near Bassenthwaite Lake.
A special school assembly was being held to remember the dead youngsters.
Psychologists will be at the school later to support pupils and staff.
The third person who died in the accident was the male driver of a Honda Civic.
Spinal injuries
It is believed the driver of the coach, which was run by J.B. Pickthall based in Rowrah, West Cumbria, had swerved to avoid another vehicle when the collision occurred.
Witnesses spoke of hearing "a loud bang" as the coach ended up on its side.
Another witness described that stretch of the A66 as notorious with police regularly called to accidents there.
It is thought nearly 40 people were injured, most of them children at the secondary school who were taken back to their homes in and around the town of Cockermouth.
A spokeswoman for North Cumbria University Hospitals NHS Trust said the majority of the injured were being treated at Cumberland Infirmary in Carlisle and West Cumberland Hospital in Whitehaven.
Their injuries range from cuts and fractures to spinal injuries.
Ch Insp Kevin Greenhow, of Cumbria Police, said his officers and other emergency workers "found a very difficult situation to deal with".
But he described the people of West Cumbria as "resilient" and said they would "gather round and support each other".
Moira Swann, director of children's services at Cumbria County Council, said her department would offer "all the help and support we can to the children, families and staff affected".
The educational psychologists will be going into the school later which has around 1,000 pupils aged between 11 and 18, to offer practical and emotional support.
Council cleared over cave death
A council has been found not guilty of breaching health and safety law over the death of a boy who drowned on a school caving trip.
Joe Lister, 14, died when floodwater swept through Manchester Hole Cave in the Yorkshire Dales in November 2005.
He was one of 11 Tadcaster Grammar School pupils visiting the cave.
North Yorkshire County Council, which owns and runs Bewerley Park outdoor centre, had denied charges under the Health and Safety at Work Act (1974).
Leeds Crown Court heard how the pupils went to the cave with three adults, including a 17-year-old volunteer instructor, a maths teacher and an instructor from the centre.
The group was taken through a tunnel 39ft (12m) long and less than 3.3ft (1m) in height at its lowest point, where they had to stoop or crawl on hands and knees to get through, the court heard.
After some time in the cave the water began rising rapidly, forcing the youngsters to swim to safety.
Joe was later found by a rescuer with his head torch still on but without his boots. He had drowned.
The court was told the rapid rise in water was "unprecedented" and could not have been foreseen
Sheriff criticises outdoor centre
Jul 1 2010
She also said a risk assessment document did not "fulfil the purpose" as it did not specifically identify the gorge and it failed to identify the risk posed by rocks.
GORGE jumping should never have taken place at the spot where a teenager died, a sheriff has ruled.
And safety management systems at the outdoor activity centre using the site were "not sufficiently rigorous" to recognise that.
Sheriff Johanna Johnston criticised the Barcaple Outdoor Activity Centre near Ringford in her findings following a fatal accident inquiry into the death of 15-year-old Laura McDairmant (pictured) from Carlisle in July, 2006.
However, she was "satisfied" the Abernethy Trust, which runs the centre, had taken steps to make sure a similar accident could not happen again, a remark the trust welcomed.
In her findings Sheriff Johnston also called for an immediate review of legislation concerning outdoor activities for youngsters.
Laura was on holiday at the centre in 2006 when she was taking part in the gorge jumping activity at a site known as Grey Mare's Tail Burn, near Black Loch, Newton Stewart.
In her report, Sheriff Johnston said: "The site was unsafe and should not have been used for the activity. There was a danger that a participant would fall onto that rock ledge.
"Laura McDairmant jumped from a height of approximately 9.5 metres above the surface of a pool of water there.
"She landed on the protruding ledge of rocks and sustained the injuries, which caused her death."
The site came into use in 2003 when Andy Giles – the chief instructor at the centre at the time – introduced gorge walking, which featured jumps from the clearing where Laura fell.
Guidelines in place at the time meant Mr Giles did not need to seek approval from the trust to use the site and at no point was that given by the trust's technical adviser.
Sheriff Johnston said Mr Giles had made "an error of judgement" in deciding to use the site.
She also said a risk assessment document did not "fulfil the purpose" as it did not specifically identify the gorge and it failed to identify the risk posed by rocks.
She also found the operations director at the time, David Pratt, was unaware gorge jumping had been introduced.
Sheriff Johnston said Mr Pratt was "not experienced in the adventure activities sector", although he had experience in other areas. Instead, he took guidance from his staff but was not fully aware of everything the centre offered.
Sheriff Johnston wrote: "He was not aware that gorge jumping was being undertaken by groups of young clients at the pools at the Grey Mare's Tail Burn.
"Mr Pratt did not take steps to keep himself advised of all the outdoor activities being conducted at the time."
He was unaware of concerns with the site and Sheriff Johnston found there was no system that allowed concerns to be raised with him or for concerns to be recorded in any way.
She said: "The activity continued up until the accident because the safety management systems in place at Barcaple were not sufficiently rigorous to ensure that the earlier assessment of the risk was reviewed and the activity halted."
However, she believed the "thorough and comprehensive review" the trust had carried out meant there was "little possibility" of a similar accident occurring.
A statement from the trust read: "Abernethy Trust has read with great care the determination by Sheriff Johanna Johnston which we accept as being very detailed and comprehensive.
"We recognise that there were failures in our lines of communication which contributed to this tragic accident.
"Abernethy Trust welcomes the sheriff's findings that we acted swiftly following the accident and took steps to ensure that appropriate safety measures were put in place. We note that Sheriff Johnston, having regard to the steps we had already taken, does not make any recommendations regarding the management and organisation of the Abernethy Trust."
Sheriff Johnston also found the Adventure Activities Licensing Authority was unaware gorge jumping was taking place and didn't visit the site prior to the accident. Neither did health and safety officers from Dumfries and Galloway Council due to legislation "gaps".
As a result, she called for a "comprehensive review" to be carried out by the Health and Safety Executive (HSE) into regulation for activities for people under the age of 18.
Safety review demand after Cumbrian girl's gorge jumping death
29 June 2010
A sheriff has called for an in-depth review of regulations governing activity centres for under 18s after a Carlisle schoolgirl died in a gorge jumping tragedy.
Sheriff Johanna Johnston QC said the Health and Safety Executive should review the scheme which "failed to protect" 15-year-old Laura McDairmant.
Laura, from Wetheral, died on July 26, 2006 after she plunged 31ft onto rocks. The William Howard schoolgirl had been taking part in gorge jumping – leaping from height into a pool below – at the Grey Mare's Tail Burn, in the Galloway Forest, near Newton Stewart. She suffered injuries to her neck and head and died the following day at Dumfries and Galloway Royal Infirmary.
A 22-day fatal accident inquiry was held into Laura's death at Kirkcudbright Sheriff Court. And yesterday Sheriff Johnston published her judgements, in which she criticised the management of the outdoor centre at the time of the accident and called for a review of regulations to commence as soon as possible.
The Sheriff said: "Laura lost her life in the most tragic of circumstances. It may be of some comfort to her family that the Health and Safety Executive intend to review the scheme, which failed to protect Laura."
During the fatal accident inquiry, which heard evidence from more than 30 witnesses, the Sheriff was told that top officials at the Abernethy Trust's Barcaple Outdoor Centre, near Castle Douglas did not know that gorge jumping was taking place at the pool where Laura plunged to her death. The Sheriff was also told that gorge jumping was not governed by a national body and there was no qualifications which could be gained for these activities.
She reached the view that outdoor activities at the Barcaple were not adequately managed.
She said the cause of the accident was the use of the pool, and said the site was unsafe and should not have been used for the activity, and that the trust had failed to carry out a proper risk assessment.
"There was a rock ledge protruding from the pool underneath the jumping point .
"Laura jumped from approximately 9.5 metres above the pool, landed on the protruding ledge of rocks and sustained injuries which caused her death," said the Sheriff.
Sheriff Johnston now wants all activities at centres to be licensed and for the HSE to issue clear guidance to local authority inspectors on the extent of their statutory responsibilities for those under 18. She added that shortcomings in the regulatory scheme led to gorge jumping not being subject to inspection.
In Sheriff Johnston's judgement she states that the introduction of gorge jumping at the pool where Laura fell "followed upon an error of judgement by a member of staff at Barcaple".
The Sheriff said that there had been no proper risk assessment.
The Abernethy Trust was fined £16,000 in October 2008 for breaching health and safety regulations. The Sheriff said that she was satisfied that they had addressed the deficiencies.
The government is promising to check the "growth of compensation culture" by reviewing health and safety laws.
Lord Young, who served as a cabinet minister under Margaret Thatcher and will lead the study, said many rules were "absolute nonsense".
Restaurants had banned toothpicks on safety grounds and contestants in a pancake race had been told to walk, not run, because of rain, he added.
But unions have warned against attacks on rules that protect staff at work.
Lord Young's review is expected to report its findings over the summer.
'Music hall joke'
The peer, who was trade and industry secretary in the 1980s, will investigate concerns over the "application and perception" of health and safety legislation and the "rise of the compensation culture over the last decade".
He told BBC Breakfast: "There is no question, in any dangerous occupation, in any place where people are in danger, health and safety rules will apply.
"But there are so many parts of life where it is an absolute nonsense.(he mentioned school on his news interview.) If there were still music halls, it would be a music hall joke."
One school had taught pupils how to put on make-up but told them their adult supervisor could not use wipes to remove it because this contravened the rules, he added.
Lord Young said the system had to be "proportionate and not bureaucratic".
'Myth and exaggeration'
Continue reading the main story
A return to common sense would be a welcome change
He added: "Health and safety regulation is essential in many industries but may well have been applied too generally and have become an unnecessary burden on firms, but also community organisations and public services.
"I hope my review will reintroduce an element of common sense and focus the regulation where it is most needed."
Prime Minister David Cameron said: "The rise of the compensation culture over the last 10 years is a real concern, as is the way health and safety rules are sometimes applied.
"We need a sensible new approach that makes clear these laws are intended to protect people, not overwhelm businesses with red tape. I look forward to receiving Lord Young's recommendations on how we can best achieve that."
Speaking last December, Mr Cameron said the UK had become "saturated" by health and safety laws.
In recent years children had been told to wear goggles to play conkers and trainee hairdressers had been banned from using scissors, he added.
But Labour said the comments were a "caricature" based on "myth and exaggeration
Three British students have died following a road crash in South Africa.
Brooksby Melton College has named them as Eleanor Payne, 19, from Hinckley, Leicestershire, Samantha Lake, 19, and Daniel Greenwood, 22, both of whom were from Syston, in Leicestershire.
The British High Commission said four others remained seriously ill.
Their bus overturned near Nelspruit in the north-eastern Mpumalanga Province, leaving more than a dozen injured.
Two teachers and 18 students from the college in Leicestershire were on the bus, along with a South African guide.
Police are considering whether to bring charges against the Zimbabwean driver. They have launched an investigation to establish why the vehicle veered off the road.
Ms Lake and Ms Payne died at the scene on the Bulembu Road. Mr Greenwood died in hospital later.
'Shocked'
The four students still receiving treatment are all female. Three are in intensive care and a fourth has been undergoing surgery.
They are all understood to be in a serious, but stable, condition.
The students, aged 18 to 22, were studying for a foundation degree in animal management and welfare.
They had been on a wildlife study tour in the region.
Their tourist bus was travelling on the road from Swaziland to visit a monkey sanctuary when the accident happened.
The roads in the area were said to be treacherous
She said the roads were "pretty treacherous", but the infrastructure in the surrounding area was good and ambulances would have been quick to get to the scene.
Local reports said some of the injured were trapped under the vehicle for a period of time.
Brenda Greaves told the BBC she had spoken to her daughter Rachel, 20, who was on the bus.
Mrs Greaves said: "She's got some abdominal pains, for which she's had an X-ray, but everything seems to be clear.
"She was wearing a seat belt, she says she was the only one wearing a seat belt - I'm not sure if that's the case - but it seems as if the seat belt sort of caused the pain.
"She said that they were going round a very nasty bend and the driver just lost control and that the bus just toppled over - she didn't really know any more than that."
Number and rate of reported major injury to employees 1999/2000 - 2008/09p

Work-related injuries and ill health in education - Summary
Self-reported data from the Labour Force Survey (LFS) and THOR-GP surveillance scheme data indicate that the incidence rate of work-related stress in was higher in education than across all industries, in the most recent data. However, the overall prevalence rate of self-reported work-related ill health in 2008/09 was of the same order in education as across all industries.
The LFS indicated that in 2008/09, an estimated 2.2 million working days were lost due to work related ill-health or injury within education.
The rate of reported major injury within education rose slightly this year. Over-3-day injuries have remained relatively stable since 2003/04.
Compared to other industry groups education has one of the lowest rates of reported over-3-day injuries.
Relative to other industries a higher proportion of reported injuries are caused by acts of violence.